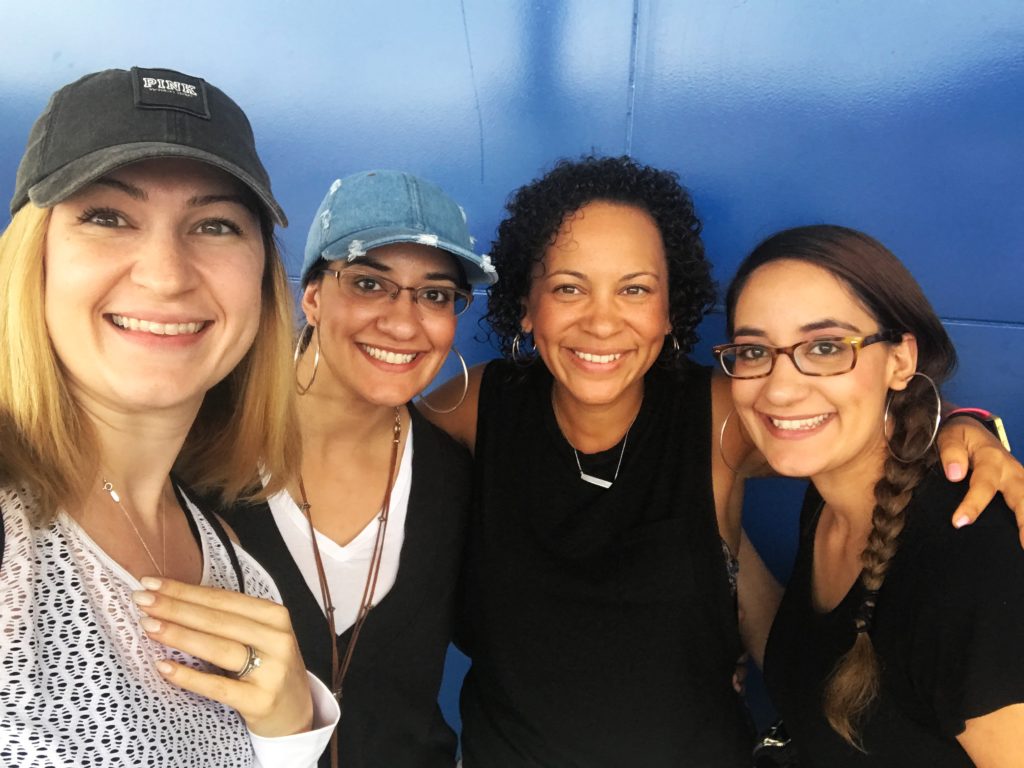 On Being Healthy, Notes from my Bestie Squad
I just had an epic girls weekend in Atlanta with my best friends and the trip was an absolute blast!
It was the twins' birthday and my dear friend Michelle (pictured second to the right) just moved to North Carolina so we were thrilled to have her fly down and join the fun. We picked Atlanta because another mutual friend from High School (Courtney) lives there, and let me tell you: being all together again was awesome!!! I can't believe I've known these women for over 15 years!! And yet we continue to pick up right where we left off, never having skipped a beat!
Traveling together and spending a few days in a shared hotel room, it's easy to see the rituals + habits of friends and I couldn't help but notice how healthy my friends have become! With that in mind, I thought it might be fun to share the tidbits I gleaned from them with you, alongside some photos of the fun!
What I love is that each of us approach wellness in our own way, and can easily swap/share/learn from each other's different perspectives and knowledge. So, without further ado, some notes on being healthy from my bestie squad!
Take your Vitamins
Why have I not been taking a multivitamin all my life? I loved the little AM/PM case I saw my girl Ghadah with! She's so organized! There was a lot of discussion about the benefits of B12 as well, not only for energy and stamina but weight loss. This past year I've made big changes to take better care of myself (switching jobs + trying to get healthy again), something as simple as a multivitamin should be at the top of my wellness to do list! (And yours too!)
Buy Trader Joes Alkaline Water
At a $1.50 a pop, these liters of alkaline water are a steal and they taste delicious (here's a similar brand you can order online)! I have to give the twins credit for this one, I'm hooked, and I've also started using this to make JR's bottles — here's what the Mayo Clinic has to say about the benefits of alkaline water:
Because alkaline water has a higher pH level than does plain tap water, proponents say that it can neutralize acid in your bloodstream, boost your metabolism and help your body absorb nutrients more effectively. Some even say that alkaline water can help prevent disease and slow the aging process.
Always Pack Snacks
My girl Ghadeer always comes prepared with advil, tylenol, tums and pepcid in her purse — she's like the mom of every girl's trip with all the goodies in her bag! This includes snacks too, but not any ole' snacks, fairly healthy, high-protein, gluten-free snacks like epic all natural meat bars and Scandinavian gummies if you have a sweet tooth!
… And Liquid Gel Tylenol & Advil
The other thing I noticed is that she for all those meds listed above, she goes with the liquid gel caps, which I know are pricer, but so worth it when you've got a headache or cramp and you need something fast-acting!
Skip Sugary Drinks & Just Order a Vodka + Soda Water
My girl Michelle just lost 12 lbs doing a weight loss challenge at Orange Theory Fitness and she looks AMAZING! I even caught her doing a little Vinyasa at the pool one day! (See below.) Her commitment to drinking Vodka Tonic has always impressed me but this trip to modified to Vodka and Soda Water, which has even less calories!!This is such a great choice when you're standing at a bar and don't know what to order, and I swear she must save a billion calories passing on the pineapple, cranberry, syrup mixers that I usually go for!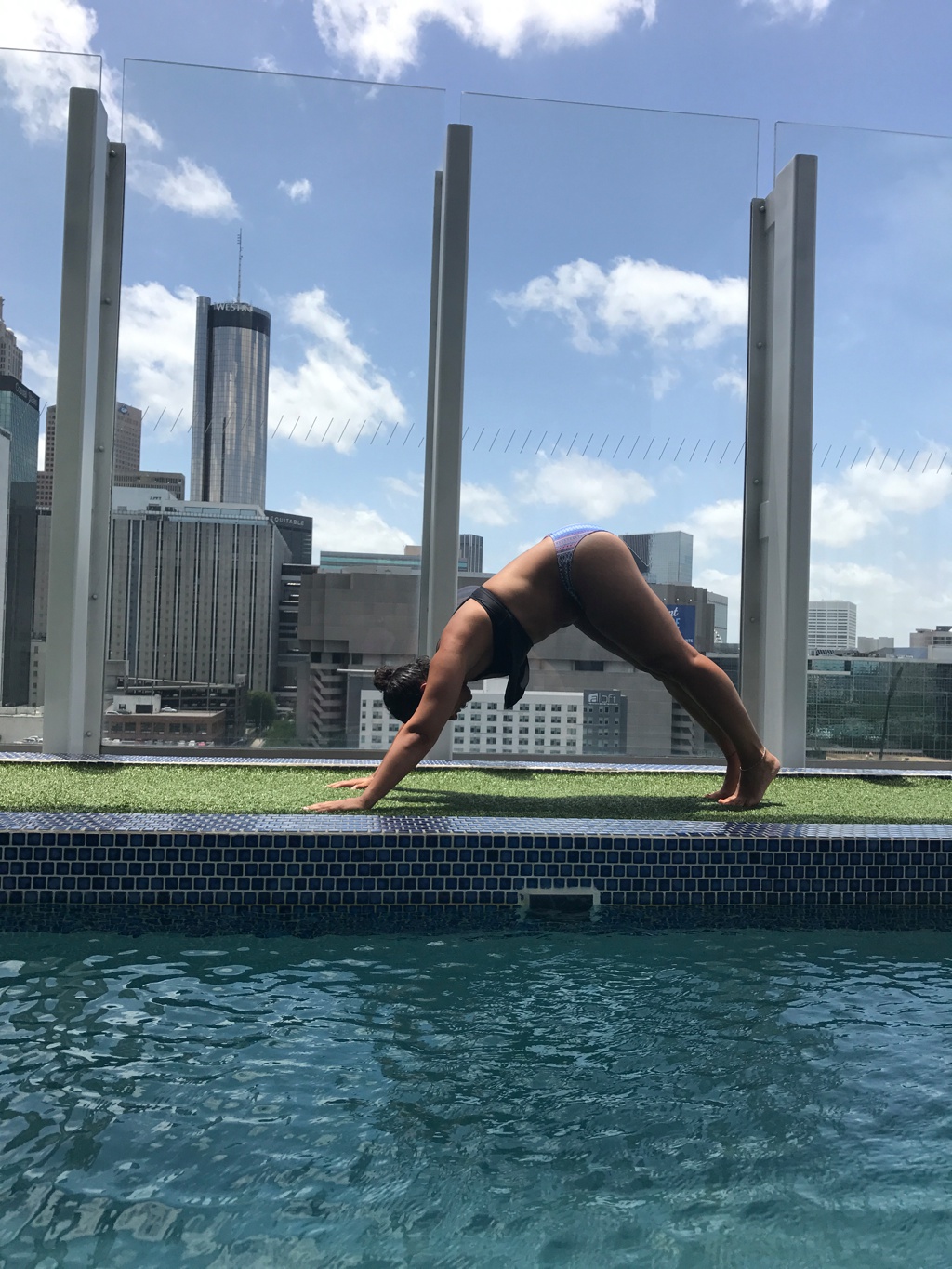 Shots > Drinks
So, along those lines – true, drinking isn't really "healthy" in any form, but there's such thing as smarter choices and, well this may not be the best tip there's some food for thought behind the idea that shots are the way to go! They're smaller than regular drinks and therefore not as much room for sugary mixers. They're typically pretty strong (too strong sometimes!) so if you're looking to feel a buzz, this is definitely a faster way to do it than drinking 10 beers! That said, be super careful not to have too many!
Ward Heartburn by Eating First
On our trip to Jamaica, we laughed so hard at how many times we were popping tums throughout the day to ward off reoccurring heartburn, which was likely a result of too much drinking (hello all inclusive). Well, in Atlanta that heartburn reared it's ugly head again a few times and it wasn't until Courtney made a comment about being sure to eat before drinking that a lightbulb went off for a few of us — was this the cause of all the heartburn? It's hard to say for sure but being on vacation and in a foreign place you don't eat as often as you would at home, then add drinks here and there (also not common at home), it's no wonder we were a little acid-y! Definitely taking the advice to "eat first" on the next trip!
Buy Water Wherever You Go
The twins are so crazy about water, it cracks me up! When we were in Jamaica they were the same way — always collecting bottles of water wherever we'd go, but I've learned something from this practice: if you grab a bottled water, you drink it! Hey look at that! I can be a little fickle with water at times and typically I don't crave it, but once I start guzzling I realize I needed it! Just making it a practice to grab a bottle when it's offered (most hotels provide at least one in the room and some in the lobby), the result is that I inevitably drink more!
Split Alcoholic Drinks with Seltzer
This is actually something I suggested we do, and I know for me (a person who loves seltzer water), it worked out great! Instead of pouring a big glass of wine and just drinking that, I would pour half and then add equal parts seltzer water. Experimenting with this I discovered the most divine combination of seltzer and prosecco: Spindrift Grapefruit Seltzer and Grapefruit Secco Rossini (sold at Trader Joes). Please do yourself a favor and try this, this summer!
Bananas to keep the blues away
So one of my favorite parts of the trip was our quick trip to Trader Joes to stock up on snacks and drinks for the weekend. Of course, nobody can walk into Trader Joes and JUST by drinks, especially when that Olive Oil Popcorn is on display, but you know what else caught our attention? Bananas! The twins swear they ward off the blues and I can see that: there were plenty of times that banana saved me from starvation and held me over until our next meal. Such an easy, healthy snack to have on hand, especially on vacation!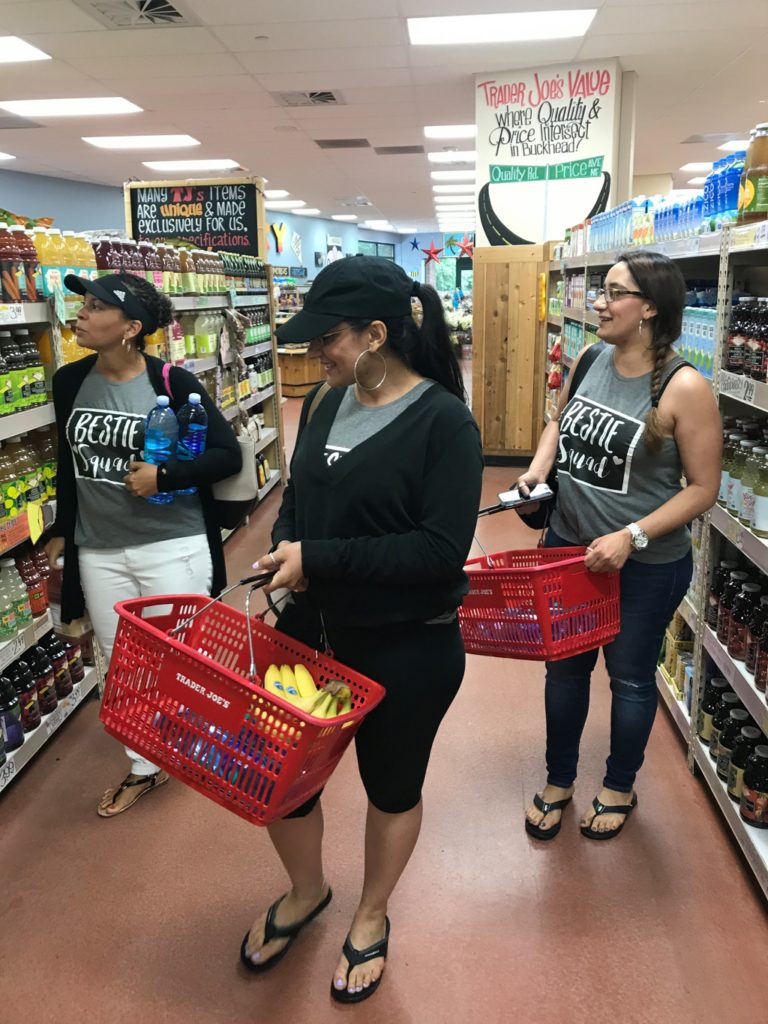 Schedule Workouts 3 weeks in advance
My friend Michelle has always been a strategic thinker, planning ahead and doing the fast math to get the most bang for her buck! Well, when she mentioned to me that she schedules her Orange Theory workouts 3 weeks in advance, my mouth dropped! I'm lucky if I sign up before midnight the night before! Ugh!! Definitely taking a page from her book and plan ahead!!
Laugh Often
So this one is pretty obvious right? Stress wreaks havoc on our bodies in more ways than most of us truly understand. But laughter? Laughter is good for the soul, and that's what I love about these girl's trips: I find myself laughing SO hard at the silliest things! Sometimes laughing to the point that I can't talk or finish my sentence. I just love that and in the hustle and bustle of the day-to-day with work and other stresses, you don't always get a good belly laugh. So thankful for these girls who keep my life LIGHT in the most positive and uplifting way!
Poop is good, but bring poo-pourri
When you get a bunch of women together the conversation goes all over the place, really! So it should come as no surprise that we touched on the topic of poop every now and then. We had some laughs over celebrating poops for weight loss, and how great/cleansing a good poop is – LOL! That said, four girls in a hotel room and pooppuri is a must! Noted for the nex trip.
Retainers & Night Guards, Oh My!
Seriously guys, dental hygiene and care is so so important!!!! I feel like my braces made a huge impact on my appearance, but I've seen a shift in my teeth since slacking on wearing my retainer. I did bring it to Atlanta and wear it and it was cute, matching with Ghadah who wears a nightguard. Bottomline: whatever your teeth-needs are, tend to them!!
Grab a Liberty Buddy
My friend Courtney ins in the Navy and it was so interesting to hear about her experience in the military – she's really loved it! She shared with us how there's "liberty buddies" assigned at each port to keep an eye on each other and I instantly clung to this idea as a great one for friends on a night out, or on a trip. Have you ever had one too many to drink or found yourself separated from your group at a nightclub? The liberty buddy ensures there's one person (at least) assigned to have your back and make sure you get home safe. Totally love that!
Skip the Bread
Ghadeer has lost about 15 lbs since the beginning of the year and I just love her approach. It started with elimintaing bread, and when she re-introduced it she noticed her body's reaction: it wasn't a good one! he's been experimenting with going gluten free and at every meal she'd skip the bread. At the airport, two egg breakfast instead of a breakfast sandwhich; at restaurants, a bunless burger or chiken sandwich. I love that she asked this in her order so there was no tempation when her food arrived!
Don't Throw Out the Diet for Vacation
This is where I struggle the most – every occasion, whether it's a birthday or trip or something to celebrate, feels like an opportunity to "treat" myself and throw my diet out the window. I LOVED that my friends stayed commited to their healthy habits on this trip, allowing for a splurge here and there but not completely throwing in the towl.
Treat Yo' Self!
Last but not least: just do it — treat yourself! Order that massage, splurge on an expensive candle or body wash and just treat yourself! You desserve it! I know, pesonally, I have a tough time with this. I overanalyze the cost and expectations of others but man, it felt so good to let my hair down for a few days and just have a good time! Life is hectic but you gotta stop and smell the roses sometimes, you know? Can you tell I was living it up? Good. Cause I did! 🙂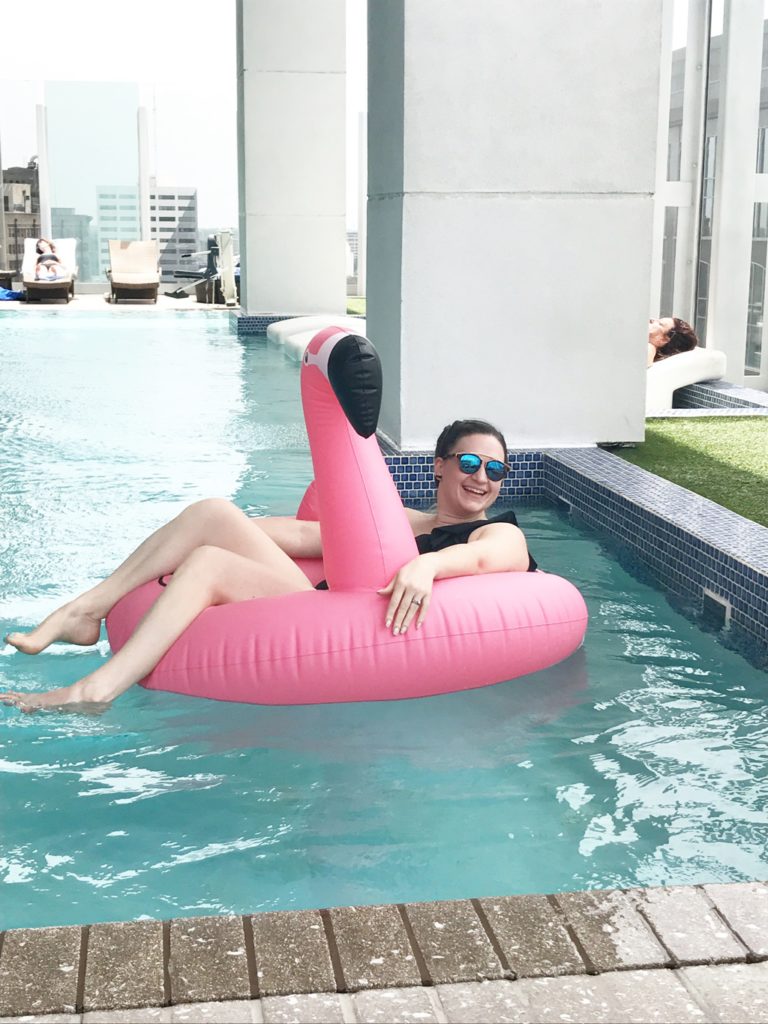 Alright, so, there you have it!
Some easy, applicable tips from women, just like you, trying to maintain their best self and live well!
What are some of your wellness rituals?
Do you try to emulate the behavior of healthy friends? Who inspires you to be healthier?