Imagine this: your CrossFit Idol – Katie Hogan no less! – took part in the plot for your boyfriend to propose at a CrossFit competition in the middle of Metlife Stadium!
You were called from the crowd (which you thought was completely random!), and asked to read the first surprise workout of the day…
But instead, the paper Hogan hands you says, "Will you marry me?" You turn around and there's your fiance on bended knee and the crowd goes wild! Of course you start crying! I know I would! Such was Karli's story – a CrossFit love story!
Meet Karli and her fiancé, Matt from CrossFit Shatter in Albany, NY!
I asked Karli about her proposal, CrossFitting as a couple and upcoming wedding plans. You can read her story below and, watch the proposal – grab some tissues!
First, tell us about the proposal!
In April of 2013, we competed in a crossfit competition at Metlife Stadium called "Mayhem in the Meadowlands." Our closest friends and both my parents and his parents were coming to compete and watch. We were psyched for this event, which was the best competition I've ever participated in. I remember telling my dad "This day can't get any better"… then it did!
At the end of the competition, my CrossFit idol, Katie Hogan (MC of the event) called me up in front of the crowd (a couple thousand people!) announcing that I won a raffle to read the final "secret" WOD. After dragging Matt out of the crowd to join me for the announcement, she handed me cards to read out loud… first one saying "will you" second one saying "marry me?" I thought it was a joke, then slowly turned toward Matt who was on one knee with a ring in hand.
I of course said yes through all the tears and everyone cheered. We were even on the jumbotron! We have it on video thanks to MyBoxLive and the amazing people running the competition:
When did you start doing CrossFit?
I started Crossfit in June of 2012. I became a trainer at my first box and just recently moved to Crossfit Shatter this past April, a bigger box with better opportunities for me!
What prompted your interest in the sport?
I was a collegiate athlete and was looking to be competitive again and I loved working out, so someone suggested CrossFit and it was a perfect fit!
Did your fiancé/husband participate too?
I met my fiancé, Matt, at CrossFit. He started a month after I did. We were dating 2 weeks after his first class. (Yes, I do believe it was love at first sight, and after our first date, I told all of my friends I found the guy I was going to marry!)
Did you participate in the 2014 Open? Have you participated in the CrossFit Games in the past?
Sure did! I did the open in 2013 as well and moved up quite a bit in the ranks! But still far from my goal of Regionals.
What are your CrossFit goals for 2014?
MUSCLE UPS!!!!!! Upper body/body weight movements are my weakness! I love heavy lifting so I really have to force myself to work on my goats like strict pull-ups, dips, and the elusive muscle ups.
When you first started Crossfit, what was your initial reaction?
"I MUST beat everyone's scores!!!" I'm just a little competitive and quickly realized it's better to try to beat myself each day, but it's still fun to have a little competition among my friends!
What was your aim in doing CrossFit? To get stronger? Lose weight? For pure enjoyment?
Pure enjoyment (maybe a little to make friends since I had just moved to a new city)! I used to spend hours in the gym and I just wanted to lift weights with other people.
How has CrossFit changed your body?
I just posted a photo on Instagram of my back in 2010 vs now and WHOA what a difference! I have visible muscle! It's a slow process, so I never really noticed it. The hardest part is when clothes no longer fit because of muscle growth.
Are you happy with those changes?
Very! I've always wanted to have visible muscles! I love being a thick, muscular woman and wouldn't change a thing.
Is Crossfit a big part of your relationship? In what ways?
Yes! We WOD together, compete together, coach together as well as coach and cheer each other on. CrossFit is also how we met our best friends who are as close as family to us and support us and our relationship so much.
Do you relate any elements of Crossfit to marriage?
I wouldn't say we relate them to marriage, but we do use CrossFit as a way to refocus. There's no better way to get over an argument than throwing heavy weights around and yelling (cheering) at the other one to keep moving/pushing harder. No matter what, we are there to support one another!
What made you decide to do CrossFit-style engagement photos?
I saw some pictures on Pinterest, of course! I figured since we met at CrossFit, got engaged at a CrossFit competition, and our bridal party was made up of mostly CrossFitters, it was only right! (And, you can guarantee we're planning to have a a few wedding day crossfit style pictures, too!)
What's your favorite workout to do together?
I love partner WODs. Matt is faster than I am, so when we do partner WODs it makes me work harder to keep up with him and not let him down, but he never lets me feel bad about being slower and cheers me on the whole time.
Do you add any CrossFit touches to your wedding day?
We will have a few CrossFit-style wedding pictures (in the dress!) and possibly a "first WOD" during the reception! Maybe a few other little touches like a CrossFit-themed groom's cake?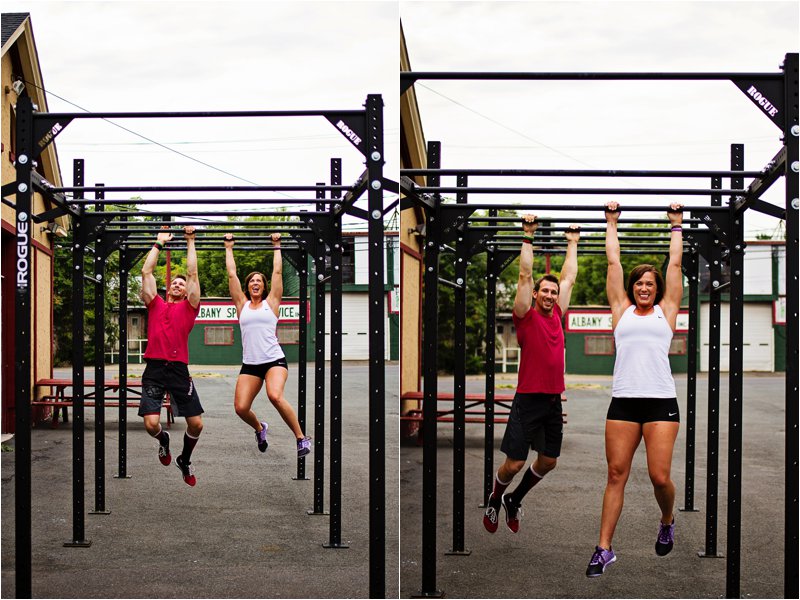 Do you have any advice for newbie CrossFitters like myself?
Figure out your goal and don't let anyone stop you from achieving it. At my new box, we have a ton of newbies and most of them are fearless! It's truly amazing to see them chasing PRs daily whether it be in heavy lifts or new skills. I've experienced coaches that will allow newbies to be scared of getting better or stronger and frown upon scaling up to something a little harder. That's not what CrossFit is about!

Step out of your comfort zone and don't be afraid to come in last!
Do you have advice for other women interested in doing CrossFit prior to their big day?
Try it! I lost weight when I first started. I gained it back in muscle, but that took 2 years of hard work and eating a lot! I am actually going to be coaching a bridal bootcamp with my friend and fellow coach (and bridesmaid) at my box in September. We hope to encourage local brides to try out some crossfit style workouts to achieve goals while guiding them in their diet habits, as well!
Would you suggest other brides try CrossFit?
Absolutely. It's the best workout I've ever gotten. I played college volleyball, ran half-marathons, and was a personal trainer and no workout was as fun or rewarding as a Crossfit workout.
Paleo seems to be the diet of most CrossFitters – do you eat paleo?
When I first started crossfit I was strict paleo. I really enjoyed it, but wasn't seeing the muscle gains that I really wanted. I call my "diet" mindful eating. I stick to paleo recipes most often when I cook, but I add in rice, Ezekiel bread, cheese, and my favorite pre-workout snack, oreos! There's nothing I cut completely out from my diet, I'm just mindful of the fact that eating all garbage results in feeling like garbage!
Was that way of eating something you learned about through box?
I learned paleo at the box, but I actually started following Krissy Mae Cagney on Instagram and learned about macros and timing and found it was a much better fit with my life and goals. (I don't currently track macros, but I have and will again once my wedding stress calms down!)
What's your favorite paleo snack?
Almonds and dark chocolate! Mmmmm!
Care to share your time on a favorite benchmark WOD? (So we can be jealous!)
I haven't tested a benchmark time in awhile! I am a much bigger fan of lifting… Can I brag about my 205 lb squat clean? That was a proud moment for me!
What's your favorite CrossFit move, exercise or WOD?
Handstand walks! I've always wanted to be able to walk on my hands and this year I finally got pretty good at it! I can even turn around and keep walking.
Karli & Matt: Thank you so much for sharing your incredibly sweet engagement with us, and your fun engagement session! Good luck to you both! I hope to see some photos from your wedding WOD! See some of Karli & Matt's "regular" engagement photos below:
Did you meet your fiance at a CrossFit box?
Do you plan to incorporate CrossFit into your engagement photos or wedding day?
/// All photos courteousy of Our Two Hearts