I'm super excited to introduce another new, regular feature to the blog: Do-it-yourself (DIY) Fitness Equipment!
After all, what's a wedding blog without a little DIY?
Getting married, I was all about the DIY! I made the escort card display, the centerpieces, our out-of-town boxes and a lot more! I'll bet you're making some stuff for your big day, too, aren't you? Well, why not bring some of that creativity to your workouts? Cause let's face it: you're paying for a wedding, you probably can't afford fancy gym equipment! I couldn't!
Have no fear- this quick and easy DIY guarantees awesome, customized, never-ending workouts that you can do anywhere, anytime… all for less than $5!
All you need is sharpie and pack of Jumbo Wood Craft Sticks. I found mine at Michaels Craft store, but they're available on on Amazon for just $5.
Then follow these simple steps:
Write an exercise on each stick using your sharpie! Some examples are burpees, mountain climbers, jumping jacks, and jump rope! (Make sure you include a good mix of exercises and include the hard stuff, too! It'll intensify your workout, which is what you want if you're on your own!)
Once you've got a bunch of sticks done, close your eyes, and pull about 3 or 4 from the pile!
Then take a second to plan out how many reps you're going to do of each one, whether it's 10 or 12 or 20!
Then go kick some ass!
It's that easy, friends 🙂
I store mine in a Ziploc bag!
I love these because the workout combinations are endless!
Here's a look at a few I've done…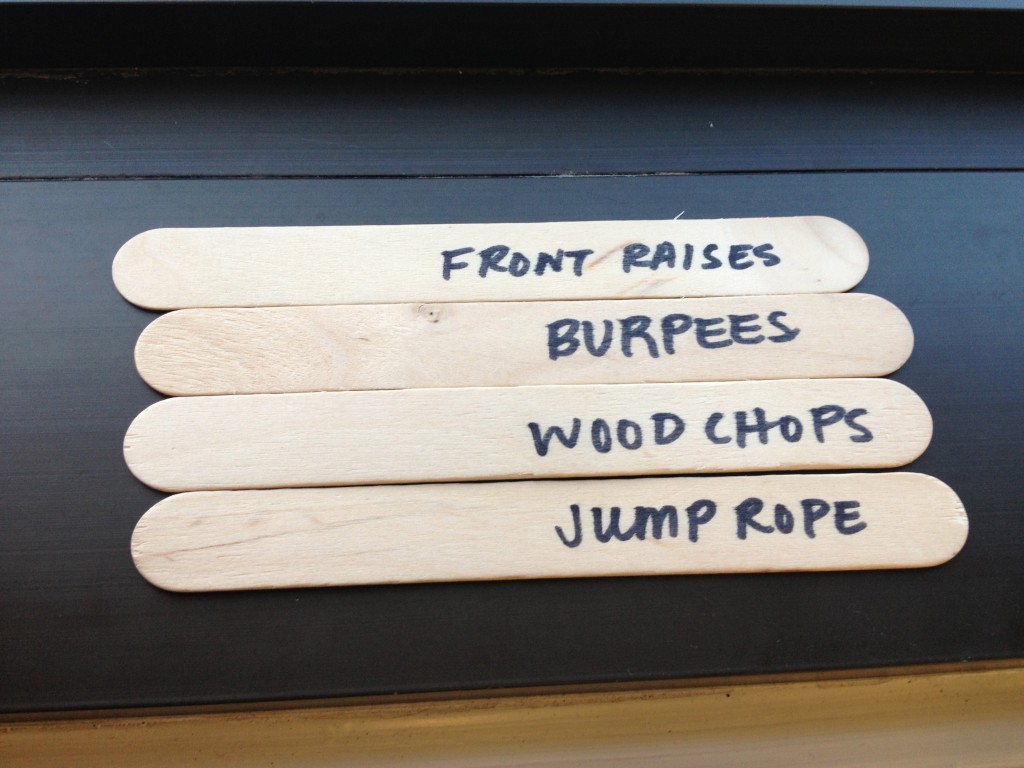 For this last set, I did the following:
12 Front Raises;
10 Burpees;
10 Wood chops on each side (these are wood chops);
& 1 minute jumprope!
Rather than grab more sticks, I repeat this cycle three or four times! At least until I workup a sweat. I might add some crunches or other exercises in as I go, but the exercises on the sticks are a good base!
I try to do these before or after I do some cardio.
I also love these because they're FREE. They're INCONSPICUOUS. And they kick my butt! They're seriously like a personal trainer in your pocket! The randomness makes it harder than a workout I'd come up with on my own, or on the fly, and you can use these ANYWHERE: at home, at the gym, even in a hotel room!
So… what are you waiting for?
Go challenge yourself!
---