I love that mainstream media is finally catching onto CrossFit couples! Hooray! But truth? I've known CrossFit couples were bad ass for awhile now. (Especially considering I've participated in a shoot like this and know first-hand an overhead squat is hard to hold during a kiss!)
Nevertheless it's not everyday I get a gorgeous CrossFit engagement in my inbox, but when I do, I almost always squeal! Such was the case with these light-filled photos of Ashley and Ryan, another bad-ass CrossFit couple set to be wed this August.
Ashley told me these photos were "so much fun to do," and that her and Ryan's relationship is "laid back," which I think Renee of Renacent Photography captured beautifully through the couple's engagement session at CrossFit Intensify in Springfield, Oregon. Jump below to read more about how these two met and how CrossFit plays a big part in their relationship, and don't skip over the proposal story – it's a one-of-a-kind!
Ashley and Ryan: Congratulations!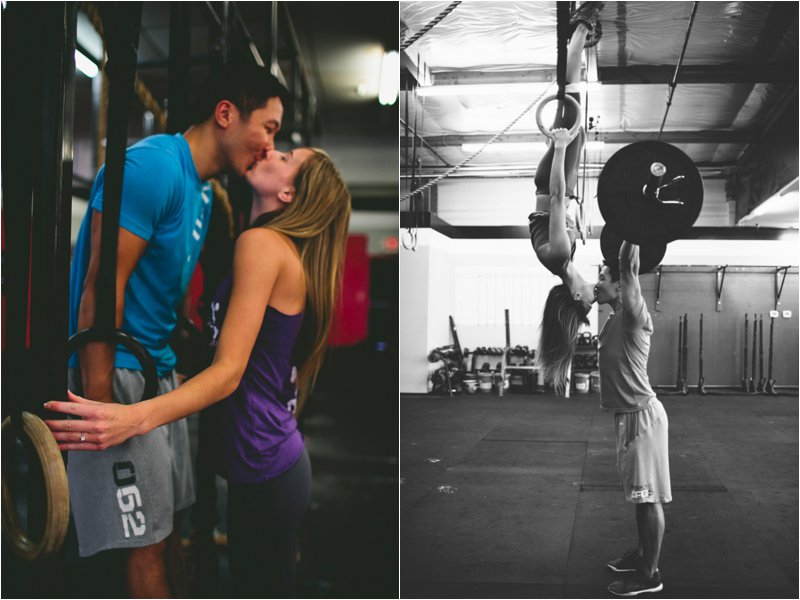 How did you and Ryan met?
Ryan and I met several years ago working together. I went on to work for another company and we lost touch, but found each other again randomly on Facebook and reconnected.
How did Ryan propose?
For the proposal, he rented out a small local theater and had me preparing for our monthly date night. When we got to the theater, he told me he had called in and paid for the tickets over the phone (he knows I would have tried to pay otherwise), and we went into the theater. The movie started to play and about 10 minutes later some late arrivals came in the theater. It was dark so of course I couldn't see (plus we were in the front). The movie cut out and a new movie started playing… It was a video Ryan had made with music, pictures of us, and well wishes from all of our friends and family. At the end the lights turned on slightly and he had me stand up and he proposed. All of our friends and parents were there! It was perfect.
When did you start doing CrossFit? Have you always been athletic?
I actually started Crossfit one year ago. We belong to CrossFit Intensify in Springfield, Oregon. I was a cheerleader in high school but was not overly athletic besides that. I started going with Ryan on weekends a couple months before I officially joined so he could show me basic movements.
When did Ryan become a CrossFit instructor? What made him want to teach CrossFit?
Ryan became an instructor in 2012. He started doing Crossfit a year prior to that and loved the sport. He wanted to challenge himself to become better at public speaking. A couple of his best friends were very active in Crossfit and challenged him to try it out.
Did you participate in the 2015 Open? What are your current CrossFit goals?
We did not officially participate in the Open this year, but we did most of the workouts on Saturdays with the rest of the gym, which was a blast. My current goals are to get a bar muscle up, get better at rowing, and improve my technique on Oly lifting.
When you first started Crossfit, what was your initial reaction?
When I first started Crossfit I was amazed at how sore my body could get, and how long it would stay sore! It was one of the hardest challenges I have ever put myself through. I wanted to become healthier and fitter. I had been doing the Insanity Program at home, and wanted to take my fitness to the next level. I didn't realize how out of shape I was!
What was your aim in doing CrossFit? To get stronger? Lose weight? For pure enjoyment?
I wanted to get stronger and tone my body. I also loved how excited Ryan got about the gym and how important it was to him. I thought it would be something fun we could share together, and it has been such an amazing experience with him.
How has CrossFit changed your body? Are you happy with those changes?
Crossfit has made my body look better than I ever thought possible. When I look in the mirror and see muscles, it still surprises me! I was always so skinny, people used to call me twiggy in high school! To have curves and definition and muscles has been the most gratifying thing. I used to think thin was the way to go. Now I believe strong is the new thin!
Is Crossfit a big part of your relationship? In what ways?
Crossfit has been a big part of our relationship. We push each other, we help each other, and we both understand what it feels like when you finish a tough workout, or when you feel disappointed in a workout. It has become one of the biggest aspects of my life, and to have someone who understands that and pushes me to work harder and never give up is something I wouldn't trade for the world.
Do you relate any elements of Crossfit to marriage?
It definitely relates to marriage in all of those aspects. You always push each other to be the best versions of yourselves that you can be. We are always there for each other even when things get challenging. We are a team at the gym and in our relationship.
Do you plan to add any CrossFit touches to your wedding day?
We won't be incorporating Crossfit into the wedding, other than looking fabulous in our wedding clothes! 😉
Do you have any advice for those new to CrossFit?
I would say to those who are new to Crossfit or are wanting to try it out, don't give up! It is hard, it will hurt, and it will push you not just physically, but mentally. But it will be an amazing experience. You will learn so much about yourself, and the first time you do something you never thought you would be able to do, you will be hooked! Not to mention the amazing people you will meet along the way!
What's your favorite CrossFit move/exercise/wod?
Cindy is my favorite benchmark WOD. My current favorite movement would be handstand pushups. I just started doing them RX'd, so that has been fun! I also love toes through rings, and really anything on the rings. In terms of lifting, back squats are my absolute favorite, but lately I have been favoring squat snatches and push jerks.
If you don't mind, I'd like to ask you about your diet, too. Paleo seems to be the diet of most CrossFitters – do you eat paleo?
We actually don't do paleo! We just try to focus on healthy eating. We eat mostly chicken and turkey, and only the occasional red meat. A typical dinner for us is chicken breast, brown rice, and stir fried veggies. Paleo works great for a lot of people, but we both love so many of the foods that we would have to cut out… I don't think we could do it! As long as we maintain our healthy lifestyle, we feel OK to splurge here and there. Nothing tastes better after a really hard workout than the occasional pizza and ice cream! Everything in moderation! 🙂
Thanks for the interview, Ashley and definitely check back with us after the big day!
Imagery from Renacent Photography submitted via TwoBrightLights