Morning! Happy Monday! Yesterday I had the privilege of accompanying my sister-in-law wedding dress shopping! We had a fabulous time and ironically, where we went made for the perfect Fit for a Bride post!
One of the most popular pages on this blog is this one about Curvy Girl Bridal in Fairfax (which has since closed down) and the stress of having to wedding dress shop in sample sizes! I get a lot of comments and emails on that post from DC, Maryland, and Virginia brides asking what happened to the salon (I have no idea!) and where in the world they can go to try on normal size wedding gowns! Well, ladies, I finally found the place: Curvaceous Couture!
Curvaceous Couture Bridal is located in Columbia, Maryland and while it may have taken an hour to get there from Falls Church, it was definitely worth the drive! The salon is big and they have a wonderful inventory — not to mention sample sizes start at size 12! I got a chance to meet the owners, too, who are sisters (and are adorable!) and they're super excited (as they should be) because they have piloted a television program for TLC called "Curvy Brides" which airs August 1st! How cool is that?
I'm not at all surprised this salon got picked up for a TV show because it's everything a bridal shop should be: spacious with big mirrors and girly details; there was sparkle everywhere! The lighting was pretty awesome, too. I'm obsessed with the blinged-out globe chandelier! I also loved the staff – they were all extremely sweet and friendly. A few of them commented on how great my sister-in-law looked in her favorite dresses! It's definitely a good sign when someone walks by, sees you in the gown you're loving, and lets out an "awwww!"
It was also really quiet in the store, which I enjoyed. It was just my sister-in-law and I for awhile, and for a Saturday, which is not at all what I would have expected on a Saturday! Have you ever been to David's Bridal on Saturday? It's a mad house! Plus, there's nothing worse than having to share the attention of your sales associate or getting a lot of pressure from others in the store.
The entire store was lined with gowns, ranging in price from $1,200 to $10,000 in price! They were sorted so that you could stay away from the more expensive section, which we did, but, the less expensive gowns were nothing to sneer at! My sister-in-law found two, absolutely beautiful, stunning, elegant dresses that were $1,200 and $1,300. What was so nice about the entire experience, though, was that she found so many dresses! Everything fit and everything looked good, which, of course, is a good problem to have!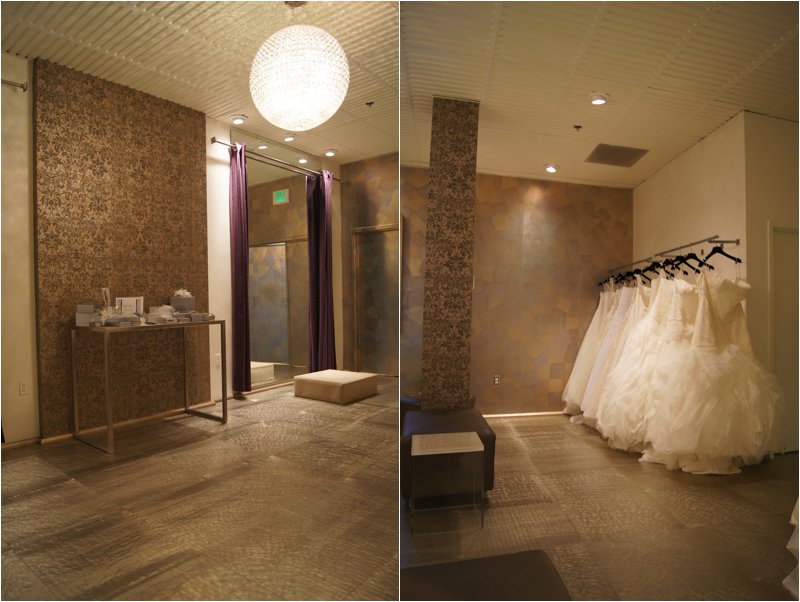 It meant a lot to me that she had such a positive experience because I vividly remember walking in and out of a few bridal salons feeling disappointed in the selection because of size constraints. If you're a size 12 and up (which is pretty much the equivalent to a size 8 and up!), I'd highly recommend doing your dress shopping at Curvaceous Couture Bridal – you will not leave disappointed!
Are you what's considered a plus size bride?
Where did you shop for your wedding dress? Was size an issue?
---