Morning friends! Happy Friday! I am so happy the weekend is upon is! What's everyone got planned for Mother's Day? My mom lives in Winchester (about an hour away) and we're planning to get up early to meet her at church Sunday, and then brunch afterwards! We bought wedding albums for both my mom and Aaron's mom… yep, 3 years later! (As far as they're concerned, it's better late than never!) What did you get your mom?
I recently noticed that we haven't had a workout-in-style board in awhile! This one comes with a crazy WOD: Death by Barbell! When I first saw it, I got excited and thought, "that looks awesome!" Then I realized it was FIVE ROUNDS. Holy crap! The prescribed weight for women is also 95 lbs! Eek!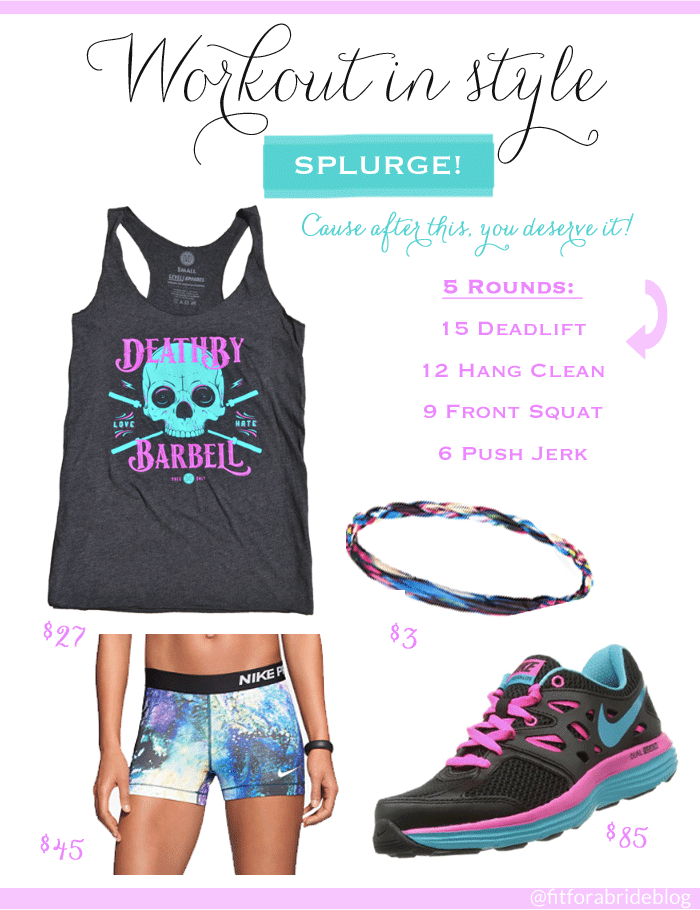 LevelOne Death by Barbell Tank / Nike Dual Women's Lite / Nike ProSport Shorts / Headband
I certainly think a workout like that deserves a little self-splurging, right? And what could be more appropriate than more workout clothes? Of course I don't think it'd be fair to wear this shirt unless you'd done the workout… jus sayin'! But the skull and cross-bones is pretty badass, huh?
In other news, did you catch my friend Brooke's story? It's gone viral and she was on Good Morning America today! I'm really excited that her story was picked up by national news and if you haven't watched the clip, you definitely should! Personally, I've been sharing Brooke's story with my friends and family and having a lot of great discussions about society and the media's portrayal women, beauty, and perfection… I'd love to hear your thoughts on this.
Do you think we need to be open about the realities of extreme weight loss?
Are you dealing with lose skin from weight loss?
What's the worst workout you've ever done?