This is it guys – I made it!
I finished the Whole30!
Yay!!!
How did I celebrate? Well, I haven't yet. I had plans to go out tonight but it's rainy and cold, and all I really want to do is curl up on the couch! I did splurge this morning with a rainbow sparkle donut and coffee from Dunkin… and it was so, so good! I also had a mini snickers last night. It's funny the very first thought I had was: I want another one. The sugar monster doesn't wait long to rear its ugly head, does it?
I wanted to do a quick recap of the last two days of eats even though I didn't take a lot of pictures. Read more below.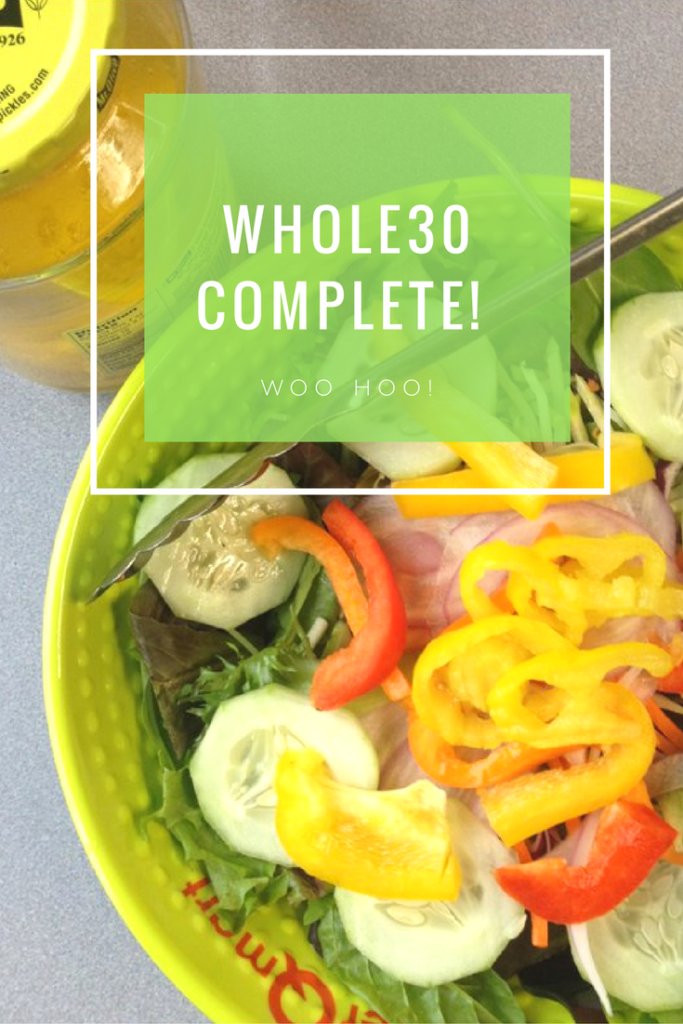 Day 29:
B: Monkey salad of course and black coffee (I'm loving the donut shop blend).
L: Whipped butternut squash with chunks of apple and apple-chicken sausage topped with nutmeg, cinnamon and pecans.* Throughout the afternoon I snacked on an apple, applesauce, and plantains.
D: Kale salad with cumin-flavored dressing (1/ c apple cider vinegar, 1/4 c evoo, cumin, paprika, and sea salt to taste), topped with rotisserie chicken and oranges; the oranges were awesome! I'm addicted to those little guys!
Day 30:
B: Eggs scrambled with bell pepper and onion and a chicken sausage link; so good! Second breakfast: Monkey salad — also so good!
L: Butternut squash mix take two; applesauce, an apple and plantains.
D: I had an event immediately after work so dinner was a random mix of things: a bell pepper, plantain chips, olives, and a few halos.
Dessert – MY FIRST TASTE OF CHOCOLATE: a miniature snickers!
THE END! 🙂
I talked about how great I felt during the Whole30 – not just physically but mentally as well. It was such a confidence boost to take this challenge and stick with it till the end.
Physically I'm not sure I've ever looked better — ! I'm down to my wedding weight (not that the number matters, jus' sayin') and I've dropped a whole pant size, which makes shopping such a joy right now! (Oh, hello size six! It's been awhile!)
I also want to point out that I've had some pretty incredible gains in CrossFit since starting the Whole30, too. I can't say whether one has anything to do with the other but I've PR'd my thruster and power clean, and Rx'd workouts I never thought possible.
Even though I know this week there'll be some splurges I do plan to continue to try to incorporate Whole30 principles in my diet, keeping in mind the four food principles, and recommending this "reset" to others as well.
Special thanks to my CFFC (CrossFit) friends for inspiring me to do this!
What's your favorite k-cup flavor?
Are you shopping for black Friday?
Any questions about Whole30?
Happy Thanksgiving!
I'll be back Monday, Dec. 1st.
If you're just joining me, catch up by reading my recap of Weeks One + Two + Three + Four.
---