"May today be filled with happy memories of the past and bright hopes for the future."
JR's "The Future is Bright" First Birthday
If you've been following along JR's birth and NICU story, you know it's not all roses.
2015 was a rocky road (to put it lightly) and 2016 was a whole lot of trying to get our heads above water. The tough times have been worth it times a million, though for the really good times we've had as a family of three since then … and this past weekend was yet another example of that when we celebrated JR's 2nd birthday alongside family and friends.
Like I mentioned, it started in the Spring of 2016 when JR came off oxygen and we were able to experience and share so much more of the world with him. From there was the subsequent "first summer," when we dressed JR in sun shades and straw hats, and hit the pool and a million other places — we even drove to Florida for our first family vacation. At the time, we felt like a million bucks — we'd weathered the worst storm of our lives and survived. We were basking in the sun and celebrating every minute.
That said, it should come as no surprise that we pulled out all the stops for JR's first birthday with extravagant party decor, a long guest list and lots of good food. Our goal was to gather our old/new friends from the NICU and relish in how far all our kids had come – we hadn't seen most of them since leaving the NICU the year prior.
Seeing as we just celebrated a 2nd birthday, I figured the time was ripe for finally sharing JR's 1st birthday, photographed by our friend Jen Harkleroad. The party was themed "The Future is Bright" to emphasis our hardest days were behind us.
Everything came together beautifully and the venue was spectacular (it's a renovated community center in Arlington), and looking back, it was a party even better than our wedding. It was just that special to us.
My favorite/most fond memory is of walking in — JR's nap ran over so he was practically the last guest to arrive and there was a roomful of friends waiting on him. It was so cool because Aaron brought a wireless speaker for the party and popped on Justin Timberlake's song, "Can't Stop the Feeling," as we walked in. JR had his sunshades on and the whole room stood up and turned toward us. It was awesome!
We made our way around the room saying hello to everyone — so many people came: our parents, our siblings, friends from CrossFit and all our NICU pals. Even one of my cousins who is a missionary in India surprised us by being there! It's still crazy to think she had Tibetan monks praying for our boy during his NICU stay. It always amazes me how far and wide such a little name JR has traveled.
In the planning phase I envisioned lots of white space with pops of color and a play on sunshades to include "cool emojis" and 80s-style neon sunglasses as favors. We chose the recently renovated Lyon Park Community Center as our venue because it was the perfect blank canvas with white-washed walls and an oversized fireplace that featured a large brick mantel, which was also white.
My goal was to make the mantel the focal point of the room with our son's high chair at the center, which led us to adorn the mantel with a happy birthday banner, party hats, tassels and a special sign that read "For this child we prayed."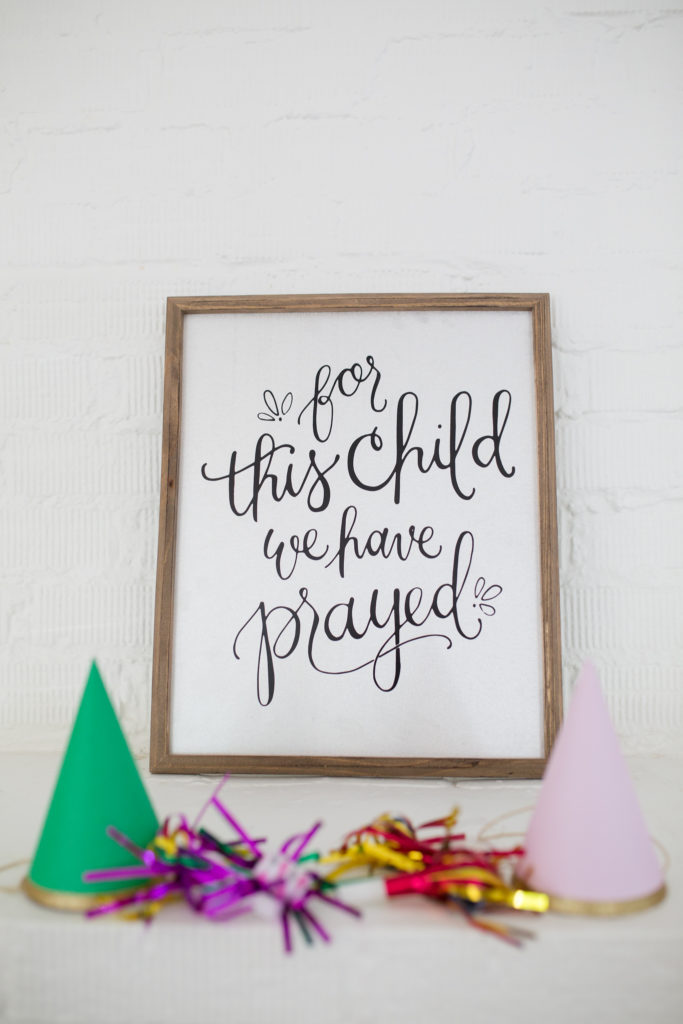 My vision also included swarms of balloons — oversized tassel balloons, large gold balloons for JR, and balloons to fill the ceiling of the kid's room with neon number 1s that I cut out and taped to the ends. I wanted the kids to really enjoy this party, too so we setup play stations that were a huge hit among the little ones! We had a bowling area, chalkboard table and bubbles station. We also gave out party bags filled with emjoi bracelets and mini hand-clappers (which JR chewed on for most of the party; he got his first two teeth that week!). We setup a selfie station with an iPad and emoji masks for guests to record a "happy birthday" to JR as well.
We also made a huge #1 with pictures from the year. It was amazing to see all the ways JR has changed since he was born – he's still changing and growing today!
More than the decorations, my vision for the party was to have a reunion with all the families we'd met during the months we spent in the NICU. We shared tears and fears with those parents during late nights in the hospital. We all rooted for each other's babies, met family members (parents, siblings), and celebrated each other's homecomings as if they were our own. I wanted to give our "graduating class" a chance to come back together and reflect – celebrate! – on how far we'd all come.
This turned out to be the best part of the party! It was so, so wonderful to be together again and be able to smile, laugh and enjoy our time together. These were the same people who saw you cry in the waiting room, unkept and exhausted, drinking cups of coffee in the middle of the night to stay up for test results or some late night snuggles.
It was truly amazing to be all together again.
We know that JR was too young to understand what was going on and that all this was for him, but that's OK; in large part it was for us, too.
All in all, the party was a real turning point for our family. To be surrounded by all our new friends, our family and have our son – strong and healthy – at the center really made us feel lucky, despite all the difficulties we faced to get to that point.
My hope is that these images of JR and all his NICU pals will serve as encouragement to other premie parents out there who might be clicking through the web and wondering if their son or daughter will ever be well enough to have a big party… I've been there. I remember those days, and I just want to know you know: the future is bright. Stay strong. Hold on. The best is yet to be.