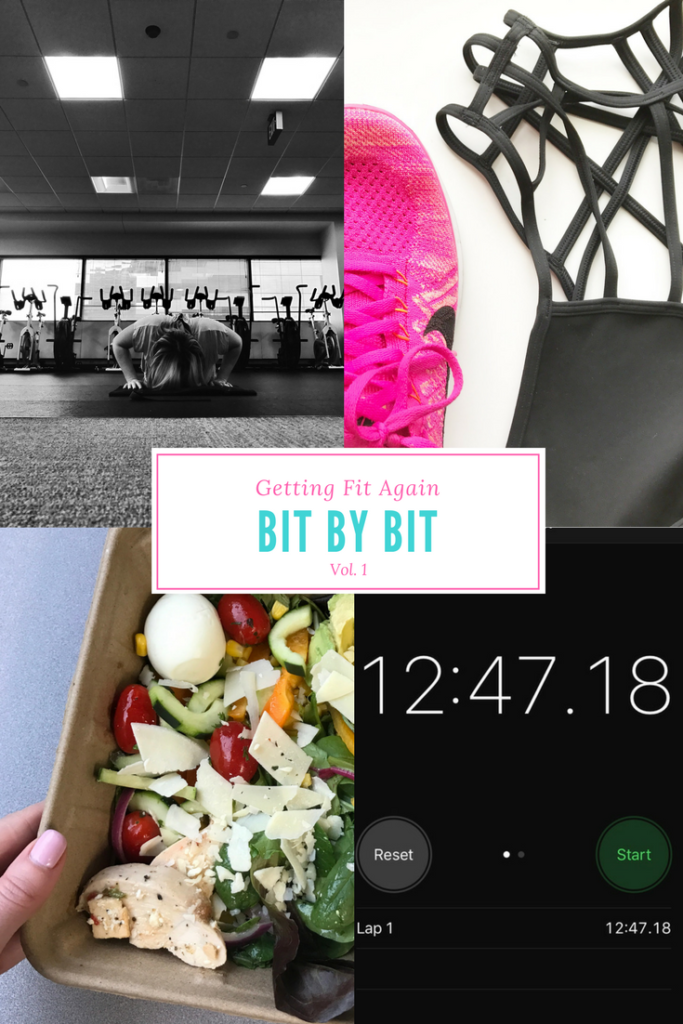 Heyyyyyyyy, friends.
It's me again! Blogging for the THIRD time this week – woohoo! I'm on a roll!
Actually I've been dying to share this post. I started it several weeks back when I decided it was finally time: finally time get fit again! No matter how slow and grueling the "process" might take!
"Getting fit" means so many different things; something different for everyone! I'm actually still honing in on what my "fit" is – for instance, hitting the gym twice a week (lately) is like SO FREAKIN' FIT – YOU GO GIRL! Ha! Not at all like the "old me" who would workout 4-5xs per week and sometimes double up workouts at work then CrossFit. (… that girl! Ew.)
See, the thing is, I used to be "all in" when it came to health, wellness and general fitness level. Multiple workouts per week, clean eating challenges and weight loss challenges with friends.
But then I had a baby. It's been a long journey and … bottom line: I'm no where near as fit as I once was! It's pretty discouraging when I think about it (or look at old pictures) but I've also come to accept that this is a new season. I'm a new person! Everything has changed. And that's OK.
Does that mean I should give up on fitness altogether? Of course not! Even though somedays, throwing in the towel; coming up with excuses; or general laziness is my go-to, I'm embracing a new mantra this year: bit by bit… little by little.
If I were to think about all the things that need to change at once: better eating habits; meal prep; healthy dinners; workouts; getting back to CrossFit; it's overwhelming. Paralyzing. But bit by bit, I feel like I can do this.
So, welcome to Getting Fit Again, Bit by Bit, Vol. 1!
Here I'm sharing some of the baby steps I'm taking to take my health back. They're small, but they count. 🙂
Pictured above from top left to right: push-ups. UGH. (Need I say more?). Hot pink. HELL YEA. This is my new motivation ya'll: cute workout clothes. Salads. Oh how I've missed thee! There's a Whole Foods by my job so, seriously? No excuses. And running. Ugh. It's kind of the worst but, I'm doing it.
Here's some big bucket items currently working for me!
Regular Ole' Gym Workouts
The Goal:Just Go.
I really wanted to do the CrossFit Open (and I did 17.1) but I quickly realized focusing on the Open alone was hindering my progress; having to get to a CrossFit gym, during the time the Open would be done and having a judge, etc. was just too difficult to work into my already hectic schedule. I let go of having to do anything particular with fitness and instead, decided to go to a regular gym. Just go. Whatever I do when I'm there doesn't matter – long as I go!
Progress so far: I haven't gone a ton but this is working! I've done a handful of solo WODs and some running. It always feels SO good walking out of there like I've just accomplished something incredible. And I have!
Real Life > Social Media
The Goal:Stay off social media; focus on myself.
Social media is great and I definitely get inspired seeing all the amazing athletes and fitness professionals on there (There's some inspiring stories and great tips!) but I've noticed it can also be overwhelming, depressing, even hindering to my own progress. When I see all the girls lifting heavy weights or counting marcos I get down on myself. I'm focused on them, not me. So, I handed social media over to Aaron; he's doing it for the blog now and I turned off notifications (<<< best decision ever). I still scroll through now and then but I've tried to focus on using my phone for productivity: organizing my notes tab or experimenting with fitness apps (I've been loving Downward Dog — it's free!).
The Buddy System
The Goal: Get a buddy! Have a workday buddy and weekend buddy and friend for girl's night out. Buddies are the best!
I've always been into the buddy system. My first workout buddy was a girl I met on Craigslist – sounds creepy but it totally worked! We'd meet every morning and sometimes twice a day! We split the cost of personal training and starting training for 5 and 10ks together! It just helps me so much to have someone to push me along! I've also joined weight watchers with my mom (yeah!) And for a few weeks now we've been having weekly weigh-ins to touch base on how we did (diet-wise) the week prior. It's been GREAT! Also Aaron – he's been forcing me to CrossFit with him Sunday nights for open gym. I usually complain all day about how I don't want to go and then I'm jumping with joy when we leave!! At work I'm reunited with some old workout buddies too so seriously guys, this is my strong suite this year!
So that's really it for right now – I'm keeping it simple and taking baby steps! Next week I'll share more progress – I've been meal prepping a ton and trying new recipes!
Thanks for stopping by! 🙂