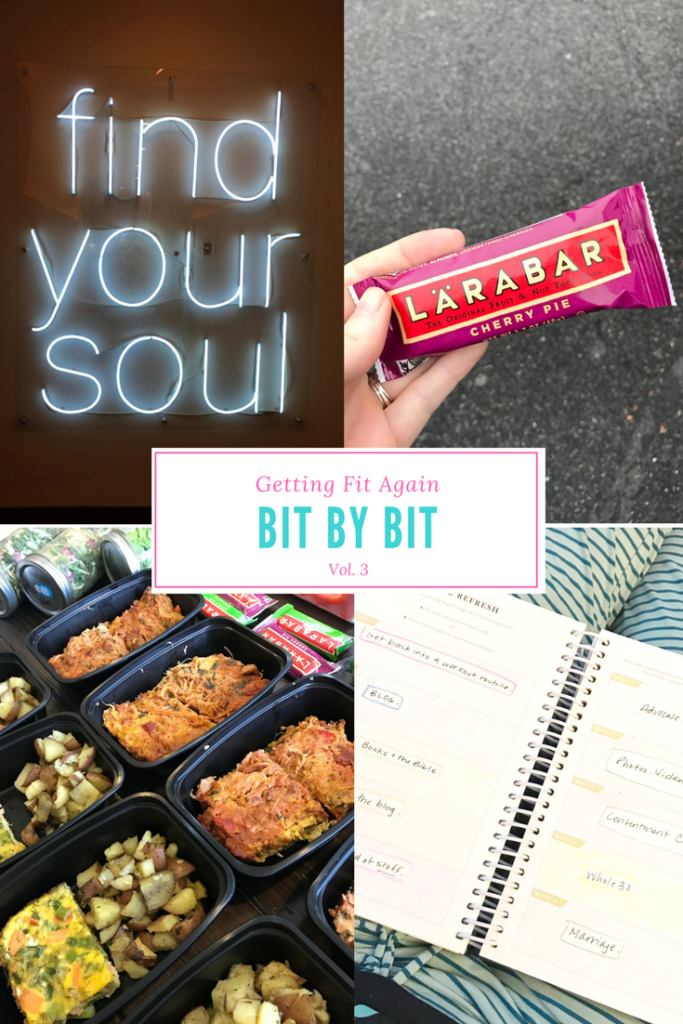 Hey friends! It's another installment of Getting Fit Again, Bit by Bit!
I've had a really great week so I'm excited to share some of the things that are working for me on this journey to getting fit again. It's funny, in just a few months' time since I started this series I've learned so much about myself! It's interesting to see what methods are working to support my weight loss/workout goals and those that simply aren't working, but may have in the past!
It's been a refining/learning experience so far, and I hope that some of my insights can inspire/help you!
Find Workouts With Meaning
First of all – SoulCycle is my jam! I literally broke down and cried (read: sobbed!) in class last Saturday.
I mean, if there was ever an environment for a good cry, it might as well be SoulCycle and — since telling a few friends this — it turns out, I'm not the only one whose had a boo-hoo in class! The lights are dim (sometimes it's completely dark), there's candles lit and great music playing; plus self-empowering mantras coming from high-energy coaches. I LOVE IT!
And here's why: for me, working out has nothing to do with the way my body looks, it's all about how I feel. The best workouts are the ones that conjure up emotions within me — sometimes they're thoughts/feelings like "I can't do this" — then there's a subsequent breakthrough (or break down!) during the workout. In CrossFit this typically looks like "I can't go on" or "it's too heavy" and then I do! In SoulCycle, it was feelings of self blame and guilt/sadness about our son and subsequent feeling that we'll "rise above."
Which brings me to point #2 in the "what's working" category — music and mantras!
Find Your Theme Song, and Play it Often
The song that made me cry during SoulCycle was Katy Perry's "Rise" and the lyrics are so powerful.
When, when the fire's at my feet again And the vultures all start circling They're whispering, "You're out of time," But still I rise
…
Oh, ye of so little faith Don't doubt it, don't doubt it Victory is in my veins I know it, I know it
You guys!! Get a song!! Get a mantra and play that sh*t on REPEAT!! It's so helpful. The music and the lyrics are motivating and self-empowering, which are all things I'm searching for on this journey, and that are just as important to my health as weight loss and workouts.
Granted: there's no vultures at my feet but I've sure been through a lot these past two years and in times of stress/depression/anxiety, it's easy to feel overwhelmed "circled" and consumed by negative thoughts (i.e. "you're out of time)… BUT STILL I RISE. (Insert praise-hand emoji here!)
Journal & Refresh Goals Along the Way
Along these same lines journaling and writing my goals on paper have been transformative. I'm a huge fan of Lara Casey's Powersheets — they're essentially a goal planner for the year/half-year and they're awesome because for each big goal you create daily, weekly and monthly goals that you revisit and "tend" to regularly.
Meal Prep Like a Pro
Last, but certainly not least this week are these awesome and amazing magical containers! Yes. I called them magical because they have been a GAME CHANGER! I bought a pack of 20 from Costco and several months later, I'm still using them. They are microwavable and dishwasher safe, and something about them just makes you wanna meal prep! It's been so fun to have something "new" and easy to motivate me to do a Sunday meal prep — something I used to do all the time but have struggled to do regularly since we had our son.
Next week I'll share some new recipes in rotation (and pictured here), as well as exactly how we're going about meal prep these days (our method has changed recently).
In the meantime, here's some truth on what's NOT working:
Blogging or doing pretty much anything consistently for an extended period of time – I'm learning that consistency is not my strong suit, you guys. It doesn't take much to knock me out of my routine and into a complete tizzy where the "me things" that *are* important fall to the wayside to make way for family gatherings, kids parties, JR appointments or work. I've noticed that it's very challenging to stick with any one thing and not get side tracked with #allthethings. I love what Lara Casey says about having too many good things! It's very tough to say "no" to people and ideas for projects and events and #allthethings but I'm slowly learning I have to say "no" to some things to say "yes" to more important things and I think it's a bit of a learning curve/change to admit/accept that those more important things are sometimes the simplest things in life: quiet time to read or write, meal prepping for the week or going to bed early to be able to wake up for an early workout!
I'm curious if you experience this too, and whether you've seen "too many good things" or just "too many things" get in the way of your workout or weight loss goals?
On the flipside, what's working for you lately? Do you have a theme song or workout that gets you emotional, too?