Hey friends! Happy Tuesday!
Today I'm excited to share Part 1 of a new series called Home Gym Basics. I've partnered with the pros for this one:RepFitness, a Denver-based supplier of state-of-the-art CrossFit equipment at an affordable price point for newlywed gym-goers like yourself!
It should come as no surprise that Aaron and me often daydream about having a big house — or rather, a big garage — where we can custom build our very own CrossFit gym. It's been really hard to get to the gym consistently since we had our son, and I always imagine a home gym would make all the difference! Unfortunately we're not quite there yet — we live in a two-bedroom condo and we'll likely be here for at least another year. But, not all is lost! Through this series, I'll show you that your home gym doesn't have to be a conventional one; even in a tiny condo you can get your CrossFit on! Believe me!
So, where's a good place to start? With the basics! Don't have room for heavy weights? Neither do we, so instead we opted for a sandbag! This is something we could easily keep under the dining room table (out of plain sight) or in the trunk of the car to pull out for workouts on a whim. I always assumed sandbags were really expensive and difficult to assemble or maintain, but I was wrong! RepFitnes sandbags are pretty affordable and the sand itself is dirt cheap! Today I'll show you how we filled ours in three easy steps.
First things first: grab a sandbag! Does size matter? Yes, you'll have to choose between a medium and large bag. If you're planning more than 50 lbs, opt for large.
Large Sandbag (50-125 lbs) Includes:
Sandbag shell
3 large filler bags
Medium Sandbag (25-75 lbs) Includes:
Sandbag shell
1 large filler, 1 small filler bag
As far as color — there's three to choose from at RepFitness, including camo! And, durability? SUPER important! Sandbags can get pretty dang heavy (imagine more than a 100 lbs!) and they're literally meant to be thrown around, so it's vital you purchase a bag from reputable distributor (like RepFitness) so that you don't have to worry about tearing or worse — bursting! I can imagine that would be a HOT MESS in our living room!!
Step 1:
Determine Best Size & Purchase a Sandbag!
Obviously we snagged our sandbag from RepFitness and I went with Aaron and JR's favorite color: red!
Next step was to purchase sand to fill the bag. This is where the surprises started — who knew sand was so stinkin' cheap?! Aaron grabbed two of these 50 lb bags from Home Depot for just $5 each!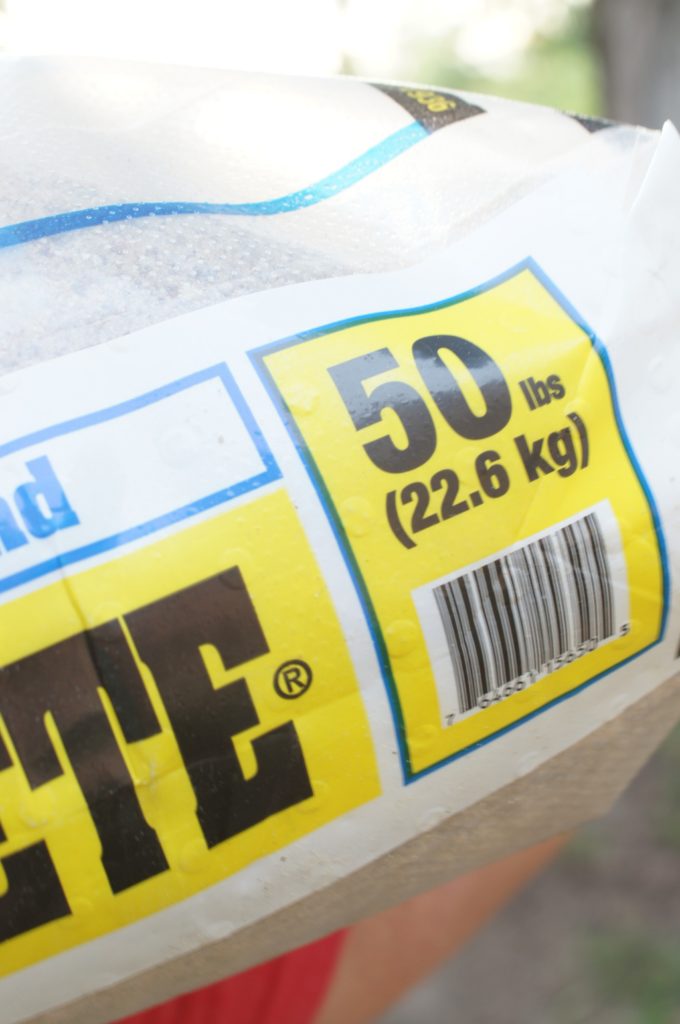 Step 2:
With desired weight in mind, pour accordingly!
We got the medium sandbag — our thought being we'd make two and have a light and heavy option. With this in mind, we filled one with about 45 lbs and the other with 35; this way we both can get a pretty intense workout in —
Aaron filled the bags himself while I took photos and I was really impressed with the way he was able to hold the sandbag upright while pouring sand in! Then as I peered closer I realized how durable and sturdy the fabric of the sandbag is, which aided in it being about to stand alone! Apparently the triple/quadruple cross-stitch is pretty important when it comes to sandbags. RepFitness also used 1000D Cordura, which is a type of canvas/nylon fabric, to ensure maximum durability.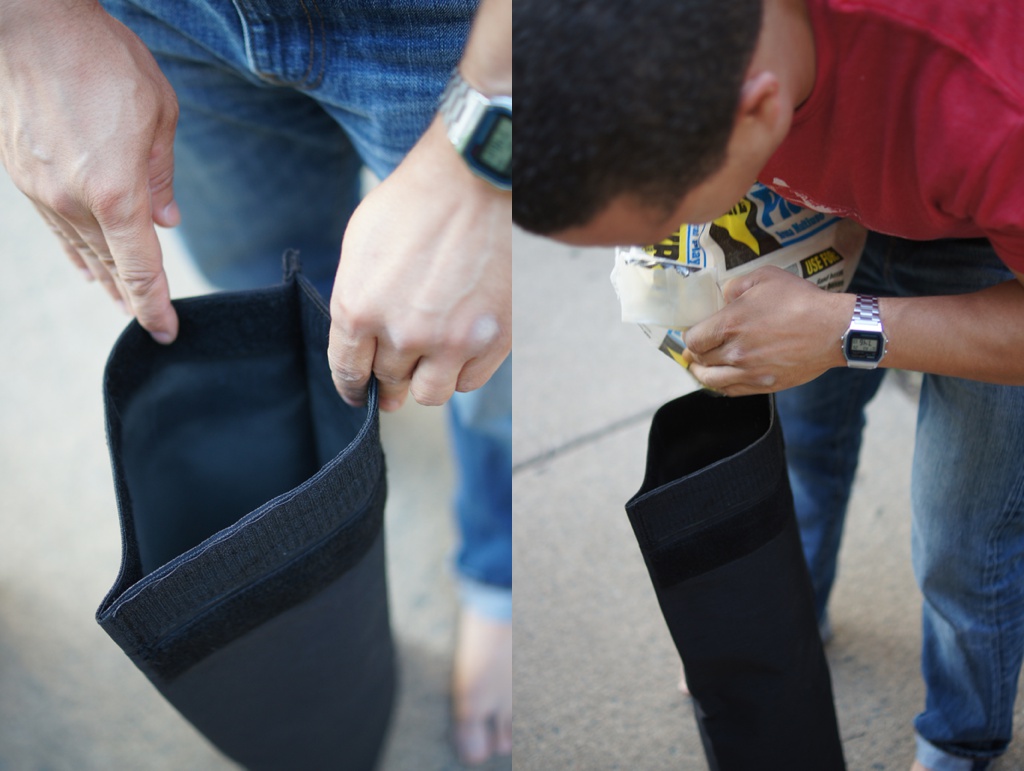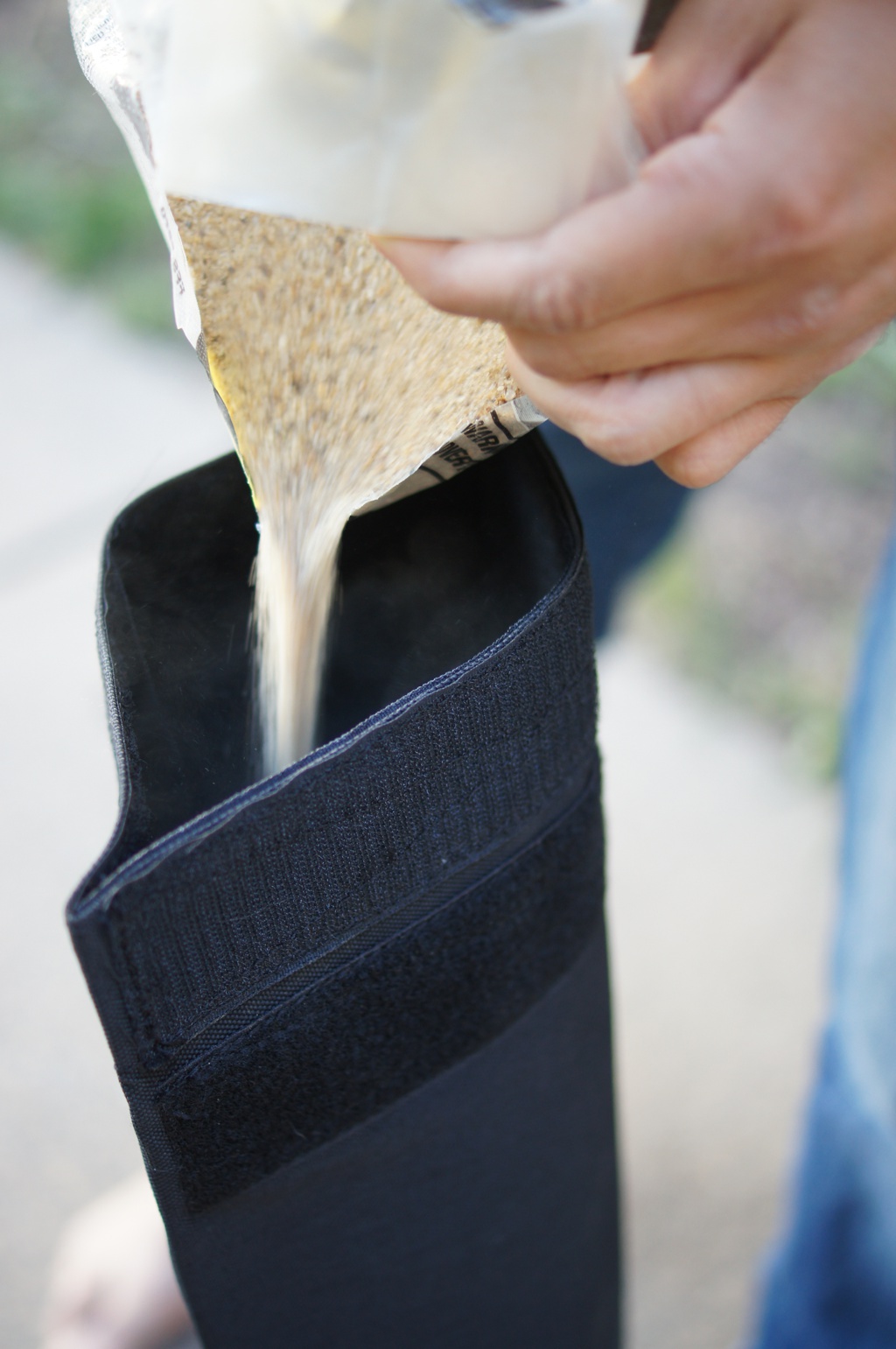 Our friends at RepFitness advised us not to fill the bag more than 3/4 full, so after a good dump of sand, we'd pack it down and check the level.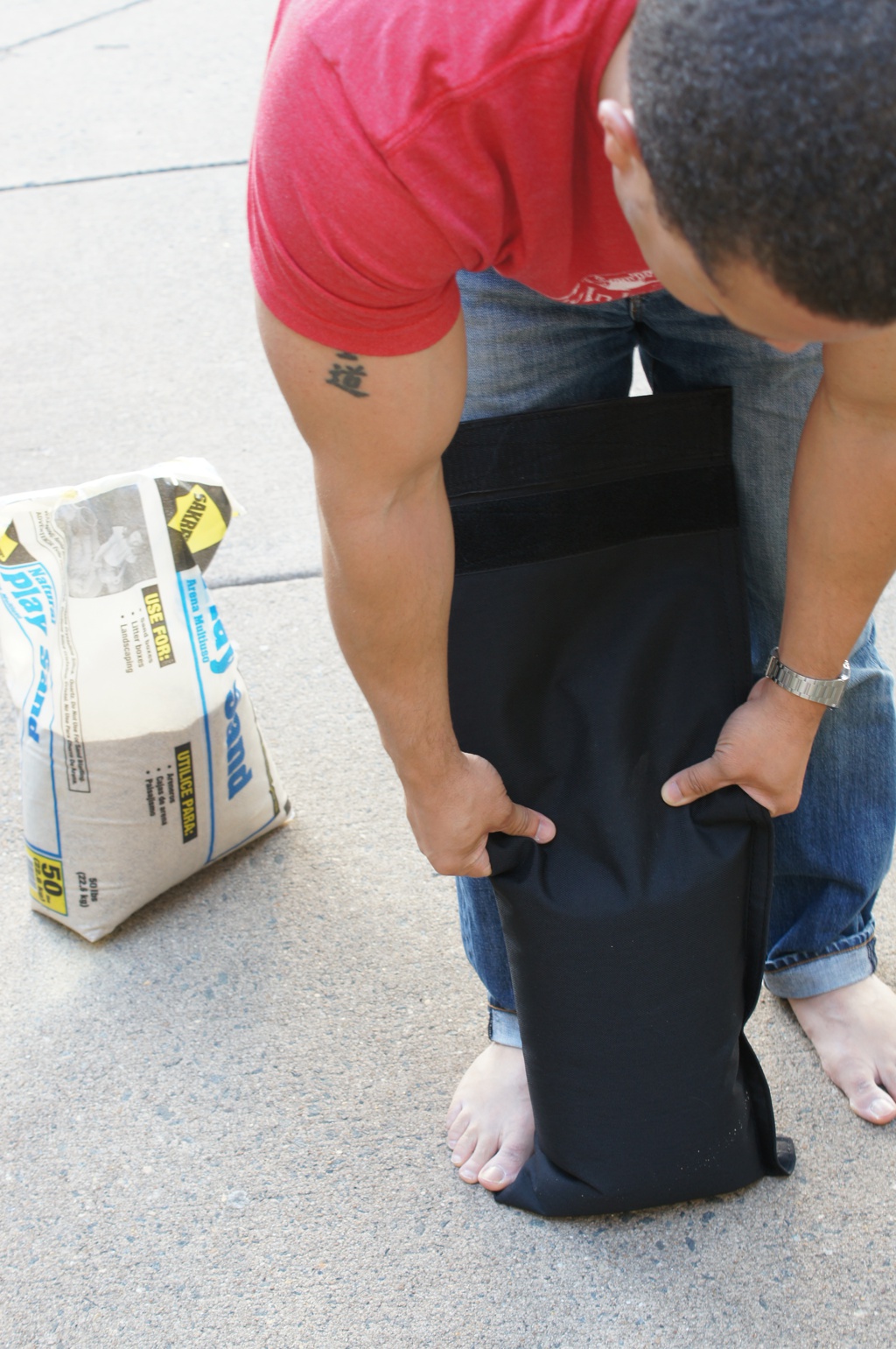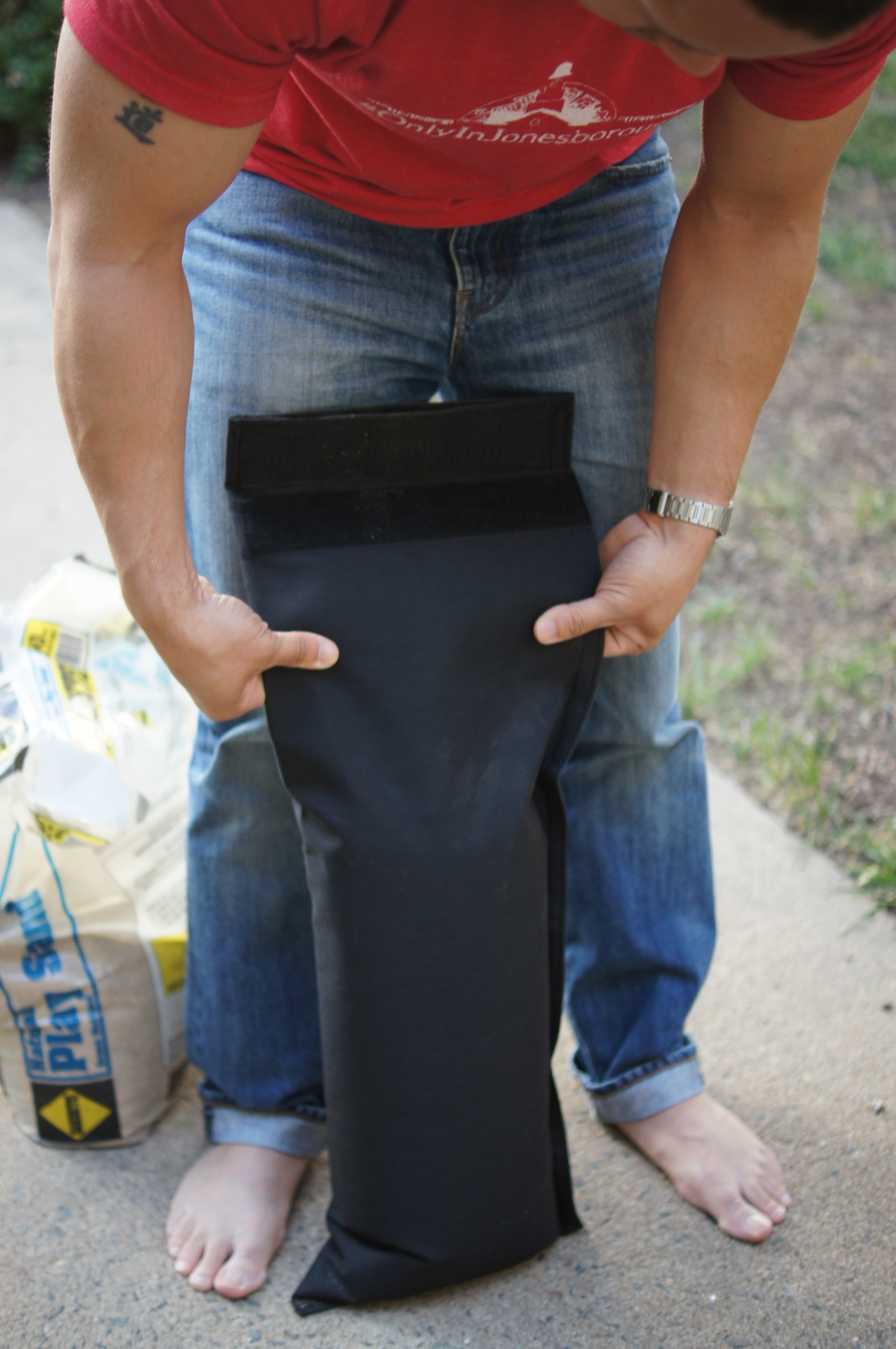 This is also the point in time I started to admire Aaron's muscles. HAHA 🙂
Step 3:
Put the filler bag the duffel and do a test lift!
Once we filled the sandbag, it was super easy to add it to the duffel for easy maneuvering! What I love about this is that we can swap out the heavier bag for the lighter (or vice versa) whenever we want.
You might also notice the handles on the duffel – there's six! – which make it really easy to lift in various ways and practical for workouts!
We were both immediately inspired by this little gem and all the workouts that we can do with it! Think: overhead squats, thrusters, even over-the-BAG burpees if we wanted to get really crazy!! I plan to share some of those workouts with you in the next part of this series! Stay tuned! 🙂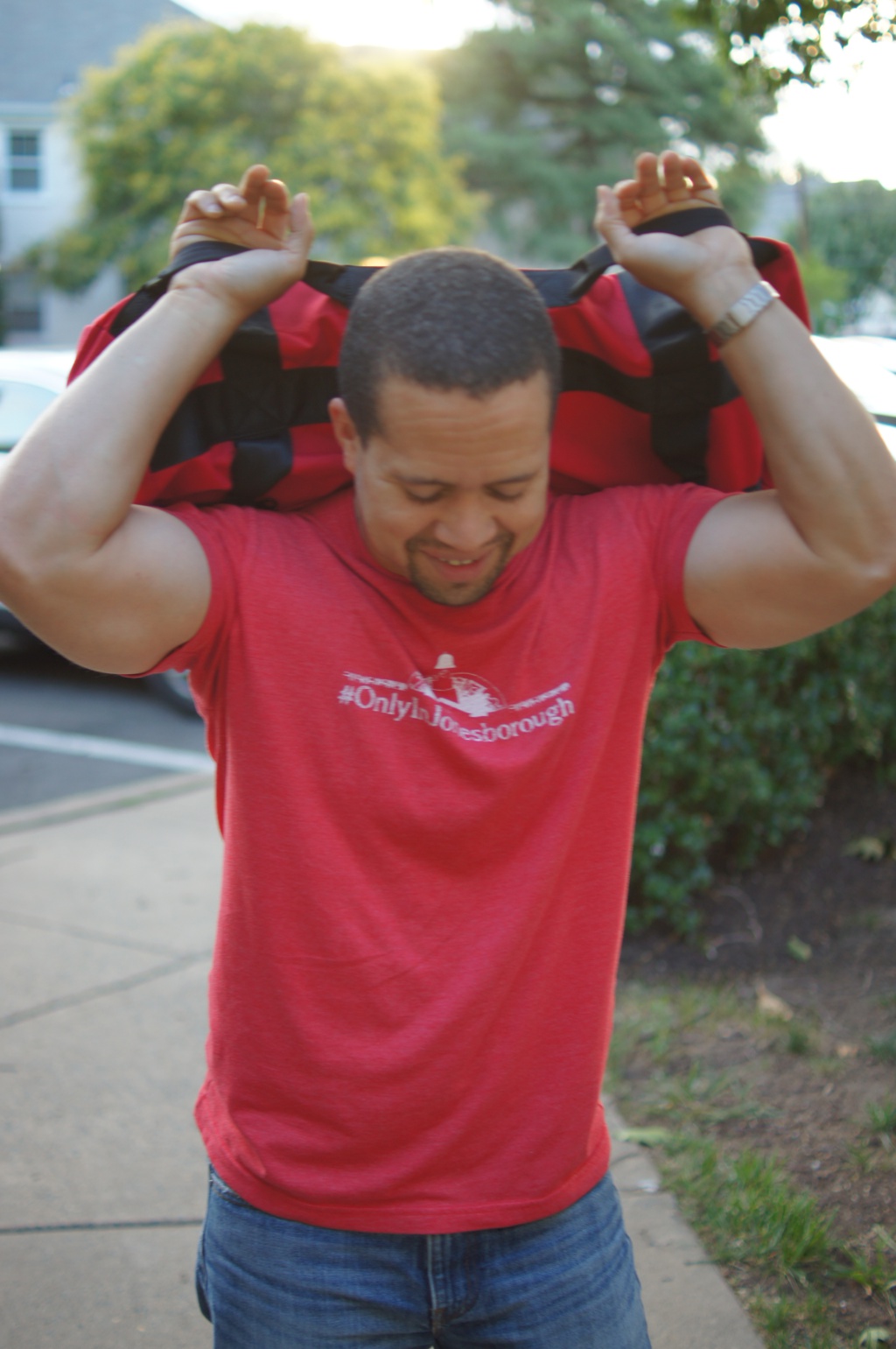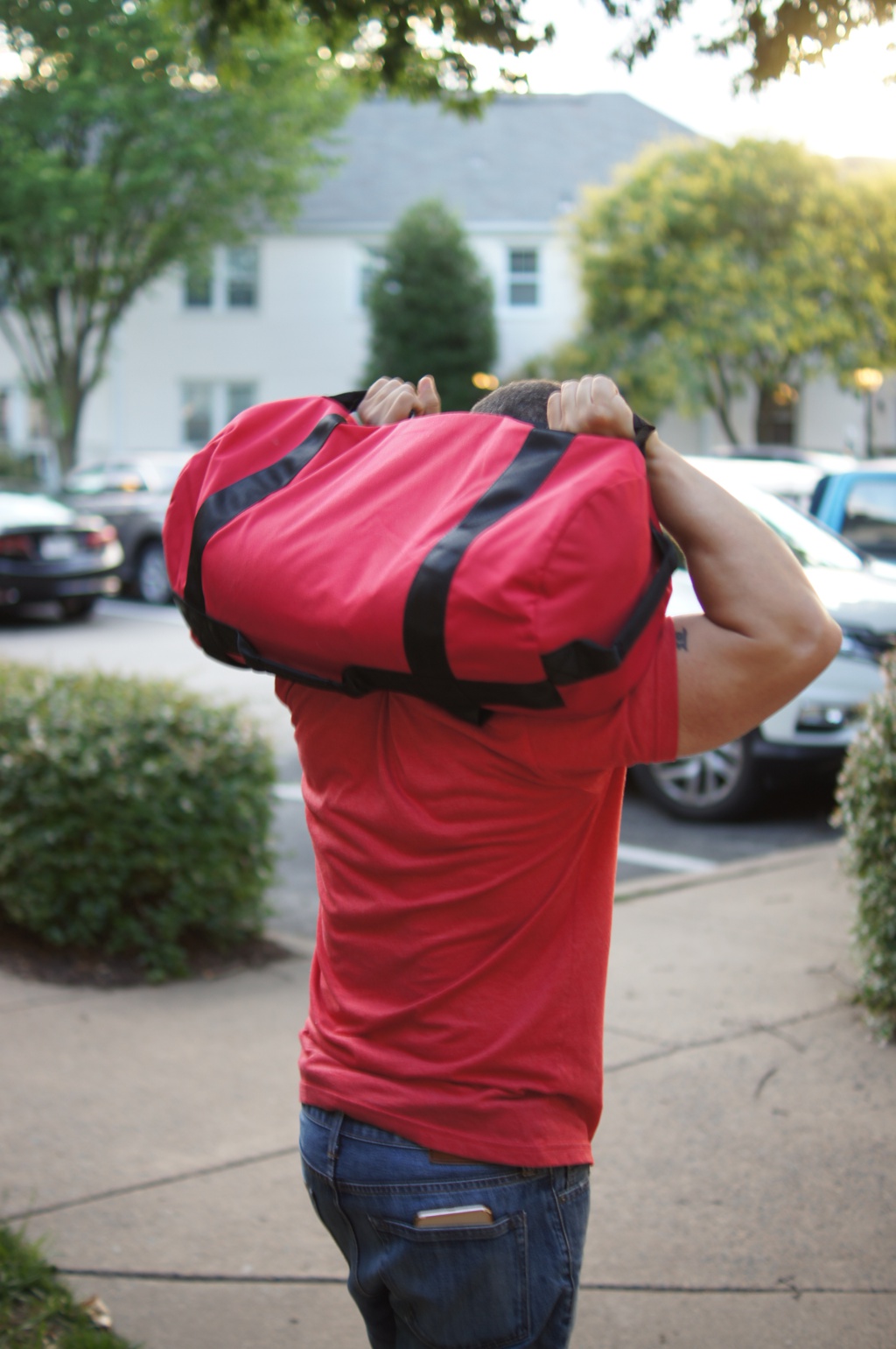 Questions, comments or ideas about home gyms?
Leave me a comment with your thoughts and we'll put a post together on the topic!
Also Enter to Win!
RepFitness has a grand opening this month and they're running a bunch of INCREDIBLE giveaways!
Click the image below to learn more.