Crossfit. Have you heard of it?
Chances are you have! It's like the new zumba, but for weight lifting junkies. It's like the thing to do if you're into fitness; not saying it's for everybody, and not saying you should have tried it by now… I hadn't. Until yesterday.
Crossfit Silver Spring hosted free Sunday sessions throughout the month of February and my workout buddy (Karlye), has been DYING to try it. She wants to be one of these girls… but then again, who am I kidding? So do I!
So, we signed up and got our confirmation emails. We were both scared. Granted, we workout at least 2 times a week with a personal trainer. You may have seen me refer to him as Scary Larry on Instagram. He's pretty nuts (think 100 mountain climbers, 10 burpees; 80 mountain climbers, 9 burpees, and so on). He's also a Kettlebell instructor, though and he's taught us quite abit about kettlebell form and movements. Anyway, I think even Larry was a bit scared for us. He said "just make sure to watch your form because so many of these crossfit places just want you to kill yourself." (Cue Karlye and I looking at each other in terror!)
Anyway, yesterday was the big day and we survived!
It wasn't as bad as we expected either. But, you could also tell it was a "training" session, not the real deal. We did an 8-minute AMRAP (As Many Reps (or Rounds) As Possible) of the following exercises:
5 Goblet Squats
5 Loaded Hinges
1 Lap Bear Crawls
Suitcase Carry L/R
(If you have no idea what these exercises are, that's OK! They will teach you it before they have you do it!)
In total, I think I made it through 4 rounds. It was intense, but honestly, I loved it! Loved every minute. I also felt a competitive side come out of me (something I never had as an overweight kid). I think I was actually the first to finish (shocker!), but honestly, that's only because the girl in front of me had to stop to tie her shoe! LOL! It wasn't a race anyway! (They drill in the importance of form over speed.)
Did I mention the gym lived up to all my expectations, not looking like any other gym I'd been in before? Something about the mat floors, white board, and stop clock- it's pretty awesome. I loved all the inspiring quotes on the wall, too. Loved it.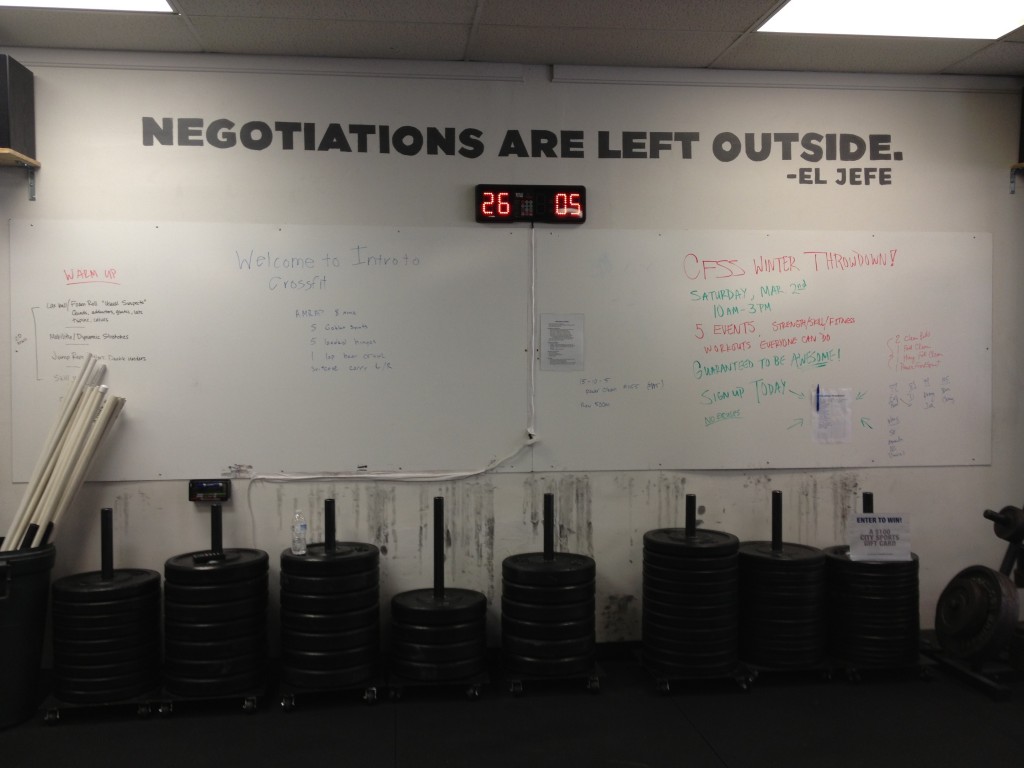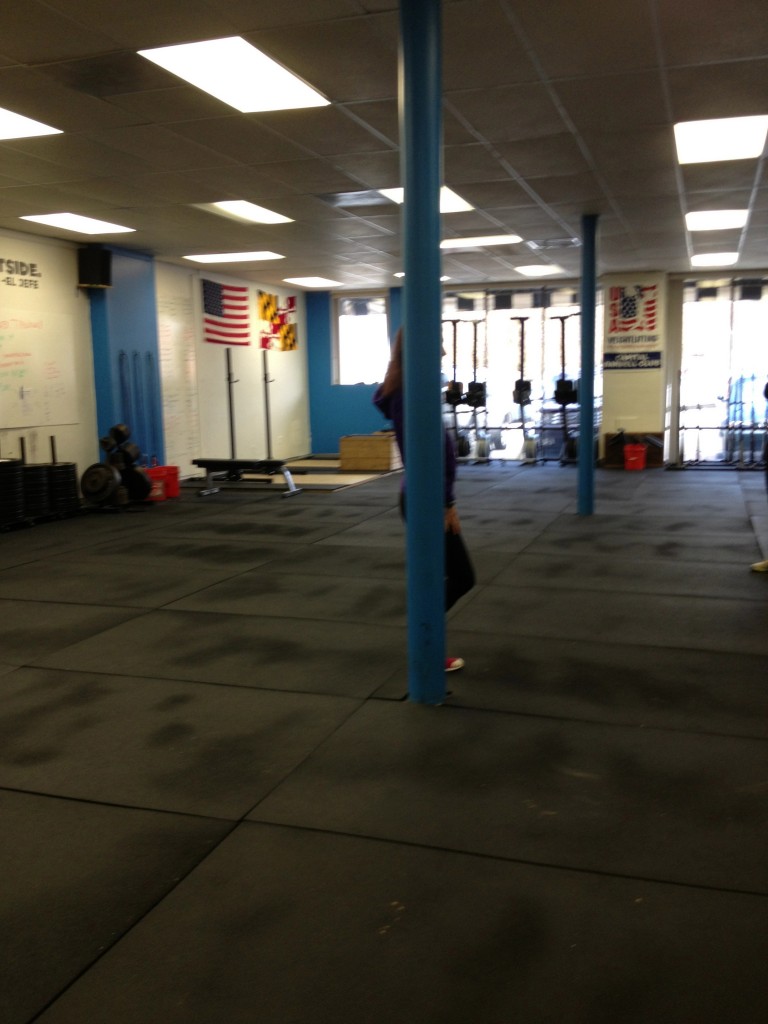 We even went outside! Yep. Crossfit Silver Spring is located on an off-road that also happens to be a hill.
We didn't do this (above) (thank goodness!) but we did do the suitcase carry up and down this hill. I felt like one of those girls in the crossfit clips on Youtube, speed walking up a hill with a heavy weight! Of course, I doubt I looked like one, but still! Thoughts at the time: "I'm doing it! Yay!"
When it was all over, I wasn't sure what to think. Did I love it? I thought back on the questions asked and all that I learned:
One guy asked: "Do you guys talk about nutrition? I've heard the Paleo diet is a big part of crossfit." The instructors said they definitely do talk about nutrition and they both eat paleo diets. One said she was a vegetarian for 30 years, but during that time she struggled to keep up with the workouts (she blames the pastas and other shelf foods).
I asked why it was so expensive. I honestly would love to do it, but in Northern Virginia, most gyms run about $200 a month or more. That's not including the fee for beginner's classes. They said the level of individualized attention you receive at a crossfit gym doesn't compare to regular gyms. There's a very specific program they follow, but they also watch their student's progress closely, and will customize based on a client's needs/abilities. It was obvious that they believed crossfit produced better results than traditional methods of working out, too.
Another thing: they are all about "functionality," meaning doing exercises in a fluid motion, and lifting weights like you would lift a bag of groceries or a heavy item (like a chair or coffee table). This really stuck with me when I left. It just makes sense! I mean, sure, you can work your quads on a machine in the gym, but why not work them by doing squats? You'll need to squat till you're old and gray! The teacher said she plans to squat till she's 90 so she could get herself up and down from the toilet! (The instructors were nice and humorous, which was great for breaking up the tension/fear in the room!)
Alright, so if you can't tell, I'm drinking the kool aid! Haha. I went home and talked and talked about everything I learned. My husband, Aaron, was finally like "what is crossfit anyway?" He googled it, and guess what? He's ready to go to an introductory class with me (eek)! I'm really excited at the thought of that! We'll keep you posted!
In the meantime, I'm back to my regular workouts with Scary Larry, but I'm dreaming of crossfit!
For those of you interested in learning more, I would recommend visiting crossfit.com. My husband found this definition on the website:
CrossFit itself is defined as that which optimizes fitness (constantly varied functional movements performed at relatively high intensity).
Several crossfit gyms also offer a free intro class. You may want to check your local listings.
Have you ever done crossfit?
Are you interested in doing it?
If you are a crossfitter, what do you love the most?
Also, special thanks to Crossfit Silver Spring for giving me the opportunity to try out this new, cool workout style!
Photo credit: Second to last via Silver Spring Crossfit / All other pictures taken by me or Karlye.