Meet Marissa and Derek, newlyweds who met at a CrossFit box.
Going off all the – gorgeous! – blush pink in their wedding you might not guess these two were CrossFitters, but they're certainly in shape! Just look at Marissa's silhouette! She's stunning!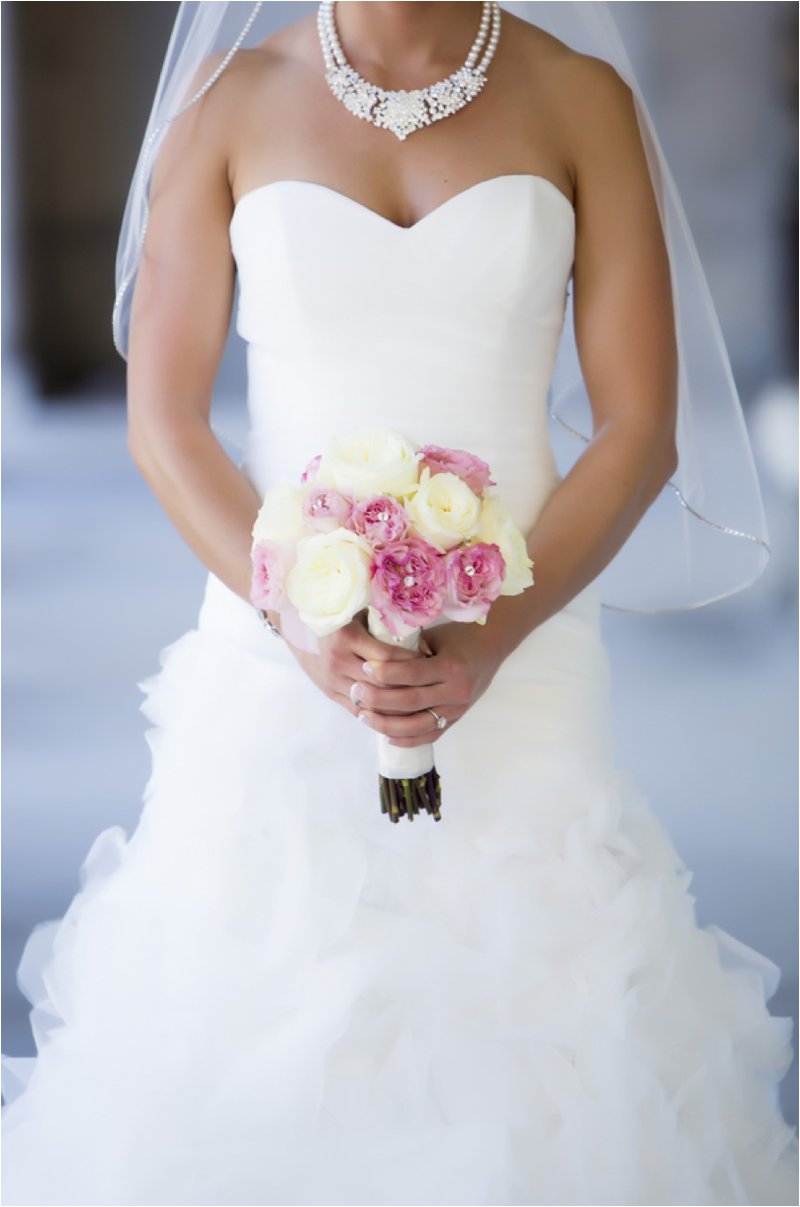 Derek has to stay in shape – he's a Law Enforcement Officer on the Special Weapons and Tactics (aka SWAT) team. You can tell he's quite proud, as he should be!
Below Marissa shares a little about how her and Derek met, wedding planning, and their honeymoon. Tonya Beaver is the genius behind the lens; these photos are perfection! Thank you for your submission, Tonya! Now take it away, Marissa!
How did you two meet?
We met at a CrossFit gym in the summer of 2011. I had recently moved to Jacksonville beach and needed to find a gym- I just picked the one closest to me. We both worked at night so we attended a late afternoon class together and I always found myself getting butterflies in anticipation of pulling up and seeing his car there! We quickly discovered that we attended the same church (he sat in the front row so of course he never saw what was behind him) and in a few short days we were on our first date. We hung out almost every day, we were off from then on, and began dating shortly after that.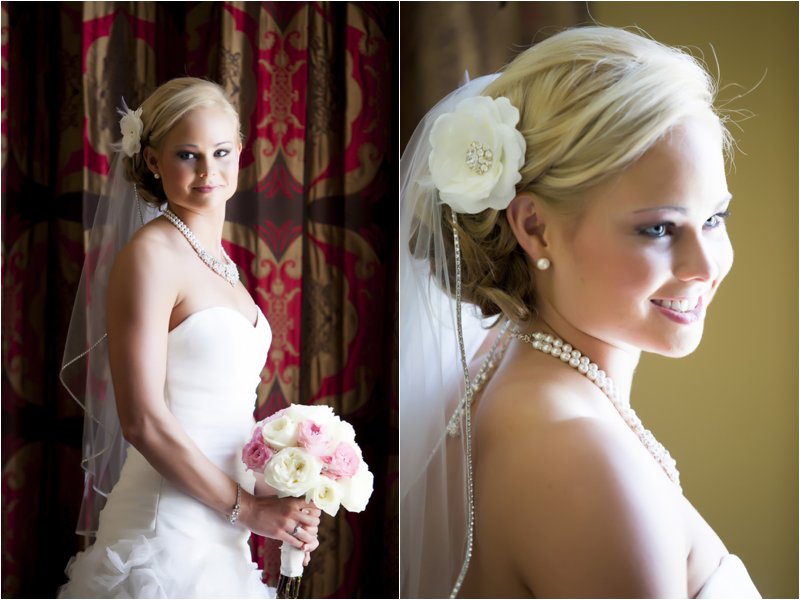 How did you decide on your color scheme, flowers, and cake?
Pink is my favorite color so I knew I wanted to do pink, and since hot pink had become so popular at the time, I chose a light pink. I was really into light pink and grey, and Derek was OK with that as long as the pink was the accent color, so that it was. I absolutely love peonies and I wanted to have them in my bouquet, even if they were out of season and more expensive. I don't care for the look of regular roses so my florist used spray roses and garden roses for the girls' bouquets and the guys' boutonnieres, which are both somewhat more similar looking to peonies but less expensive and easier to get during the summer.
I wanted to keep the cake somewhat simple and knew I wanted a solid, three-tier, square cake but didn't know or care much about the specifics. Derek went to the tasting with me and actually saw pictures of designs he liked and chose the accents and details for it. I wanted to keep the flavors simple- the tiered cake was white chocolate and the sheet cake was chocolate.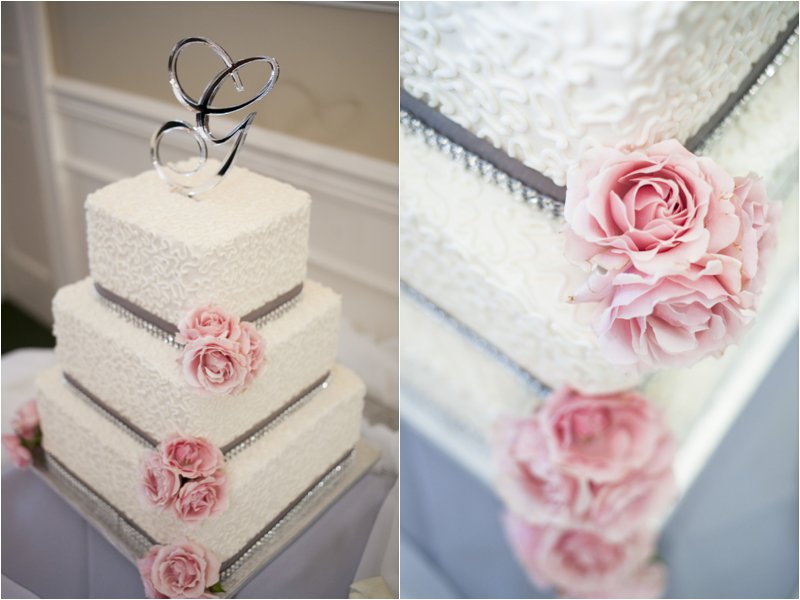 What were some of your favorite details?
I had an idea in my head of what I wanted our invitations to look like, but couldn't find it anywhere or on any website without paying about $5 per invite! I finally found something I loved on Etsy (I used Etsy for almost EVERYTHING!) and the prices were very reasonable. It was simple, only a one-sided invitation, a reply card, and the envelope- the shop is called The White Invite.
Tell us how Derek proposed.
He tricked me into planning my own engagement evening so I wouldn't be suspicious! We had previously been to St. Augustine to celebrate Christmas of 2011 and my birthday that year so it was a special city to us. It was the beginning of December 2012 and I told him I wanted to go see the Nights of Lights event they put on every year. He agreed and told me to pick out a nice place to have dinner at and make reservations. I made the plans and we went, had dinner, and he proposed afterwards in front of the beautifully decorated staircase at the Casa Monica hotel. Such a surprise!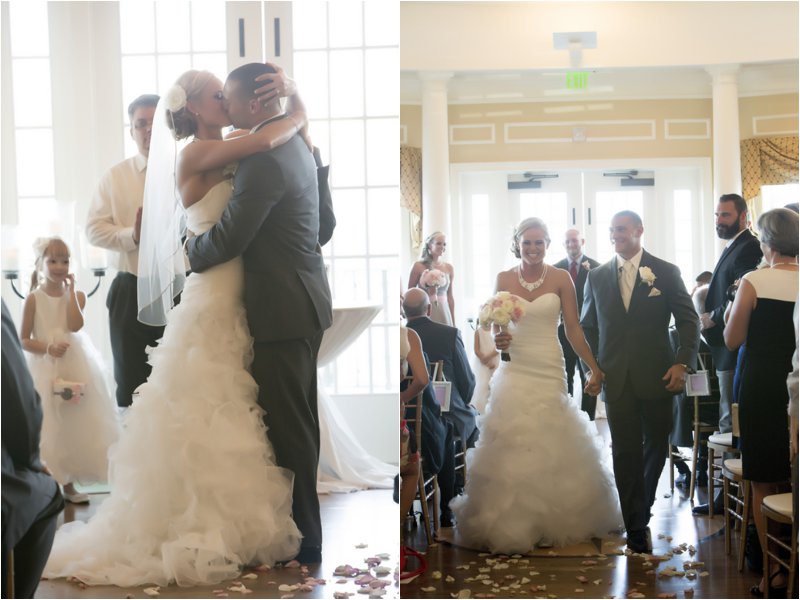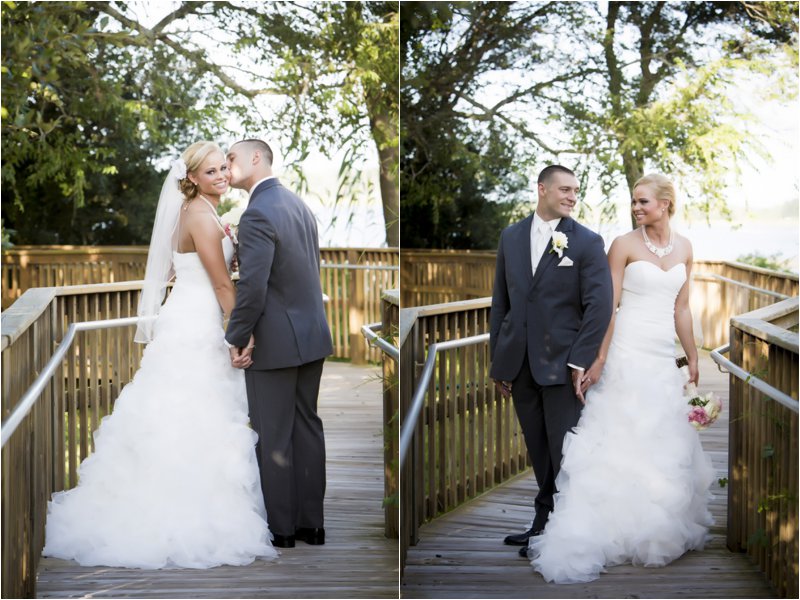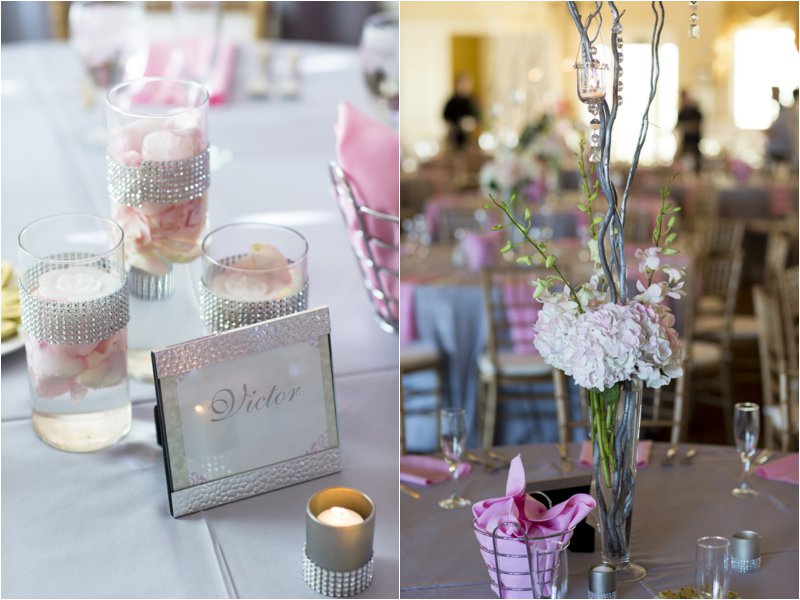 If you could give yourself any advice prior to the wedding, what would it be?
To not worry about what everyone else wants or trying to please the family, guests, etc. This is OUR day and we get to choose the way we want things to be done. Also, relax and enjoy all of the little moments. The day goes by SO fast and I just tried not to get caught up in the delays, dilemmas, and details of the day. Everything would work out, and no matter what happened, at the end of the day I would still be marrying my love!
Congratulations Marissa + Derek! Best of luck to both of you! Thank you for sharing your beautiful wedding with us!
Photographer: Tonya Beaver Photography / Reception Venue: River House Events / Submitted via Two Bright Lights // Ceremony Location: The dance floor of the River House / Caterer: Culinary Outfitters / Cake: Kakes by Katie / Videographer: Siberian Pictures / Wedding Coordinator + Florist: Tammy Woodcock