Morning friends! Happy Monday!
Today I'm sharing a the most perfect coffee protein shake, ever! I'm really excited about it because it involves coffee and I looooove coffee! I've tried putting coffee in my protein shakes before and they've always tasted weird, but I think I found the magic formula!
First, the coffee needs to be chilled. (Duh, should have realized that sooner!) Second, you need to add chocolate. Haha. Yes, cause, let's face it: everything is better with chocolate! Third, frozen bananas are a must! I made this with a few ice cubes the first time around and it was good, but when I subbed out the ice for a frozen banana, BAM!!! The perfect coffee protein shake was born! That's when I figured it was time to share this deliciousness! 🙂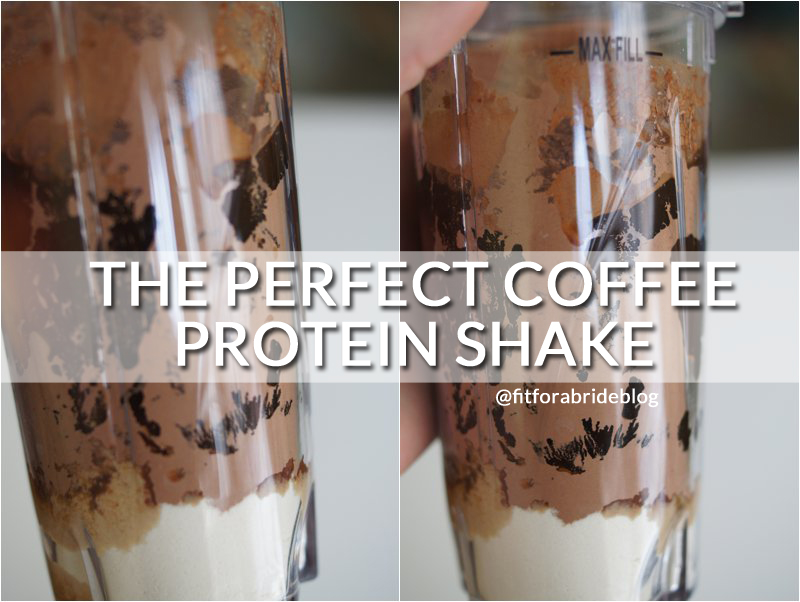 What made me wanna put coffee in my protein shake, you ask? Well, I've been trying to incorporate more protein into my diet. I've suspected for awhile that I wasn't getting enough and this past week when I started logging my food, I realized just how much I'm lacking this important building block! (I like this article from Woman's Health on why protein is important part of diet!)
I knew I could easily incorporate a protein shake in the morning when I have access to a blender, but I almost always want coffee in the morning (nothing else), so I googled "coffee protein shakes," to get ideas. There were a lot of good recipes but mostly everyone used the same formula: cold coffee and either almond or coconut milk. When I finally gave this a try I was so pleased with the outcome! I hope you guys like it, too!
Ingredients:
In the evening, I make a single cup of coffee using hot water from my Keurig and Taster's Choice instant coffee. I make it in a mason jar and store that in the refrigerator overnight. I also make sure I put a banana in a plastic bag in the freezer overnight.
In the morning, I dump the cold coffee in my Ninja blender cup over one scoop of vanilla protein and two tablespoons of cocoa, a frozen banana and splash of almond milk. Then I blend it, which only takes seconds!
I usually run out the door with the blender cup in hand, but I thought you guys would appreciate a little nicer presentation. 🙂
The best part about this smoothie is that you can't taste the protein! In fact, I think it tastes like a Starbucks mocha frappuccino! I usually finish it by the time I get to work (who am I kidding? I finish in like 2 seconds), and when I get in the office, I don't have that urge for a cup of hot coffee anymore! I already feel wide awake and alert — so I go right to drinking water! I love that fact that this is a healthy swap for my cream-and-sugar-filled coffee in the mornings.
With summer around the corner, I'm also happy to have a nice, cool way to start my morning and one that packs more than 20 grams of protein!
There's plenty of ways to change this up, too. You can omit the banana and just use ice cubes or omit the almond milk altogether (if you don't have it or don't like it). You can also swap the cocoa for cinnamon, or omit both and make it a caffe frappe!
I really want to experiment with more protein shake recipes; I'd love to hear your favorites! Here are two others I've shared previously:
Have you ever put coffee in a protein shake?
What are your favorite protein shake/smoothie recipes?
Please note that FitforaBrideBlog.com participates in select affiliate advertising programs. This means that if you click and/or make a purchase through certain links on the site or any related social media platforms, FitforaBrideBlog.com may make a commission from that click and/or purchase. All opinions are my own, and all brands featured represent what I personally like and support.