I've been wanting to share this post with you for DAYS because I'm so, so excited about it.
I'll cut right to the chase: I'm not the best dresser!
I vividly remember putting stickers on a plain manila colored t-shirt in middle school, which I wore with floral tights and sneakers laced with the bright pink laces from my roller blades all because I had a presentation that day. (face palm)
In middle school I still didn't have it together… I remember trying to mimic a popular look: black leggings, timberlands, and slouch socks, but of course I got the wrong kind of Tims (the cheaper, hiking kind), wore regular socks and leggings with the loop around the heel and bulge behind the knee… it wasn't pretty!
Thankfully in High School I became friends with two of the most fashionable girls in my class (you know them as GG). I mimicked what they wore (sometimes unsuccessfully), but I think my style improved, though it's something I still struggle with today.
I've tried various remedies, including even hiring a personal shopper, but that didn't last. It wasn't economical and I found that her additions plus my additions to my already oversized wardrobe wasn't making getting dressed in the morning (i.e. making fashion decisions) any easier.
I've contemplated trying Stitch Fix, a popular styling service–again, thinking having someone else pick my clothes will solve the problem, but I've heard they're a bit pricey and really, deep down, I think I know my style. It's just a matter of uncovering it, right?
Stay with me here.
There was this one time I felt like I really exhibited my true style – during our nine days in Florence, I loved everything I wore. I took a lot of care to pick out my outfits before the trip and since space was a factor (to avoid checking a bag), I had to really narrow it down. But, when I got there, none of that mattered. I remember waking up each morning excited to get dressed and loving every. single. piece. I packed. The color palette was neutral: black, white, and tan, but I played around with lipsticks and beanies to liven up my look.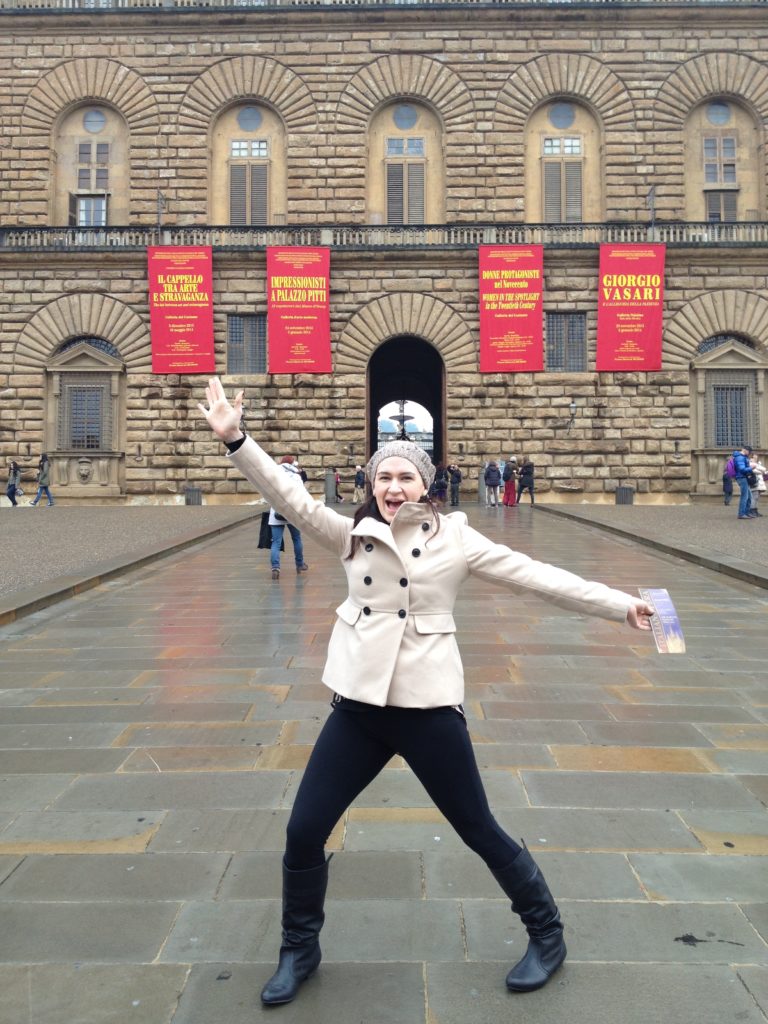 Ever since then I've been saying to myself, Pair it down, Sara… Less is more! Yet, still, I continue to buy clothes in an attempt to 'fill the holes' in my closet and several shopping sprees later, I'm just as frustrated.
Well, friends, I think I may have finally found a name for the minimalist approach to style I enjoyed in Florence and a system to achieve it.
The capsule wardrobe is a minimalist approach to style founded by Caroline of Un-fancy, a daily style blog. The way it works is that you pair down your wardrobe to just 37 pieces (yes – just 37! Shoes included!) for each season. Caroline recommends 37 items because it allows for 9 pairs of shoes, 9 bottoms, and 15 tops; 2 dresses and 2 jackets/coats…
I devoured Caroline's blog, intrigued by this idea and downloaded her wardrobe planner. I really enjoyed filling it out and planning my winter wardrobe! Some insights from the planning:
Lifestyle: Mostly work (in a cube/office), workout (CrossFit), and lounge/weekend clothes with some semi-dressy social events sprinkled throughout.
Word Association: Comfortable, Simple, Preppy and Classic.
Brands: Loft, Ann Taylor, J.Crew and Target. I also love Athleta, but never actually shop there.
Colors: Black, white, and tan is my favorite combination; or just black and white; with pops of pink, merlot and dark green.
Go-to pieces: Tan pumps and tan slim fit work pants; skinny jeans and flat studded ankle booties; black and white victoria's secret sweater and leggings with black and white nike frees.
Go-to outfits: I left this is blank – HA! Figures! I'm thinking once I get my capsule established I'll get a better idea of some go-to outfits. I'd love to photograph and hang outfit ideas (with the pieces I own) in my closet (like this).
So, on December 1st I took the time to go through my closet — I was excited to get started! But let me tell you: this is so much harder than I thought it would be! I had no idea I had so much stuff! I actually started the process on Thanksgiving by giving my little sisters a trash bag full of clothes; then on Monday I filled two more trash bags and a storage bin! The kicker? I'm still not done!!
At this point I think I've narrowed it down to about 50 pieces and that does not include shoes — crazy, I know! But the thing is, I'm already seeing the beauty in this! Just looking in my closet, I feel better. White space! I love it!
I'm still shedding and doing a little shopping to get my wardrobe to where I want it to be but I'm pretty excited about this experiment! Here's a little sneak peak at what's included in my winter capsule:
Loft Chambray / Lou & Grey Black Skinnies / Express Essential Shirt / Limited Ankle Pant / Loft Layering Tee (these are so comfortable!)
I also got this peplum jacket, which I'm stoked about!
I teleworked yesterday (telework=pajamas) but on Tuesday I had fun dressing for work. I wore shoes I hadn't wore in forever and accessorized with a scarf and nice necklace; so far, so good! I'll keep you posted on how this goes — (Did I mention there's no shopping allowed during the season? That should be interesting!)
Does having too many choices overwhelm you, too?
Are you a less-is-more kind of person?
What's your favorite outfit? Favorite store?
Do you consider yourself stylish? How would you describe your style?
(For the record I'm not counting workout clothes toward my capsule! I also just packed up and stored my clothes; I didn't get rid of them!)