Hey hey y'all! Happy Friday! I feel like I haven't blogged in awhile – really blogged anyway with what's going on in my life! Well, I don't know about you but I've been obsessively watching the CrossFit Regionals! We have an Apple TV that allows us to view whatever is on my computer (usually streaming videos of the event) to the big screen. Aaron and me stayed up past midnight last week watching! It's incredible!
I remember watching a little of the men's event last year, and at the time, having just started CrossFit, of course I was intrigued, but this year, it's totally different. I follow a lot of these athletes on social media (Instagram) and I watched a few of them compete live during the Open. Not to mention, the owner of my box, Linsey Wise (CrossFIt Falls Church), is going to Regionals! Aaron and I bought tickets to go next Saturday and Sunday – it's all going down at the Patriot Center! I cannot wait!
A few really cool things I've seen at Regionals… well, Elizabeth Akinwale is INCREDIBLE to watch! She makes everything – including legless rope climbs look effortless! I also happen to see the footage of her setting a new personal record (PR) for her snatch – 200 lbs! (Wow!) Despite that, though, she actually came in second place overall for her region, which I think was a bit of a shock to everyone… But, she's already blogged a little about how she's using the disappointment to fuel her determination and preparation for the Games in Carson California later this year… I love that she blogs! 🙂
I have to say, it was really cool to see a first-time individual competitor, Alexandra LaChance will the North Central Region (Elizabeth's region). She beat out Stacie Tovar, a five-time Games competitor and you can tell from the interviews afterward, she never in a million years thought she'd quality for the Games! How cool! I also love the fact that her roommate and training partner, Kelley Jackson is on the podium with her in 3rd place. Just imagine the excitement the two of them feel right now!!!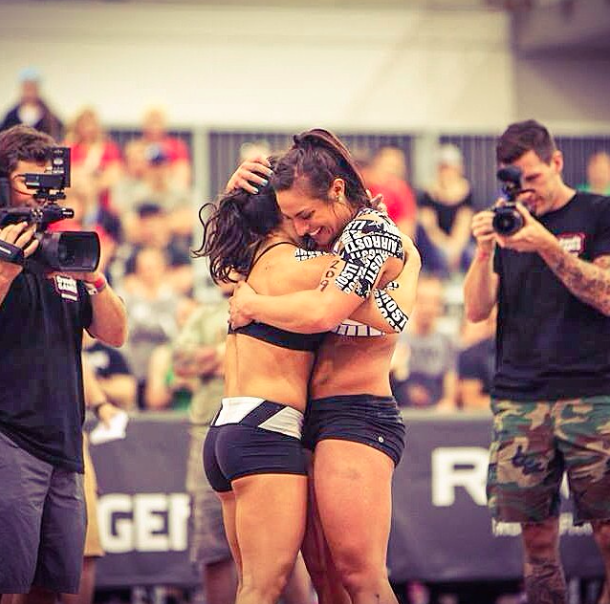 I've also enjoyed watching Talayna Fortunato and Stacie Tovar — I'm so sad she didn't qualify! She reflected about the experience on her Facebook page.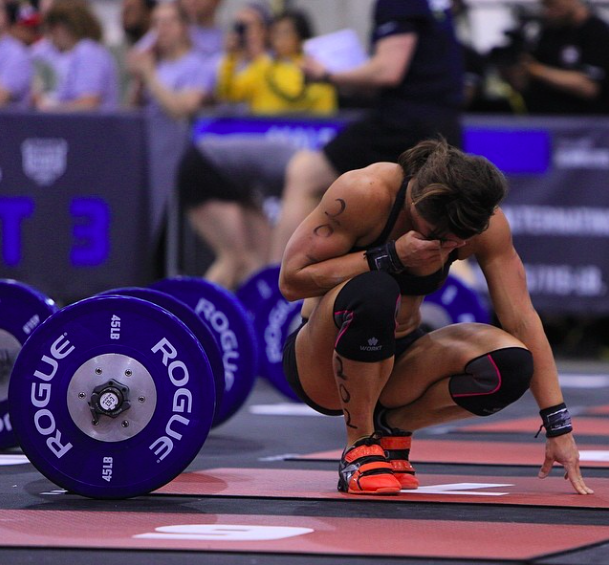 This weekend last year's winner, Samatha Briggs and another top contender, Michelle Kinney go at it and I'll definitely be turning in! If you're interested in tuning into to one of the events, I suggest checking out Event 5, the legless rope climbs or Event 3, which is pistols, muscle-ups, and hang power cleans. You can see all the events here.
Speaking of muscle-ups, Aaron got his first one this week!! So proud of him!!
Alright, so onto Fashion Friday!!! I was inspired by all the booty shorts and six packs I was seeing at the Regional competitions… I can only dream of one day being about to workout in something so skimpy!
CrossFit Bra / Reebok CrossFit Lifter Plus / Compression Booty Shorts
Have you been watching Regionals?
Would you workout in booty shorts?