Earlier today I shared what to do if you don't fit in sample sizes, listing all sorts of ways to avoid embarrassment and stay carefree, but, there's an easier way for those of you in Northern Virginia- just go to Curvy Girls Bridal! Curvy Girls is a premier plus-size bridal boutique in the Washington, DC area, specializing in large-size bridal gowns and plus-size wedding gowns (sizes 12-32)!
Don't let the words "plus size" scare you away. Curvy Girls believes that regardless of size, brides should have access to the best gowns designers offer. They're a full-service bridal (and tuxedo!) shop featuring gowns guaranteed to fit and flatter all sizes. They specialize in Curvy Couture, Pronovias, Manuel Mota, Allure, La Sposa, Anaïsi, Anjolique and Forever Yours.
I had the privilege of sitting down with Ruth, the owner and she told me the story behind this revolutionary shop.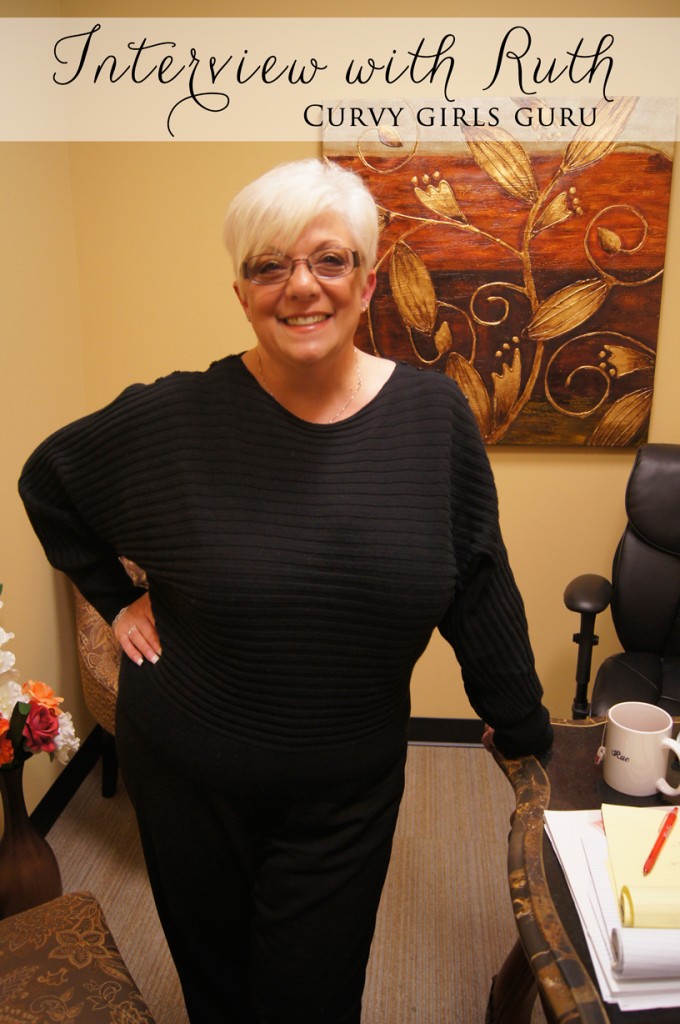 How did you get into this business?
About 20 years I was looking for something to do, the kids were little, and I wanted to get out of the house and do something different. I happened upon a bridal shop. I've always loved fashion and loved bridal. I handed in my application and started there- that was 20 years ago!

I worked there about 6-8 years but ultimately ended up working for Northrop Grumman for a long time.That's where we made money to be able to do this. I finally decided I didn't want that grind of that corporate world anymore and knew I'd always go back to bridal. I talked with my husband and said "What do you think?" He said, "if you have a passion for it and you think this is the time, then let's just do it."

I had always kept my hand in it. Every time I'd have a bad day at work, I'd come home and see who's bridal shop was for sale!
Why plus-size?
I had kept my hand in it and looked to see what was happening- what really dismayed me was that David's Bridal mentality. I watched that gain momentum over the years, and I thought that's not a bridal experience! That's going and getting a gown and being done because you need something white to wear!

I asked myself, "What am I going to do that's different? Unique? Where's my place in the bridal industry? Ok, I know how hard is it to shop. Maybe what we need to do is look at the women that don't have a voice; women that have to settle; that are so used to settling.

We started calling around, "Do you have size 18 in stock? Size 20?" How many do you carry? What brands do you carry. The answer was no-no-no-no all the way around. I said that's it! This is where we need to be. We need to start here! That is basically why I opened it up- there was the need."
There's hardly any other shops like this in the world!
What kind of research did you do to prepare to open?
We did the secret shopper thing as opposed to calling bridal shops and saying who we were. I had my niece play the part of the bride and we went into bridal shops to experience first-hand how we were treated, what they sold. We had to do it that way because otherwise we wouldn't get an honest feel for what was happening around us. I knew there was no other way to get an honest opinion- answers to my questions.
What makes the Curvy Girls Bridal experience unique?
We are here to serve women that have not been catered too. As plus size women, we get the little corner in the top floor or basement. The buyers don't have a clue what to put on bigger women. We're really, really conscious of that.

Our girls our trained to dress the curves. You don't find that other places. In fact, we're all about the curves, and we warn women when they come in – don't think you're going to hide! We're going to show you what you actually can look like! And they're excited. When they come out, and they have that smile on their face– that is why we're here.

Even a size 20 girl, we'll put her in a fit and flare and show off her hour-glass figure. She'll just stand and look in the mirror and say, "Oh my god!" Because most of the time, they come in in oversized shirts and baggy pants. They don't show their figures for the most part. There are some that embrace their curves. Others, not so much.
How do you chose the dresses you have in stock?
Every dress we have is chosen by me. Just because it's on the best sellers list for our sales. I look very carefully at necklines- ruching and a-symmetrical lines. We have everything from sheer tops and ball gowns to the latest styles. We have every single silhouette and fabric you can think of. We do that for a reason… so that the girls have a chance to experience that would not otherwise get to!

Girls come in and the dresses zip; they close behind them. I have had so many girls in tears. They just step up on that pedestal and lose it completely. They don't want to get down, because they've never seen themselves look so beautiful.
My dress was ordered three times too big. How does sizing work?
Do you advise the bride on what size to order?
Every manufacture has their own size chart; nothing is custom made. We take measurements and get as close to the chart size as possible. We try to keep our alterations to a minimum. Obviously, there are going to be little tweaks here in there (hem, bustle) but our seamstresses are independent contractors; we don't have any on staff. So we'll make a size recommendation and then it's up to the bride to decide what they're going to do.
One thing I loved about the store is the curvy detail in the architecture. Congratulations on the exceptional design award from Fairfax County! You literally curve around a corner when you walk in; was that purposeful?
We have the dresses displayed the way we do because we want brides to touch and feel them. We want them to experience everything and we do that for the senses.

When we were designing this place, I wanted it to be modern, but I don't want it to be cold. I want it to be warm and not stuffy. I don't want to have the antiques and traditional furniture oriental rugs…
Tell me about the Curvy Girls philosophy; about your gowns and why you've chosen to spearhead this movement.
"We figure that it's always easier to pull in on a little girl and give her at least the look (an idea of what that gown is going to look like), but you can't do it the other way around. That is why our sample sizes start at a size 12 which is like street size 8-10. Also, what we carry here are the same manufacturers you see in the bridal magazines, but in sizes that fit! They all make them. It's just that nobody wants to carry them!
Are there certain dresses that work for certain body types?
I wrote an article for one of the bridal magazines about this- we're so used to being "typed by our body type" so if you look like an apple you you're supposed to wear this. It doesn't work that way! That is all such myth! Our bodies are so unique, they need to be dressed on an individual basis, not grouped into a well, you're close to looking like a this or that, so this is what I'm going to put on you! And of course the fallback for larger girls is a-line. Let's just throw an a-line on you because that hides everything!

I tell my brides all the time: you don't chose the dress, it choses you. You put that dress on and there's something that you feel as the bride, as you feel inside.
Tell me about one of your brides:
I had one girl in here that was a size 12-14. She had been to another bridal shop in the area, but she didn't tell us at the time, but you could tell she wasn't happy. We asked her, "So, what do you looking for? What's your style? What do you feel comfortable in when you dress up, that sort of thing." She said, "Well, I really thought that I wanted fit and flare, but you know… "

Now she's a little size 12-14 BRIDAL, which means she's tiny… So sure, we pulled out a bunch of dresses and brought her to a dressing room. The first one she came out in, she stood on the pedestal and started to cry! We were worried, wondering what we did?

She said, "No, you don't understand. I was just at a bridal shop, I told them what I wanted, much like I just told you, and the sales lady pointed her finger at my body and said "THAT doesn't belong in a fit and flare. That belongs in a ball gown or something that hides you! You don't want ot show that off." Are you kidding me? How sad! And this girl looked phenomenal!! Absolutely remarkable!
That's pretty upsetting, but I remember feeling similar in some shops. What else will you do to accommodate a bride's wishes?
We've done some really unique things. We had one girl who really loved the top of one dress and the bottom of another dress, and we actually ended up putting them together and it turned out gorgeous! She was thrilled. We can do all those things- add sleeves, add straps, or do whatever.
How much time should brides allot for an appointment? Because I know, after reading this post, they'll be running to Curvy Girls!
It's an hour and a half appointment. Obviously we want to know a couple of things: when are they getting married; what time of year? No satin ball gowns for the beach! How big is the wedding going to be? Outside? Inside?

We know it's a stressful time and we try to take some of the stress away.
Thank you so much, Ruth! I truly, truly enjoyed meeting you and I believe in your cause! I know there's a lot more about Curvy Girls that we didn't cover. For brides interested in learning more, check out Curvy Girls Bridal website: http://www.curvygirlsbridal.com. Give them a call: (703) 539-8777, or better yet, go shopping for your gown! They're located on Fair Ridge Drive in Fairfax, VA.
I'm going to leave you ladies with a snippet from the Curvy Girls website, which I think says it all: "We realize that over 60% of today's brides are size 16 or larger, so it amazes us that bridal shops carry most of their try-on samples in sizes 10-12 (which translates to an 8-10 or smaller in street wear). While we carry smaller sizes as well, it is our goal for all brides to experience the same excitement and joy of shopping for their wedding gowns regardless of their size. We chose to carry the majority of our gowns in sizes 12-32 so we can better fit the majority of our brides who come to visit us."
Where are you shopping for your wedding gown?
Are sample sizes a concern for you?
---