Greetings friends! Happy Monday! I hope you had a fabulous weekend.
I just returned from an amazing trip to Turks and Caicos, a small island in the British West Indies. We stayed at Seven Stars in Grace Bay, and it was ahhhmazing!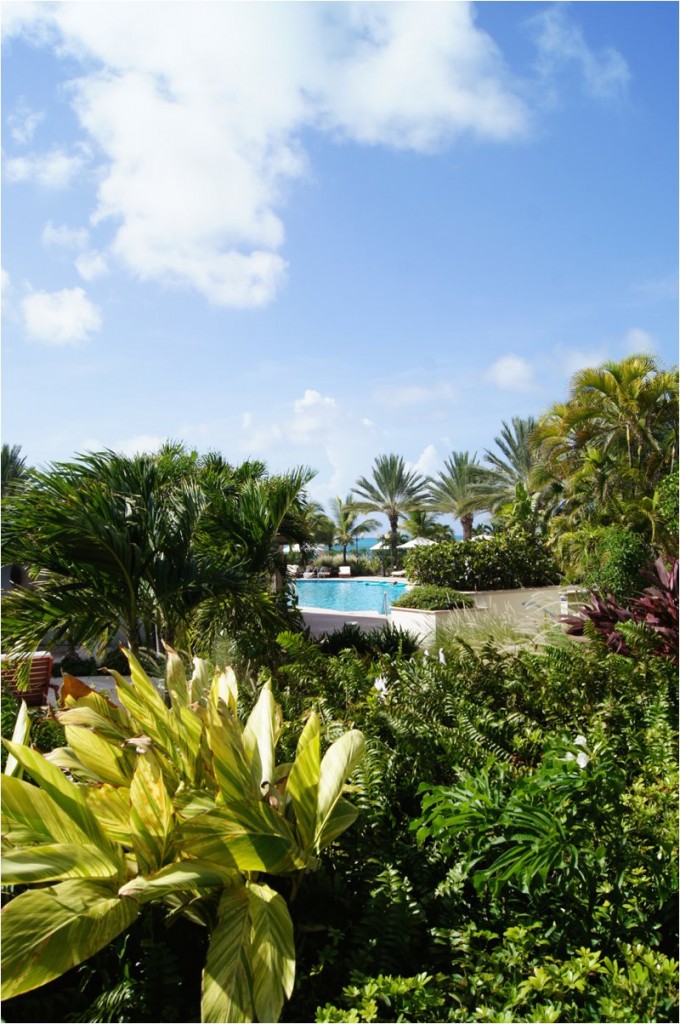 As you can see from these photos, the grounds at Seven Stars were lush green and gorgeous! The resort was really perfect: it was centrally located and the staff provided top-notch service. Each room has a full kitchen, washer and dryer, and the junior suites have a killer view! We were on the first floor, which meant we were just steps to the heated salt water pool and beach. This was by far the best vacation location and experience I've ever had!
At the beginning of the week, we went to Graceway Gourmet, a grocery store near the hotel and stocked up on snacks. The kitchen allowed us to prepare our own lunches and save a few bucks, which was great. Breakfast was included with the resort, so we really only had to eat out for dinner each night. The food in Turks is definitely very pricey, but I think it was totally worth it! We had some delicious meals, and I was thrilled to get to try some of the island's most popular restaurants: Bay Bistro, Coco Bistro, and Seven. (I plan to blog more about the food we ate later this week.)
Eating out was fun and I loved the food, but to be totally honest, we would have happily stayed nestled at our resort all week — it had everything we could want or need! We ate at the resort restaurant (Seven) twice and both nights the food was great. The pool restaurant, The Deck had a great selection, everything from burgers to pizza, and served up some delicious smoothies (we tried several: the banana, passion fruit and wild berry).
The pool was fantastic, too. It's the only salt water pool on the island and it's surrounded by comfy, oversized lounge chairs and cabanas (from which you could order food and drinks). They also provide pool loungers, which let me tell you, were a highlight! Just imagine, lying on a lounger in the middle of a gorgeous pool on a tiny island? Hello, paradise!
The resort also offers complimentary bikes, hobbycats (for sailing; though you do need sailing experience to use them), stand-up paddleboards, kayaks and more. We went paddleboarding, kayaking, and eventually, paid a little extra to try parasailing. Turns out that was both scary and exhilarating – definitely a once-in-a-lifetime experience for us!
The reason we decided to go parasailing in the first place was to see the gorgeous turquoise sea from the sky. In Turks they describe the beach as "totally turquoise," and it's so true! The water is the most beautiful shade of crystal clear turquoise and gorgeous. It was warm, too, which was so nice. We literally spent hours just floating in the water at the beach. I wish I was back there now!
With the beach and the pool just steps from our room we found ourselves doing a lot of lounging throughout the week: waking, lounging, eating, napping, and lounging became our routine! It's a little shocking to be back at work today but I can definitely say I'm relaxed and, I can't wait to return to Seven Stars and do it all (or really, do nothing) again soon!
What's the best vacation you've been on?
Have you ever been to the Caribbean? Where did you stay?