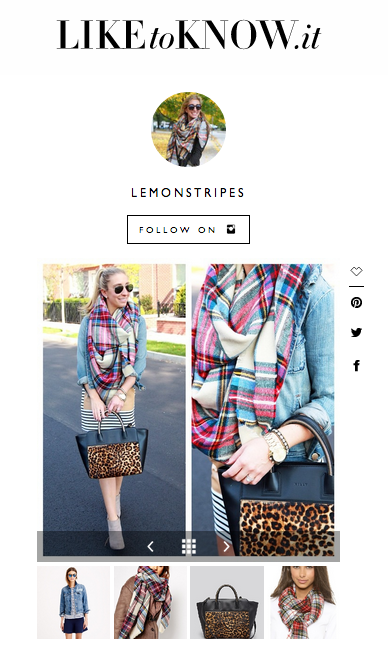 You guys know I like to do round-ups of workout clothes for Fashion Fridays, and I've shared a little about my own wardrobe woes, wanting to dress better, both in and out of the gym.
Well, I recently discovered a cool app that makes shopping a breeze and, I can do it through one of my favorite and frequently used apps, Instagram!
When you sign-up with Liketoknow.it you get the scoop on where to buy items pictured in a post shared by a Liketoknow.it participant!
For example, I could post a photo of my purse, tag Kate Spade, and, if I'm signed up with Liketoknow.it, give you instant access to shop that same purse with just a click of a button! Pretty neat, huh?
You can log into your account on Liketoknow.it to shop all Liketoknow photos, but they've gone a step further and made shopping Instagrameven easier by sending you an email with direct links to the items in any Liketoknow.it image you've liked on Instagram that day!
Did you catch that?
Like the photo. Get an email. Shop!
I follow some pretty fashionable ladies on IG and I'm excited to have direct access to their wardrobes, and the items I often look at with envy! I love that there's some budget savvy fashionistas out there, too!
Here are a few of my favorite Liketoknow.it instagrammers:
I love how Instagram is becoming like a mini blog world, with mini posts from 'bloggers' or frequent posters; there's photo styling and a lot of personality and now, it's even involving big brands– it's a whole new wave of digital marketing! It's kind of amazing how fast and furious the digital world is, huh?
I think anyone can use Liketoknow.it whether you're posting to Instagram or shopping Instagram. I'd probably need to be a little more fashionable to start directing people to shop my posts, but nonetheless, I think this is a pretty neat idea, especially for fashion bloggers.
Have you heard of Liktoknow.it?
Do you follow any fashionable Instagrammers?
Do you ever see Instagram photos you'd like to shop?