Smoked Salmon & Asparagus Frittata
Hey, hey and happy Tuesday!
Today I'm excited to share a new recipe with you.
For me, one of the biggest steps toward getting fit again has been getting back in the kitchen! With all the stress these past two years, I forgot how much I love cooking and experimenting with new recipes. The kitchen is a safe/zen zone for me where I'm able to temporarily set aside daily stressors and focus on making something — the small steps of combining this ingredient plus that ingredient calms me and of course, there's no better pay-off than when something turns out delicious — like this frittata did!!
Like most recipes I find these days, I stumbled across this one on Instagram < if you're not already following @Whole30Recipes, go follow them now! > I've made so many recipe cards from recipes I've found there — I'm yet come across one I didn't like!
What I love about this smoked salmon and asparagus frittata is that it doesn't taste as dry as some frittatas do because the salmon keeps it moist. The asparagus adds a subtle crunch/texture as well! The original recipe called for zucchini but I only had asparagus so I tried that instead, and voila, this recipe was born.
The other secret ingredient to this dish is the fresh dill! If you aren't using fresh herbs in your bakes at home, people get with the program!! They add so much flavor and little to no calories at all; plus have some amazing health benefits. Here's the ingredients you'll need for this dish:
Extra Virgin Olive Oil (or coconut oil)
Asparagus
White onion
Eggs
Fresh Dill
Smoked Salmon
Salt & Pepper
I used about 8 eggs for this recipe but pretty much eye-balled the amount of other ingredients to a ratio I thought looked about right. Clearly did not hold back on the dill! 🙂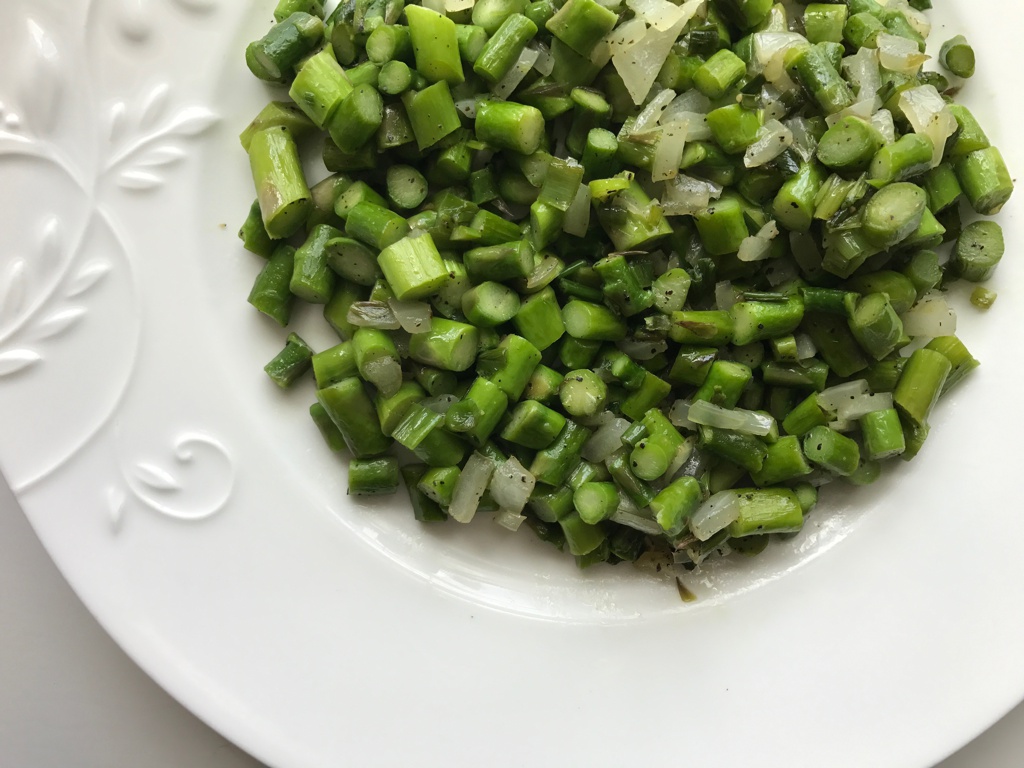 One key component to this dish is the asparagus and onion mixture — after you sauté this in oil, you'll want to give it some time to cool before adding it to the uncooked eggs and dill. I was super surprised at how delicious this tasted on its own! I definitely ate a couple spoonfuls while I waited for it to cool —
How to prepare the salmon and asparagus frittata:
Preheat the oven to 350 degrees
Grease your baking pan with coconut oil
Sauté small slices of white onion and asparagus until the onion becomes translucent; side aside to cool
Combine 8 eggs and a handful of chopped fresh dill
Once cooled, add the asparagus/onion to the eggs
Then add in slice of salmon and stir well.
Cook at 350 for 36 minutes or until the center is no longer wobbly
Cool before slicing — then keep refrigerated until you're ready to heat and eat it!
The end result should be a deliciously creamy, tasty egg bake that you can slice and store for breakfast on the go — I sent some with Aaron to work and had a coworker taste it, both approved with two thumbs up!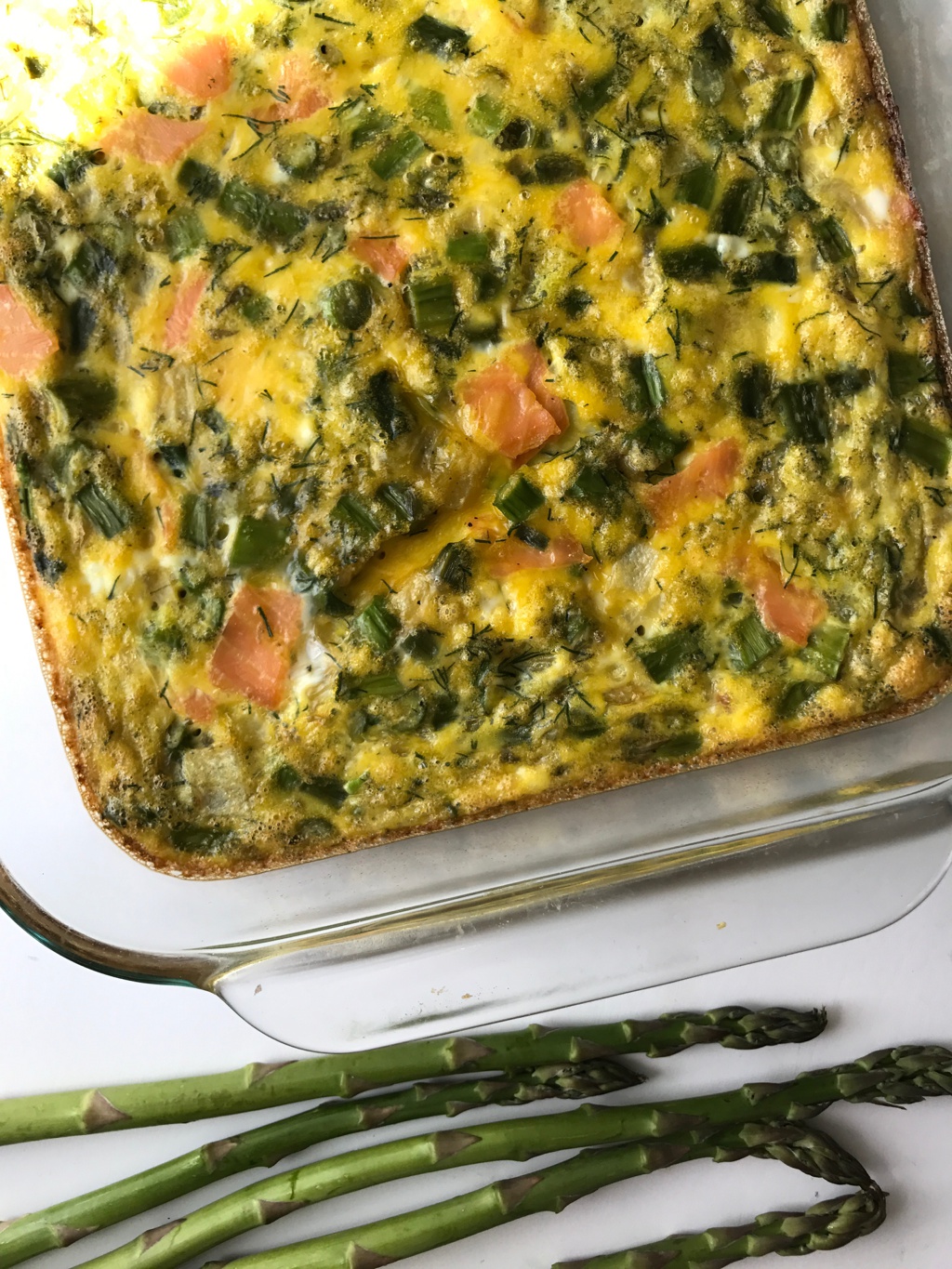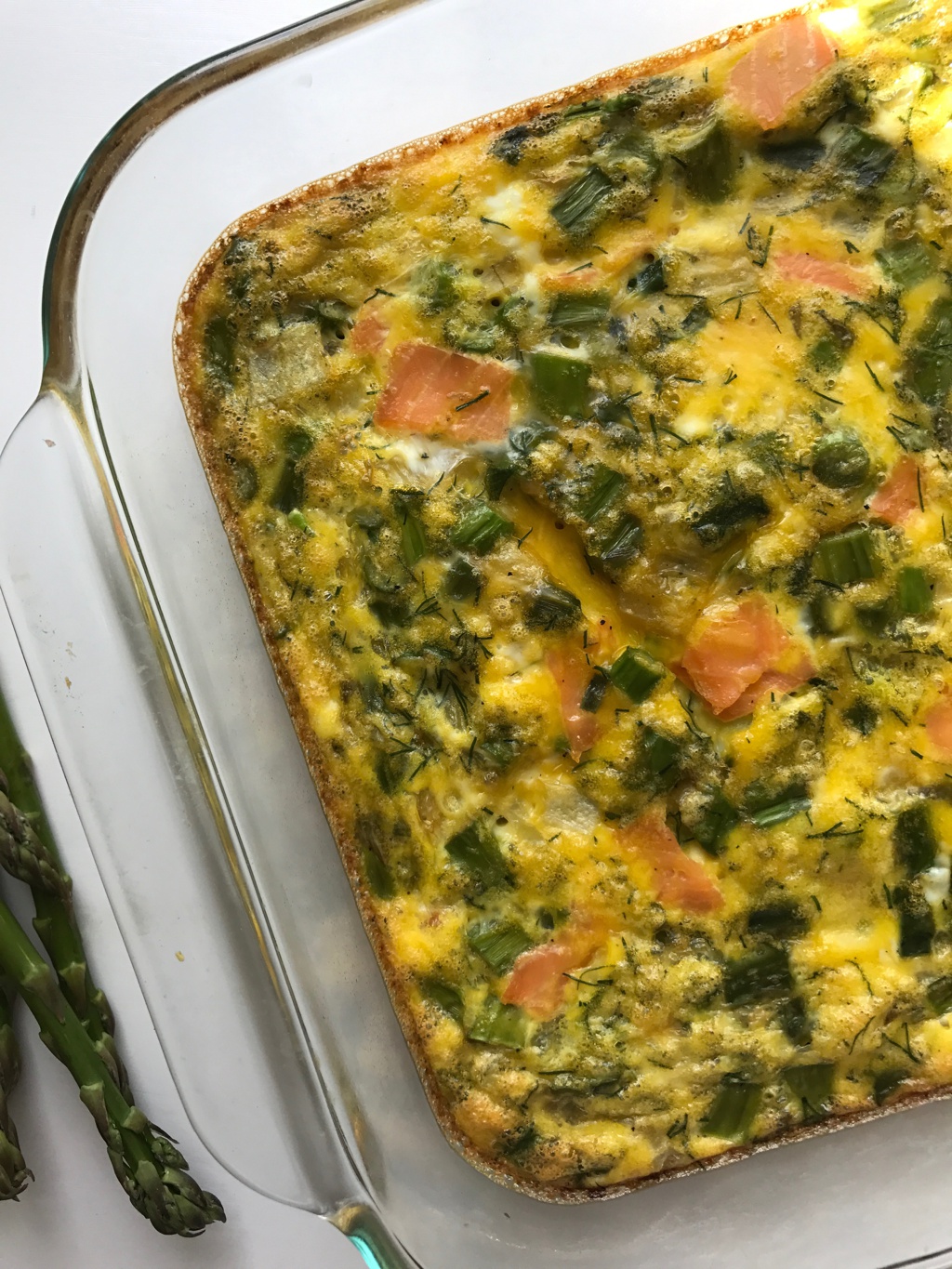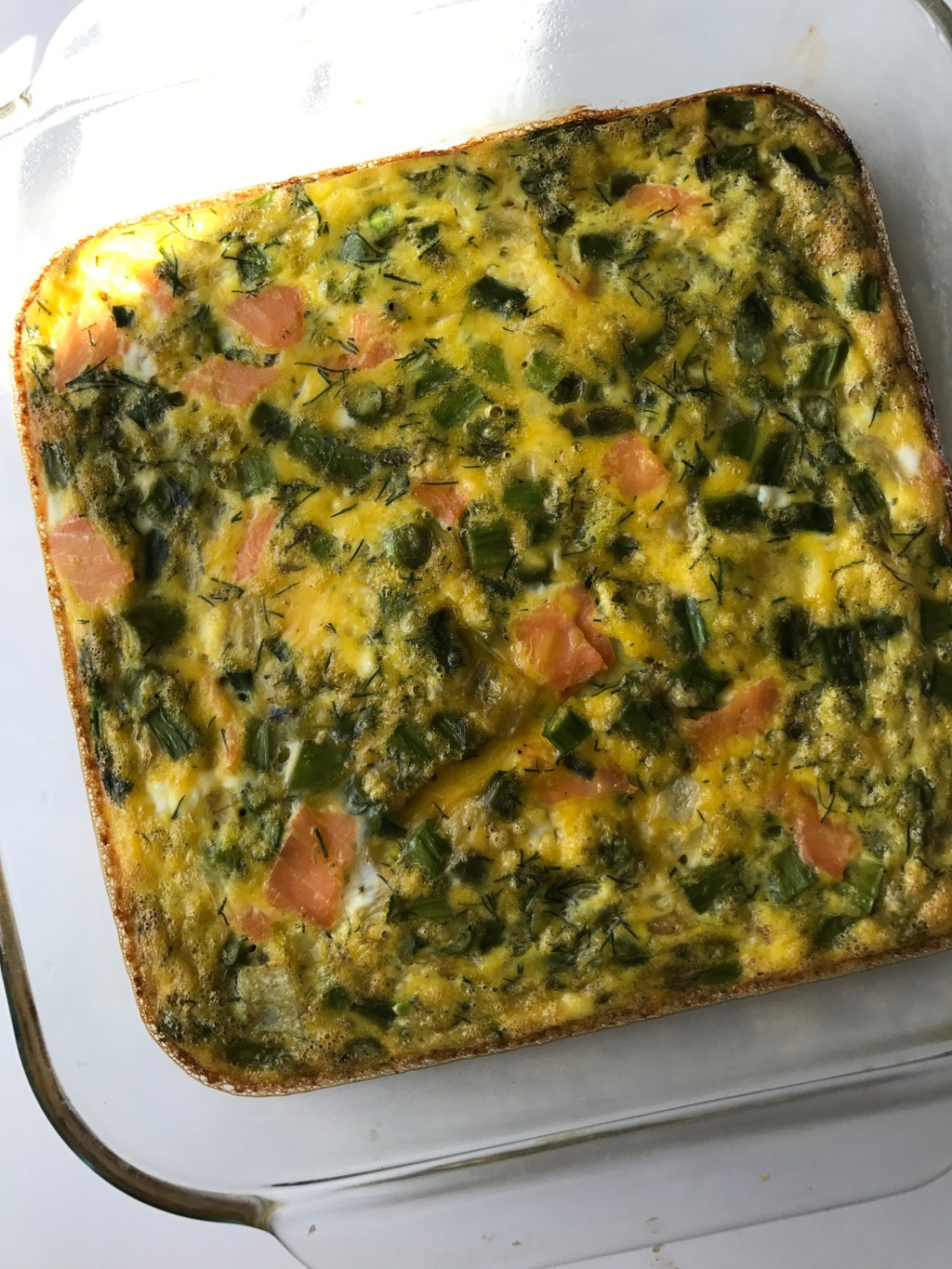 This recipe is a modified version of the Stupid Easy Paleo Smoked Salmon Frittata – which is made with zucchini not asparagus – be sure to check it out as well!
I can't wait to hear your thoughts on this one — how did it turn out?
What's your favorite breakfast frittata?
Is the kitchen an escape for you too?
---