Whenever I meet a new couple I'm always curious how they met. If they're engaged or married, I want to know about the proposal, the wedding plans; I guess I'm just nosy inquisitive? Well, I've heard some pretty cool proposal and wedding stories, but this one takes the cake!
Meet Jennifer and Steve, a Spartan Bride & Groom!
You might remember me blogging about my husband completing the Spartan Super at Wintergreen. Well, it turns out Jennifer and Steve were there that weekend too! I don't know how I missed seeing them but, upon learning their story and getting a change to talk one-on-one with Jennifer, I'm so moved and inspired! Not only because of the incredible accomplishment of finishing this race together — in a full tuxedo and wedding gown (holy moly!) but all that they have overcome to get to this point. You'll read that Jennifer was disabled for a time — lost her eye sight and ability to walk! Now, just look at her! Climbing walls covered in mud and with the man of her dreams. Seriously guys, THIS. This is why I started a blog for fit brides! Take it away, Jennifer.
When and where did you meet your fiance?
We met through online dating and started emailing. I was searching for someone who was very fit but not overly egoistic. I wanted someone who could keep up with me and challenge me in my life, but who also had a sense of humor about life and who has lots of ambition and energy. I was looking at profiles on the dating site and I came across Steve's. He had some athletic muscular pictures, but he also had some silly pictures he and a friend took in Guam that were quite ridiculous with them doing silly poses with these statues they have all over the country. I figured if he is bold enough to post that silliness then he is not too vain and looks like he is a fun person. I winked at him and then we started emailing back and forth for a while and then started talking on the phone. We had tons in common, from our high energy, to the structure of our daily lives, our athletic drive, our ambition in all things work and personal, the same music, love for the outdoors, and so on. We agreed to meet in person at a local park in a public open space and have a picnic. We were both a bit shy at first but once we got over the initial jitters and started talking, we ended up going to my house and having dinner there on the back deck with the sunset and then watched a movie. The date was supposed to last an hour as a quick meet, but the sparks flew and the conversation just kept flowing.
My grandmother always told me to never settle and wait for the right guy and that he would come someday. At age 36, my grandmother send me a present on her birthday 9/11 (she had passed away 2 years before) in the form of Steve, who also shared the name of her son. I'm not superstitious, but it was like this big sign, here's the guy!
Was it love at first sight? Did you two hit it off right away?
After that initial meeting we started talking on the phone every day and became inseparable almost immediately. We just clicked in all forms.
What things did you have in common?
We are both software engineers by trade with a love for computers. We also have very high energy that we know we both must burn. That's hard for a lot of people to understand. If we don't exert ourselves physically we both have so much energy we are just hyper and can't sleep. It's a need to us, the way our bodies work, and it's nice when the person you are with understands that need. We also had very similar upbringings in very small rural towns and both had graduated in our professional lives to living in the DC Metro area. We both have a lot of small town values that we share. The fitness side is also of course a big thing in common, as well as sharing very similar interested in the type of music we like. We both also had severe illnesses attack us at one point in our lives that nearly took us, so we share a mutual desire to live life to the fullest each day because we know that every day is a gift and we don't know how many we have on this earth.
When did your mutual interest in Spartan races come up?
After we met, we were talking on the phone and realized that we had both signed up before we met for the same OCR (Obstacle Course Race) called Tough Mudder (there are several companies running OCRs now as they have become quite popular and more mainstream than when I started racing in them many years ago). It would be located at Wintergreen Resort in Virginia. The race was 13 miles up and down the black diamond ski slopes on the ski resort through mud and rough trails, with many obstacles and challenges along the course.
We were getting along so great and spending as much time together as we could, and decided to make that our first weekend away together. I raced on Saturday and he raced on Sunday. He was teasing me on Saturday that he was going to beat my time, so I raced the hardest I have ever raced in my life. When Saturday came I was spectating and quite nervous because he was creeping up on my time, but in the end I ended up beating him by 20 minutes. We are both very competitive in a fun way with each other and push each other. It is wonderful having that competition, but also the support like on our wedding day when either of us was cramping or overheating or slowing down, the other was right there to help.
Had you ever done one together before?
Since then we have done several OCRs together, a few Tough Mudders and a few Spartan Races.
What kind of fitness activities do you do during the year to prepare for the Spartan race?
We do a variety of things to prepare. We regularly lift weights at Gold's Gym together, and we do Power Yoga classes there together. When I met Steve he told me he did Yoga and I told him I couldn't picture a big guy like him doing Yoga. He did a flying split in front of me on my living room floor, and I was sold! So I started going to Power Yoga with him and we do that regularly. We also do hiking and trail running where we will load a backpack with 30 pounds or more and hike a few miles. We train with Elevation Training Masks to simulate altitude which helps when you go up in the mountains and there is less oxygen, as well as increasing your cardio capacity. We run on the treadmill on an incline or lift weights with the mask on to increase our lung capacity. We have also done a variety of random things like taking a parquet class to help with maneuvering walls and obstacles.
Do you two workout together?
I travel for work often during the week but when I am around I often try to make time to get to the gym to workout with him. He has been helping me rehabilitate my shoulders after some injuries and I like how he pushes me. We also do Power Yoga classes together and all the other sports and adventures we do like hiking, bicycling, kayaking, and so on.
What is it that you love so much about the Spartan races?
So many people that I have met at the Spartan Races are people that I found to be a lot like me… instead of just being a bunch of athletes, they are many people that I met who have had some major life-changing illness, injury, or disability. A number of years ago I fell ill and was given 2 weeks to live. I lost all my muscle and had severe nerve damage and lost my eyesight completely for a while. I was told I would never race again and had to relearn to walk and write my name. So the Spartan Race for me is a way to say hey, look, I am doing what you said I would never do, and it is proof of how hard I worked to overcome all that damage to get to where I am. Every race for me isn't a race against the others in the race. It is a race against myself that I am faster and stronger, physically and mentally, than the last race. And I have met so many amazing people with similar challenges they have been through in their lives that devastated them and they have come back from that too. Sharing that with them in those races is the most gratifying part of the race to me. Showing myself the progress I've made each time, and the things that I can do with this body that I was told was broken beyond repair, and seeing others experience that same emotion going through the races is incredible.
How in the world did you get the idea to have your actual wedding after the Spartan race?
Steve kept asking when we wanted to get married, which I thought was so sweet that he was so excited about it, and I was too, but we didn't want to have a big expensive wedding, but we also didn't want to do something boring like a justice of the peace. He mentioned one day that he signed up for the Super Spartan on Wintergreen, the same mountain that we had done our first race together on and that we also had done the year before. It was the toughest race both of us had ever done each time, and each time we said we wouldn't do it again. Well, he was doing it again and telling me to sign up too. I was sitting at work and the idea came in my head, because we always dress up in silly costumes for the races that we do, that how crazy would it be if we raced in a wedding dress and tuxedo? I already had bought my wedding dress after finding one online that had an amazing athletic cut to it that would work well with my strong shoulders and back and small waist. So I sent Steve a text message and said hey, I had this crazy idea, what if we get married at the Spartan Race and wear our wedding dress and tuxedo? I half assumed he would text me back laughing as if I were joking it was so ludicrous, but the other half of me had a feeling he would love the idea. He texted me back and said that was a great idea. So then we started talking about it later after we got home to see if we were both just joking around or both actually serious. A couple days later we decided for sure we were going to do this. We were both so excited but we had to pull this together quickly. We only had 2.5 weeks before the race!
What did your friends and family think of the idea?
We really didn't give them much time to contemplate the whole idea on such short notice, but when we sent out the pictures of the event they were all so delighted and supportive. When we told them what we were doing, everyone was very excited because if you know Steve or you know Me personally, people would look at us and instead of saying we were crazy and what's wrong with us (which is what we expected people to think), people instead were really proud of us telling us that it was great how we were spending our day that was the start of our promise to each other for a life together in something we both love so much and not having to go with just tradition but really making it about us through and through. And now after they saw how amazing our day was together and how happy we both were, they are so happy with us doing it our way.
What kept you going when you were doing the race?? I know you had to have felt like giving up!
The dress was incredibly heavy, and it really slowed me down because I had to hold it up so I wouldn't trip over it and drag the heavy mud-sodden train along behind me which felt like a bag of bricks. We finished that race in half the time in the past, so we had gone 7 hours and 20 minutes racing up and down this mountain through the obstacles with no real food and being dehydrated and our bodies just exhausted. But one thing that really kept us both going was that with every step the entire race we had people talking to us and clapping for us and cheering us on. That kind of support from people and the adrenaline that Steve and I had and the excitement about what was to come when we got to say our vows together if we could just keep putting one foot in front of the other to make it there was what kept us both going when it got really hard at the end for us.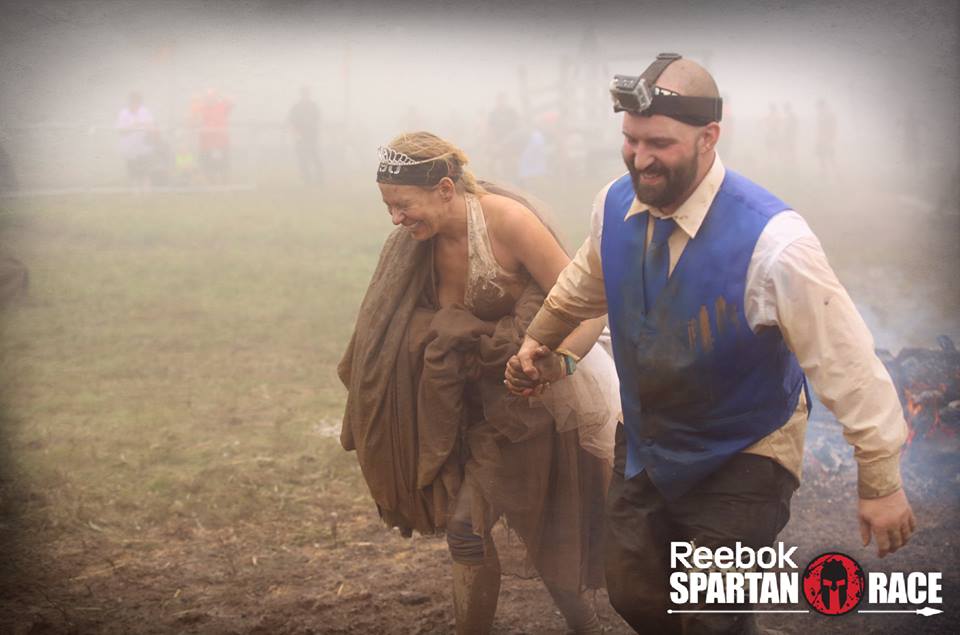 How many burpees did you have to do? Haha
We had to do some at a few of the obstacles. I wasn't going to do anything that was actually unsafe in the dress, so I didn't climb the ropes or go under the barbed wire, which I normally would do. But to make up for it at some of the obstacles I did the men's weight instead of the women's weight, like the sand bag carry and the log carry.
Where other racers cheering you on? I'm sure you got a lot of comments from onlookers; what kinds of things were people saying?
We were used to getting some comments at the races wearing our silly costumes, but this was way beyond that! Every single corner we turned or hill we crested or as people ran past us or we ran past people, they would do a double take and then start clapping or cheering or asking us questions about what we were doing (like were we just married or are we getting married at the end), and we would just tell them that this was the aisle and we were getting married at the finish. We got so many congratulations and best wishes. We also had a lot of people asking questions like why doesn't Steve carry me, and I would respond with a smile that I didn't need carrying and could hold my own. People asked if I was going to run the whole race with my dress, and I said yes, it was my challenge and labor of love. It was incredible fun and such a positive atmosphere with all the wonderful things people had to say to encourage us. I also got called Badass and hardcore for running the race in that dress constantly, and Steve as well in that hot heavy tux. (You probably can't put the word badass in your article, but that's what they said, haha).
I think you're the only person/couple to ever pull something like this off; did you feel accomplished in the end?
There have been other couples who have raced and gotten married at the finish line, and some of them wore a light wedding dress and a tuxedo t-shirt, but I haven't seen anyone yet race in the full ball gown multi-layer dress with 6 foot train or full tux with shirt and vest and tie. There may be others out there but I haven't come across them yet. I don't think before we did it that we realized this wasn't something other couples had done a lot.
At the end we felt very accomplished as hard as the race was and as exhausted as we were after so many hours. The most amazing thing is that when you put your body and mind through that deep of a stress over such a long period of time that it just calms and takes away everything, all your stress, all your thoughts, and your body is in complete survival mode. So when we got to the stage to get married, in that moment, both of our heads were completely clear and our bodies completely exhausted and all we could muster energy to focus on was each other in that moment. It is the most intimate moment I have ever felt with anyone in my life, which may sound strange since we were on stage saying our vows on microphones in front of hundreds of people. But with our minds and bodies spent and no other thoughts coming in, we were so present in that moment.
All in all, was the experience everything you wanted it to be?
I think our expectation was that is was going to be really fun and really us and the least stressful wedding we could possibly plan. We didn't want to be like all bridezillas on tv or anything. We wanted it to be about us and not the napkins and the flower arrangements. So we left all that stuff out, brought in our closest friends, and did what we wanted. What we didn't expect was how many people thought what we were doing was something really big, because to us it was just us and just what we do, but we had so many people tell us that we were inspiring and they loved what we were doing. We certainly didn't expect all the media attention but it has been incredibly fun.
Do you plan to continue to do Spartan races together?
We actually won a contest at vote.spartan.com for a free trip to the Spartan World Championship in Vermont!! We flew there and got to see the world championship race with thousands of athletes from around the world competing! Then we do the Spartan Sprint ourselves on Sunday! THEN, we are then doing a Spartan Beast, which is more of the distance of the first Tough Mudder we had done at Wintergreen, and those 3 Spartan races this year will give us the coveted trifecta!!
I think we will continue to do the race, and then after say we aren't doing anymore, and then one of us will sign up for another one and the cycle will continue. They give you such a sense of accomplishment over your mind and body and it is a feeling that is hard to replicate in other ways. Plus you get to be an adult and play in the mud. That's a win in my book.
What other plans do you have for the future?
We both own our own houses, so now that we are married we plan to sell our houses and buy a bigger house together out in the country. We also dedicate as much time as we can to Steve's children who we have joint custody with that I have been blessed enough to be a parent and now a mother to for the last 3 years. We spend a lot of fun time doing sports and hiking and playing outside with them. We are very excited to continue our life together and grow as a family.
Congratulations you two and thank you so much for sharing your incredible wedding journey with us!
Oh, and in case any of you were wondering, here's what these two looked like before:
Have you ever done a Spartan Super race?
Do you share a special (unique!) hobby with your significant other?