I'm only halfway through my first month with ClassPass but there's already so much that I love! In just two weeks I've been to three different fitness studios and feel like I've really broadened my horizons! I finally tried reformer pilates (loved it) and, I've been to yoga and cycling, two types of classes I love but don't get a chance to do very often.
JourneYoga (http://www.journeyoga.com/): This is a new yoga studio in Columbia Heights (Arlington) near where I live. I went to the 7am class last Friday and it was great – very laid back; the instructor encouraged participants to just do what feels right, which was perfect for me since I hadn't been to yoga in quite sometime! Plus, it was a 7am class so I was hardly awake! The studio is really cute and the instructor was wonderful! All and all, I liked the class and wouldn't mind going back!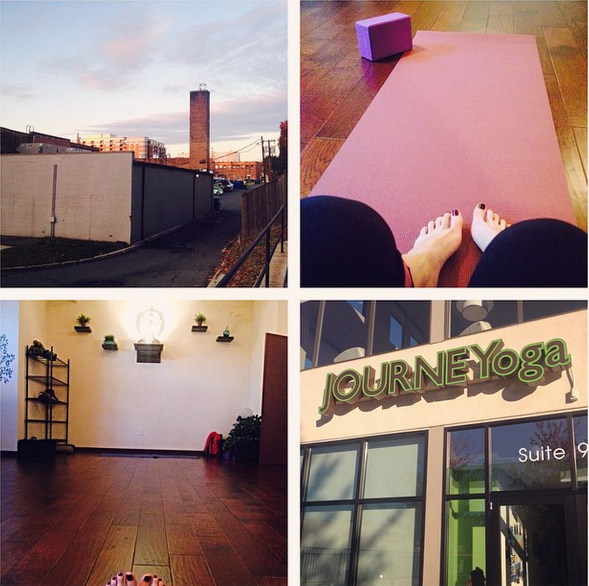 My Thrive Pilates (http://mythrivepilates.com/): There's two My Thrive locations — I went to the one in Shirlington (Arlington) and really fell in love with the studio, the practice, and the people! It was really different, but fun and full or so many new and interesting moves. I was nervous but there were only six people in the class and everyone was incredibly friendly. The instructor was really nice, too. She was very gentle with her commands and in correcting my form. She definitely made me feel at ease! I also felt like I worked muscles I don't often think think about, like my inner and outer thighs, and there was a lot of core work! My abs were burning! The hour long class flew by and I was kind of sad it was over so soon! I definitely plan to get back to Thrive before the month is up!
Revolve (https://www.revolvefitness.com/): CYCLING!! I used to go spin at Sport & Health religiously. The instructor was from Miami, had the best music, and I always left on such a high! The instructor at Revolve has the same high energy. The flow was great – some hills, some speed, and a lot of pushing yourself for another 15 – 10 – 5 seconds left! The only bummer was that I had to pay for shoes ($2) and couldn't take my phone in the spin room to snap a pic for you guys! I also didn't think the people were as friendly as a lot of other studios I've been too, but it was definitely a good workout nonetheless.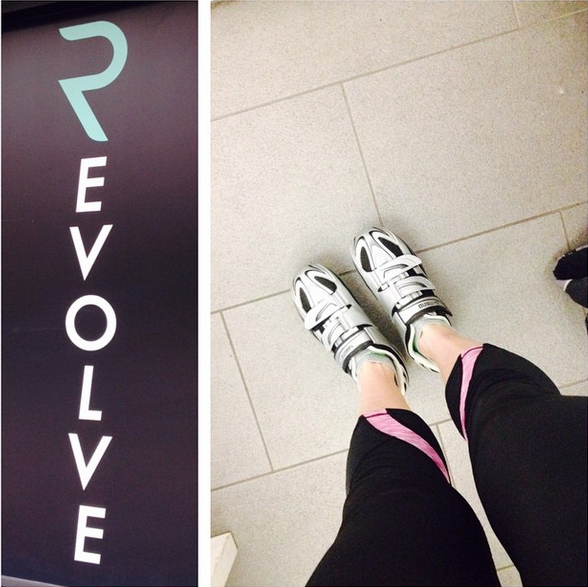 So, how has all this been possible? CLASSPASS!!! What I'm loving about it:
+I can schedule all my classes right from there website – I don't have to go to the studio's website, signup with them or do anything except click 'reserve' on ClassPass. Then I just show up, say I signed up via ClassPass and volia, I'm in!
+Reminders: I love getting reminders! They come right after I sign-up and the the day before to remind me I have a class to attend. I'm pretty busy so these are nice!
I also love that they provide a little insight about what to expect, such as that I may have to rent shoes if I don't bring my own and not to show up late!
+The $20 cancellation fee is serious incentive! I started to think about not going to Pilates after work on Thursday (you know how it goes after a long day at work), but knowing I would have to fork over $20 because I didn't cancel with 24 hours really motivated me to get there! And then of course I was glad I went!
+I can signup the day of, the day before or a full week in advance! I love that the interface is such that I can search today, tomorrow, or next week for classes! Just now as I was sitting here I signed up for a 10 am class tomorrow (it's 5pm). Signing up for classes with such ease is great.
+Searching for classes is SO easy and it's motivating! I literally scroll through all the options, asking myself, hmmm what am I in the mood for?!
+I can workout with my friends all over town. I've had two friends — one in Georgetown and one in Maryland — say we should get together for a workout and because of ClassPass, we can! The one in Georgetown has a few classes saved up at Barre3 — I would usually hesitate to go there and have to pay the drop-in fee for a single class, but guess what? Barre3 is a participating gym so my class is already paid for! That means I'm that much more likely to get together with my friend for a workout! Same goes for the friend in Maryland!
I really hate to gush about a subscription like this, but I really love it. I think it's also a great solution for people who maybe in a workout rut and need to switch things up, find something new they like, and just get re-motivated to workout more.ClassPasswill motivate you and it'll make working out EASY. It's literally the click of a button – "reserve."
I highly recommend signing up for ClassPass and giving it a try if you need a little boost to your workout routine. There's classes ALL over the area and you'll surely find something that fits for you!
Do you think you'd enjoy ClassPass?
What new fitness classes have you tried lately?
Disclosure: ClassPass provided me with a one-month subscription free to sample the service and blog about my experience, but as always, the opinions expressed here are my own.