Let me start this by first apologizing to you brides. We've been all fitness talk here on Fit for a Bride, but that's going to change! Wednesdays are officially dedicated to weddings and hopefully soon, we'll have content for the other days of the week as well. I'm pulling a few strings to get never-before-seen weddings featured here on the blog. Stay tuned 🙂
In the meantime, I wanted to share a little of my knowledge of this area– I'm born and raised in Arlington, VA, which is right next door to DC. Here is my top 10 picks for DC-area photos. I LOVE LOVE LOVE all these spots and whether you decide to do engagement or wedding photos at them, I guarantee you won't be disappointed!
1. The Tidal Basin & Hains Point during the National Cherry Blossom Festival– The Cherry Blossoms NEVER disappoint. They're feminine and fluffy and the gorgeous backdrop for weddings! These photos were actually taken a few days after the festival along Hains Point, where some of the blossoms bloom a little later than those on the Tidal Basin. It's a nice option to get away from the big crowds during the festival, but still get to capture the beauty of these blooms.
How gorgeous is my friend Karlye in this blush gown?
2. Ronald Reagan or Dulles Airport— You might be thinking, "the airport?" Take one look at these photos and think again! This is my husband's cousin, Tori and tell me these aren't the most awesome engagement photos EVER?
The coolest part? Her hubby is a pilot 🙂 I'm not sure if that gave them VIP access at the airport or not, but for pics like this, it's worth a try, huh?
3. Congressional Country Club– OK, so this venue isn't open to just anybody, but if you can get access, I guarantee your photos will be stunning. It's right outside DC in Bethesda, Maryland and just last year, the U.S. Open was hosted there– a big deal! (I remember because my husband was glued to the TV for days!)
It's truly a one-of-a-kind place, both historic and impeccably kept.
4. Agricultural History Farm Park– If you're not into fancy, you're in luck. Virginia, with it's sweeping hilltop and mountain views, is just a hop, skip, and jump away from the city. This lovely venue is only 20 minutes away and it's the perfect fit for a laid back couple who want to embrace nature and all it's beauty.
5. Around the Mall // The Historic Monuments— This one is sorta obvious! A lot of couples love to take photos around the mall and in front of the oversized memorials. We didn't do this (we're from the area and have seen them a million times), but I totally get why this is a popular choice for photo ops! My personal favorites are the DC World War II Memorial and Monument.
Marian Lozano Photography via United With Love
6. Daughters of the American Revolution Building is also a gorgeous, historic place to take photos (or have your wedding)! DC really is unique in the history that is here. Why not take advantage of that if you're in the area?
Adam Barnes Fine Art Photography via Ruffled Blog
7. The Gaylord National Resort & Convention Center– I used to work at the Gaylord way back when it first opened and let me tell you: it's absolutely stunning!!! The whole front part of the building is glass and it overlooks the water and Woodrow Wilson bridge. There really is no place like it in the area.
We had our rehearsal dinner across the street from the Gaylord at McCormick & Schmick's and most of our guests stayed overnight at the Harbor. They STILL rave about how gorgeous the area is! You can't go wrong here!
8. Georgetown Cupcake– My husband is a Georgetown student, so I have to represent here! Georgetown is a bustling little historic town with beautiful shops and charming restaurants, and of course, the landmark stop– Georgetown Cupcake!
I love this photo because the bride's dress is playful and fun, and so are these wedding photos!
Three Blondes and a Camera, Jennifer Lust and Laura Ashbrook via Style Me Pretty
9. Washington DC Mormon Temple– I see this template riding down the beltway all the time. It's STUNNING. I did some research and also found out it's the tallest U.S. temple! It's also encased in marble? If you're looking for the "wow factor," this is the spot to go.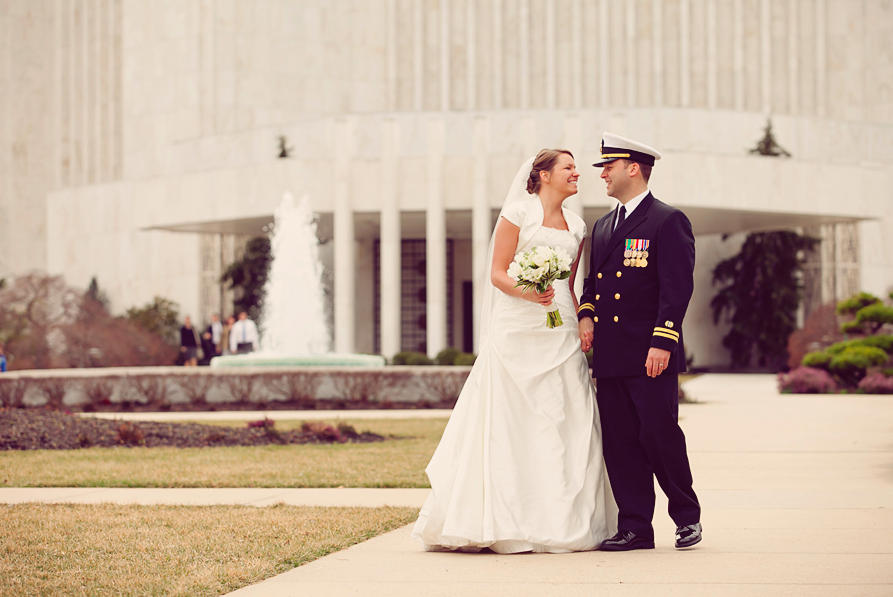 10. The National Museum of African American History & Culture– This venue doesn't exist yet, but I'm giving you a head's up– it's going to be THE place for photos. Trust me! The new National Museum of African American History & Culture is going to sit the closest to the monument, giving you the best of both worlds. There was fierce competition over the architectual design as well, but ultimately, the winning concept is going to be ultra modern, sleek, and will have a light-filtering bronze glow. Sounds dreamy, huh?
I cannot wait for it to be finished in 2015!
There's tons of other gorgeous places around DC. I'm sure I'll post about this again with other options. In the meantime, did I miss any spots?
Are you a DC-area bride? Where do you plan to take engagement and wedding day photos?