Hey guys! Happy Tuesday! I hope you Nor'easters enjoyed the snow yesterday! I did! Today I wanted to share a very inspiring story with you about my friend and fellow Weddingbee blogger, Sarah, aka Mrs. Locket, which ties right in with our newfit mom blogging series!
Sarah is fiercely tackling her weight loss goals and going about it in a multi-facet way, from running to yoga to PX90, and of course, clean eating! Like many of us, Sarah has battled her weight before, pre-and-post wedding and pre-baby! She's been down this road before, but never as determined and as focused as she is today!
Sarah is also committed to inspiring others along her way through Instagram and her blog, Slow Mo Runner, which I love to see! Her before and after pictures are truly inspiring, and the photos (you'll see below) of her son and husband joining in on the fitness action are adorable! I'm really happy to share Sarah's journey with you, and think it's the perfect tie into our fit mom blogging series by Karlye! (Look out for Karlye's weekly check-in at noon today!) Now, Sarah's story!
Tell us your story. When did the weight loss begin?
I think I have always been a health-conscious individual, but my execution was lacking or misguided. I would always get into these healthy kicks, but would find excuses or reasons to eventually stray. In college I spent most of my time being active and participated on the women's rowing team. I also became a pescitarian (vegetarian that eats fish) for a good two years and did my best to eat a healthy, mindful diet.
Unfortunately, the stresses of working crazy hours and going to school full-time caught up to me in my senior year and I put on weight again. A year later, I refocused and through diet and exercise was able to get to a healthier weight, but then came the "happy weight gain." I became comfortable while living with my then boyfriend (now husband) and found it all to easy to indulge in the foods that he enjoyed.
In 2009, we moved into our second apartment together, and it wasn't until I saw photos from that move that I realized I had put on so much weight (again). A month later we were engaged, and like many brides, I didn't want to lose weight for the big day! So, I refocused yet again and was able to lose 20 lbs for our September 2010 wedding… I used blogging as a way to hold me accountable and it was a great motivator. My husband and I even held weekly weigh-in competitions.
After the wedding, the happy weight came back and I gained a large portion of what I had lost back. It wasn't until early 2011 that we decided to get back at it again. This time around we chose to use the Beach Body Fitness Program, P90X. The infomercials really inspired us both and we liked that we could do the workouts from home (we could no longer afford our $120/mo gym membership). Motivated to fit into a bridesmaid dress, I followed the program strictly for 1 month and I lost the 15 lbs I had put on. It didn't last though, I became pregnant in May of 2013 and immediately packed on 10 lbs.
Do you feel like you've always been overweight?
I've always been overweight by BMI standards. My lowest weight in college was 160lbs and at 5'5″ that put me into the overweight category. My weight has always been a struggle for me, I've always been a heavier girl, but I typically carried my weight well. I have an athletic build and put on muscle quite easily, unfortunately I also hold onto fat. Soon after graduating from college I managed to get down to 155 and for once, I began to feel skinny. My size 10 jeans were falling off of me and most of clothes became baggy. People began to compliment me on my weight loss and recognized the change. I enjoyed the skinny feeling, but it took a toll on my physical health. I had lost the weight unintentionally because I was working too many hours, not getting enough sleep, and forgetting to eat throughout the day. Because I wasn't exercising or fueling my body properly, I noticed a huge decrease in my muscle mass… I was skinny fat. I also became severely anemic and needed to be put on supplements and monitored for quite some time. This period of being "skinny" lead me to a period of feeling the need to stuff my face to makeup for the deficiencies. I couldn't seem to find the right balance. Finding the right balance is still something I struggle with, but I am getting less concerned with the number on the scale and paying more attention to how I feel.
Are you trying to lose weight now? How much?
Yes, I am currently trying to lose weight, but am trying really hard to ignore the numbers on the scale. I'd like to lose another 23-33 lbs to reach my initial goals. To reach a healthy BMI (not overweight) I would still need to lose 39 lbs.
What method are you using to lose weight?
Since March of 2013 I've lost 30 lbs through running, P90X, and by cleaning up my diet.
Are you following a special diet? Counting calories?
After a month-long hiatus I just got back into calorie counting. I decided to focus on clean eating for the month of October and quite honestly needed a break from the routine. I tried to do the Whole30 Challenge for the month, but it was hard to stick with on my own. I was able to last a couple of weeks and would love to try it again. I don't think I planned things out thoroughly enough to execute it for the entire month.
What are your favorite healthy snacks – for yourself and for your little one?
My favorite healthy snacks are edamame, green or red fresh peppers or cucumbers with a little soy sauce, and veggies with hummus. I also love portable fruit options like apples or bananas. My son's favorite healthy snacks are yogurt, raisins or craisins (I call them candy), strawberries, bananas, apples, and cheese sticks.
If you're comfortable sharing the figures publicly, please tell me your starting weight, current weight, and goal weight.
Absolutely, they are just numbers and don't define me! When I started my weight loss journey in March I was 218 lbs, currently 188 and working towards 165-155. It would be amazing to get past those goals too, but I'll set new ones when I reach my current goals.
How often do you workout?
I workout once a day 6 days a week. I was doubling up workouts in the beginning, but cut back as my marathon training mileage increased. I usually work on core exercises and yoga or stretching in the evenings when I get home.
What's your favorite type of workout?
I really enjoy weight training and have also come to crave running.
Do you lift weights?
Yes! I really love working on my arms, specifically my biceps and shoulders. I think a lot of the love comes from that post lift "swole" and feeling the difference in composition. I'm also a flex junky and love seeing the definition grow.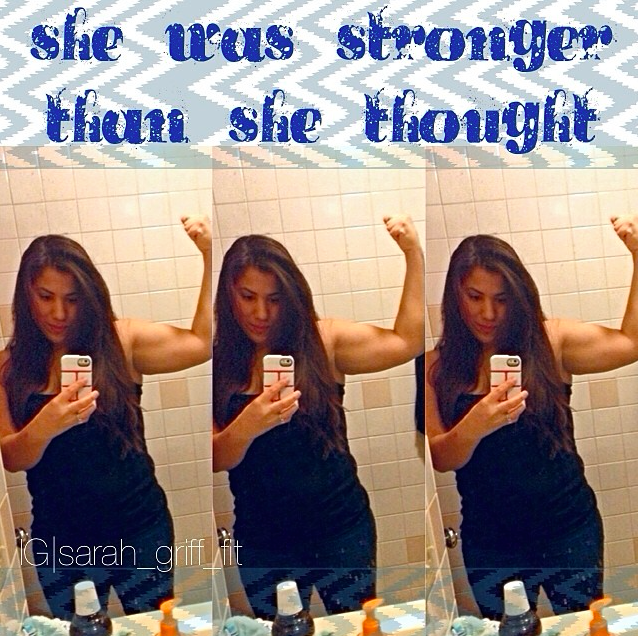 Do you have a workout buddy?
Not at the moment. Does Instagram count? I have a lot of people I follow and few of them are doing the same programs as I am!
You recently completed a full marathon! Your first! Congratulations! When we sat down to talk, you told me about the half marathon you completed. What was that like?
It was AWESOME! The race took place in Syracuse, NY and the course ran through a familiar path, the Onondaga Lake Park, home to my first 5K race. As I pressed through the park passing mile 3 I had such a sense of euphoria and accomplishment. Just 3 years prior I ran that same path full of jitters and a similar eagerness, but with no sense that I would be capable of conquering any distance greater than that. And yet there I was, I was in it with 10 miles left to go and I felt great!
I pushed myself through the entire race and was able to finish in my fastest time for that distance 2:34:42. I typically run a 13 min mile for my longer training runs so getting a sub 12 min pace was pretty amazing.
>> To read about when Sarah went on to complete the Walt Disney World Marathon (read: 26.2 miles!!), check out the post on her blog here.<<<
How do you stay consistent with working out?
I bring my gym bag with me to work everyday and share my routine on IG. I also have the GymPact app for my phone and have it set to 5 workouts per week. If I miss my goals I get fined $10 for every day I miss on my pact. It's really helped hold me accountable because I hate losing money. I also earn a little money every week from it, which is a bonus. I also find that the fact that I am training for something helps keep me on track. I don't want to miss out on any running days because it could derail all of the hard work I've already put in.
How do you find the time? Does your son go to day care at the gym, or does your spouse help?
On days that I miss a lunch workout or need to workout from home I try and wait until my son is asleep. The great thing about P90X is that it can be done from the convenience of my own living room. We also own a treadmill and I have the option of running at home. On the weekends when I do my long runs I do my best to get them out of the way early in the day. I want to be able to have the time to spend with my family and it's a great feeling to have my long run finished before either of them are out of bed.
Does your husband support your strive to be healthier?
Absolutely, he is constantly reminding me of how proud he is of me and compliments me on my progress on a daily basis. He has also gotten me gifts here and there to help me along with my journey. My favorite and most used item thus far are my wireless headphones. They are a godsend for those long runs!
Has your strive to be healthier influenced him at all?
In the beginning we were both doing the P90x workouts together and he was able to lose 25 lbs. After a while he cut back on the at home workouts, but stayed focused on cutting out a lot of the processed and fasts foods and has since been able to maintain the loss. He is hoping to get back into the workout routine, but can't stand to do them at home anymore. He works from home and needs an escape every now and then.
Where do you get your inspiration?
On occasion pop on over to That Wife Blog because I've been participating in the That Weight Loss Challenge (TWLC) that she holds. But I'm more inspired by the Facebook and Instagram accounts I follow. It's easy to see the quick stories and progress photos and they are easily accessed from my phone.
A few that come across my feed on Facebook are: Brandee Eagles – My Imperfect Journey to Find My Face, Ripped Goddess, Flex It Pink, and That Wife Blog. For Instagram I follow too many people to share all of them, but a few of my favorites are @adry_bella and her sister @brownnie77, @fatgirl_meets_fitworld, @estellearcher, @blondemis_fit, @IGfitmoms
What things have changed about you since having your child? Is losing weight harder or easier than it used to be?
The thing that's changed the most is my mid-section. Pregnancy did a number on my belly and I was left with stretch marks and a lot of loose skin. I also lost nearly every ounce of core strength. In the beginning of my journey, the core workouts were the hardest for me. I would wipe out within the first 30 seconds of any ab work. I think it's a lot harder to lose the weight. I don't know if it's because my body composition has changed so much or because I started weaning my son in June, but my body isn't as responsive to changes as it once was.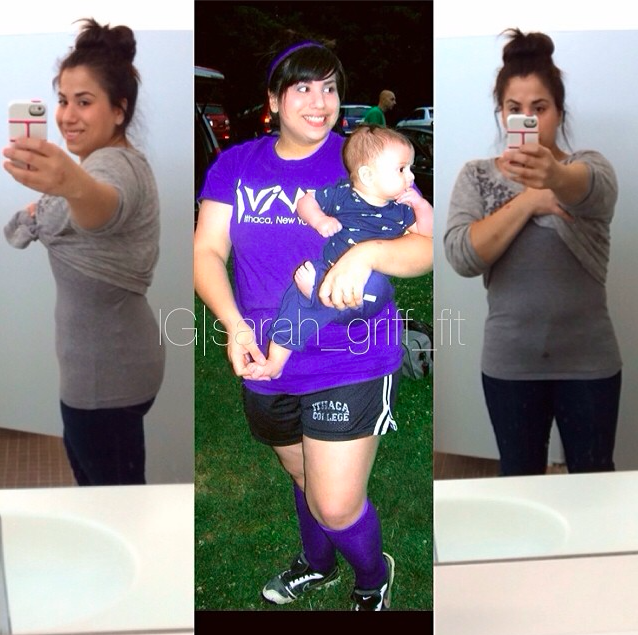 Do you think being a mom has influenced you to want to be healthier?
It has been my biggest motivator! By my son's first birthday he was well adjusted to walking (he started at 8.5 months) and had nearly mastered running. I remember chasing him down our hallway (our very short hallway) and getting winded. It scared me. I had the realization that some day soon my son would be fast enough to get away from me. What would I do if I couldn't catch him? What if he wriggled away and ran in front of a car because I couldn't react quickly enough because I was too out of shape? I needed to do something so that I could commit to being the best mom I could be.
Why is being a fit mom important to you?
I need to be the healthy mom. I want to be the healthy mom. I want to get my life back (I felt so trapped being overweight). I also don't want to plan on a second child until I drop the extra weight. I've read too many articles about how moms who don't lose the baby weight within the first 6 months are more likely to not lose it and to continue to gain with each subsequent pregnancy… I cannot fathom being any bigger than I was and I don't want to become a statistic. I want to prove to myself that I can do it for myself and for my family. I also want to be sure I set proper groundwork for my son to be as happy and healthy as he can be.
Lastly, what advice do you give other moms who want to get healthier, starting working out, or lose weight?
My biggest piece of advice is to go at your own pace, but push yourself while your doing it. Think about why you want to quit a workout or a diet plan and then think about what it will get you. Setting goals is the most important part of a healthy lifestyle. The goals can be small because many small changes can lead to big results.
Another huge factor for me was creating a network of people through IG, FB, friends and family to act as a support/accountability group. Having other people with similar goals, triumphs and obstacles has really kept me on track.
Most importantly, it's good to remember that results take time. If you're too focused on immediate results you may give up too soon. If you hang in there long enough and keep pushing you will see progress.
Wow! I love that advice, Sara! Hell yes! I couldn't agree more! Thank you so much for taking the time to share your story. Best of luck continuing to tackle those goals! You're doing amazing and I know there's no stopping you! I'll be following along! 🙂 And, guys, you should too! If you have a chance, please "Like" Sarah on Facebook or check out her Beach Body page! Thanks again Sarah!