You might think #MotivatedMondays sounds great, but you've got a full schedule and even an hour (4%) is pushing it.
That's OK– just 2% goes a long way: did you know you can boost your metabolism within 20 minutes, and in that same time, experts say you begin to reprogram the genes in your cells, making way for a stronger, fitter you?
They say "Success is the sum of small efforts repeated day in and day out." That's what this post is about– A SMALL EFFORT. This routine will take you less than 30 minutes, but, you just read it: the impact is huge. It's the ACT of getting in your workout clothes, heading to the gym (or outside or wherever) that really matters. Studies show it takes 66 days to form a habit. Start today. If you're getting married, there's no better time than the present! How many days are there till the wedding? (I'm sure you know!) Factor in those 66 days and start forming those healthy habits NOW.
Ready, set, go!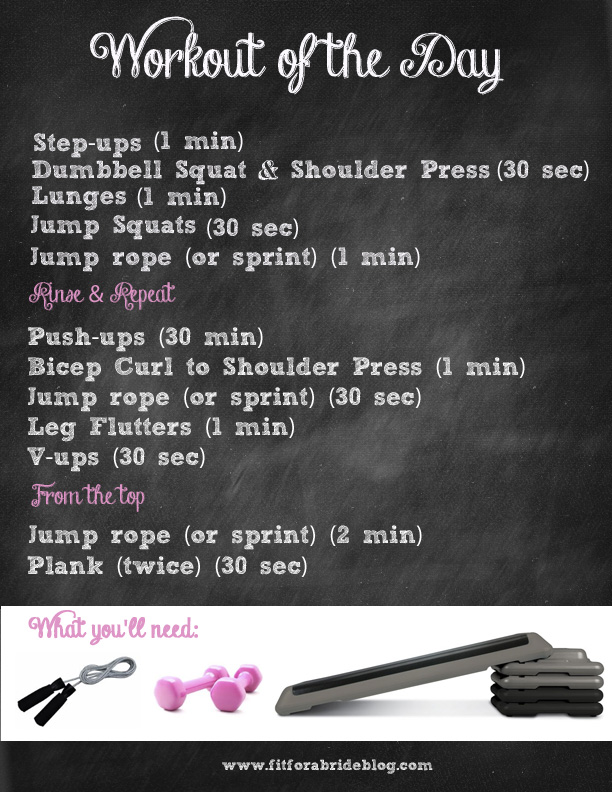 Also, fair warning: workouts are going to be a big part of this blog.
Workouts SAVED me when I was planning; the hour I spent working out each day was the ONLY peace I had. Every other second, I couldn't help but think about the wedding: our florals, our centerpieces, our playlist; our vows; our planner; our bridal party. I was sucked into the big wedding vacuum every. waking. hour. EXCEPT when I went to the gym. While there, I couldn't think about the wedding because I had to focus on breathing; on lifting something heavy or pushing through the burn in my thighs! When I showered afterward, I'd start to go back into wedding mode, often times checking my email before I even left the gym, but, looking back, that hour not only prepared me to LOOK my best on wedding day, it gave me a much-needed mental break from the planning.
Let me know what you think of this workout, and I hope you had a fabulous first day of the week!!
Let me know how this goes for you!