Hey friends! Remember I said I celebrated my sister-in-law's engagement this past weekend? She got engaged on Christmas Day and the whole family is thrilled! Look at her gorgeous ring! Yayyy Amber!
Well, when Amber invited me to spend the weekend with her and her two cousins up in Delaware, I happily signed on — I love my husband's family! Once Amber's cousin Nicole caught wind I was in fact coming, she texted me her secret plan to make this whole weekend a celebration of Amber's engagement! The plan was to create an engagement celebration basket full of fun "you're engaged" gifts!
We all chipped in purchasing different little things — I picked up a Bride tank from Target, a wedding movies, a clipboard and a few notebooks! Amber had already told us she needed one! Nicole picked up the magazines and sticky notes, and printed wedding planning worksheets and organized them in a binder. Amber's other cousin Tori added a Lolita wine glass, sparkling Moscato and a sweet "Love is Patient" book of Bible verses. Amber was so surprised and LOVED the basket!
I had so much fun participating in this surprise and thought it'd be fun to further explore you're engaged gift ideas! This graphic shows my Top 10 Gift Ideas, and there's a few other ideas listed below!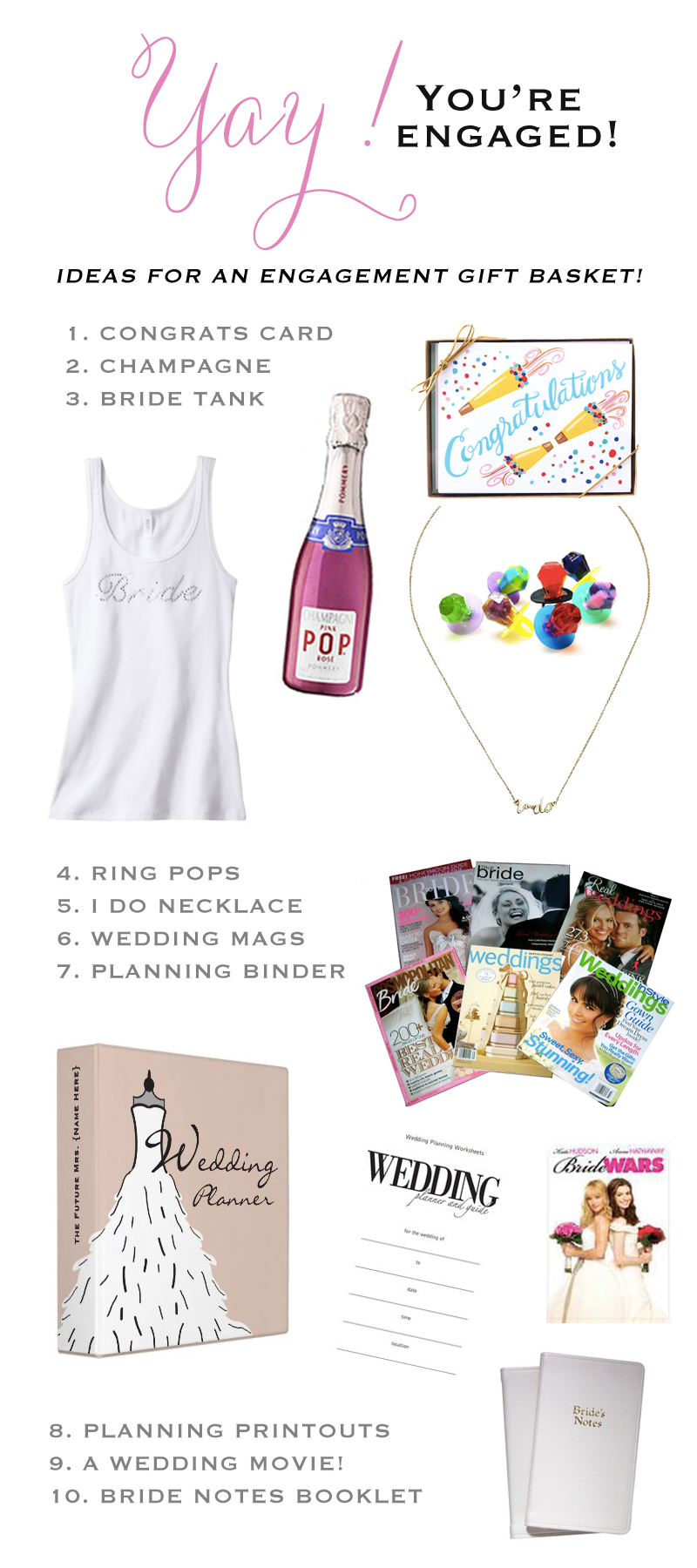 Congrats Cards / Pommery POP Pink Champagne / Kate Spade "I do" Necklace / Customizable Wedding Planner / Bride Tank / Clipboard / PaperDoll To Do List / Wed Plan Worksheets / Bride's Notes
Other ideas include:
A framed picture of the soon-to-be bride and groom;
A robe or sweater that says bride;
Some colorful markers, gel pens, ring pops;
A fancy to do list notepad — I like this one!
A marriage preparation guide book, like Before I Say I Do;
Fun wedding/engagement-themed stickers;
Jewelry cleaner and ring holder.
Do you know someone recently engaged?
Do you plan to gift them anything special?