Mini Recipe Cards with Printacular
Good morning friends!
Today I'm sharing a healthy hack with you!
One of my favorite aspects "healthy" living is trying new recipes. I'm always amazed at how delicious healthy tastes and I love exploring new breakfast, lunch and dinner swaps that will allow me to "crowd out" the bad stuff.
There's also a slew of easy-to-access recipes online!
One of my favorite sources for inspiration is Instagram because there's so many amazing accounts chock-full of good eats and they're easy to access from the grocery store or from within my kitchen. The only problem is the sheer number of awesome recipes I see and screenshot all the time. Finally, I instituted a new system for saving my favorite new ones to try and old favorites.
Enter Awesome Photo-Printing App, Printacular!
I used this app when I made a fun Instagram display in my old office and I've always loved how cute and compact the printable squares are! Here's a quick tutorial for using this same app to snap, print and save your favorite IG recipes:
Step 1:
Screenshot a few photos of the recipes, to include a picture, the ingredients and instructions. Sometimes it's hard to fit all this into one or two shots, which is fine. I will use up to three photos for each recipe.
Step 2:
Using the app, Layout, compile the photos for each recipe, depending on how many photos you took. You might use 1, 2 or 4 photo layouts to fit in everything; doesn't matter as long as you have the info you'll need later to try the recipe!
Step 3:
Upload your Layouts to Printacular to print your squares at the nearest Walgreens. Make sure you designate that you want the square photos! You'll also need to choose when you want to pick-up the photos — I love that within the hour is one of the options!
Volia, that's it friends! Find a place to store and easily reference your recipe cards and you're good to go! No more hours of surfing Pinterest or wasted time stumbling through your phone in the kitchen.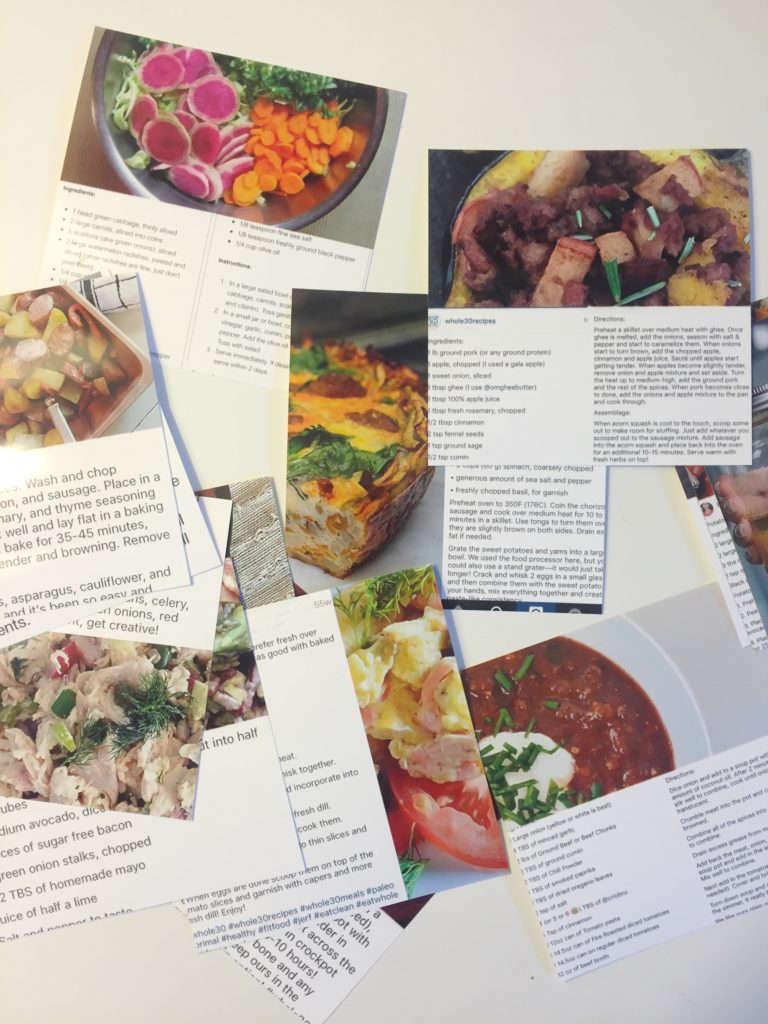 I'm totally addicted to saving recipes this way! We have a small kichen so it saves on space as well!
What's your go-to method for saving, storing and referencing favorite recipes?
Do you search Instagram for new recipes? What are your favorite accounts?