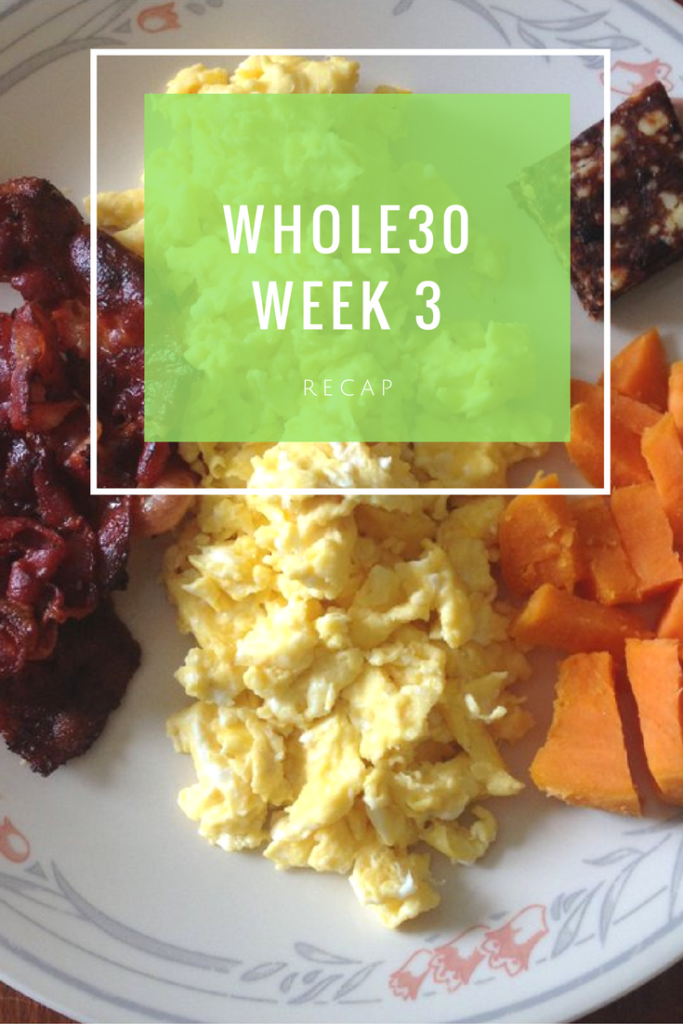 Hi guys! Happy Monday! I'm officially starting my fourth week of the Whole30 program and wow, just wow! The more I eat the Whole30 way, the more I love it. Here are a few recent revelations:
I'm saving a ton of money by not eating out as often or stopping at Starbucks and buying pricey coffees, and passing up on booze at bars and restaurants.
I'm a positive influence on those around me. I've seen my mom respond to the changes I've made by trying to do the same for herself, which is really exciting. My boss is also experimenting with a version of Whole30 and Aaron's embracing it as well.
I waste a lot less. I eat all the food we buy. There's nothing stored on a shelf for a rainy day and leftovers don't spoil. We buy week-to-week (with the exception of Costco hauls for meat) and I love embracing a waste-not, want-not mentality.
Food tastes GOOD! The simplest foods taste so good: roasted sweet potatoes with olive oil and sea salt; apples and almond butter; even black coffee!
Believe it or not, I've been ENJOYING black coffee (go figure!)
Oil and vinegar is all I need. I used to worry about giving up my beloved salad dressings but I don't miss them at all. We had a cumin-flavored cabbage and kale salad the other night and the flavors just popped! I also recently Ah, Oil & Vinegar, a boutique that sells speciality oils and vinegars — I picked up a sample pack this weekend and the pomegranate balsamic is my new favorite dressing!
The recipes never cease to amaze me and there's so many I've yet to try! You might think this way of eating is very limited (I can't tell you how many times people ask "What in the world do you eat?") but in my opinion, there's plenty of options! So much so that 30 days isn't enough to try it all.
I don't miss mindless eating at all. I really prefer eating quality food that I've prepared with some thought over filling my body with what's within reach. It feels so good to show restraint and make a conscious choice; not just eat something because it's in front of me.
I really love being in tune with my body. Not to get all yogi on you, but I totally believe in a mind-body connection and I love being so in tune with myself. It feels like my body is 'giving back' in a way, too, with improved energy levels and sense of pride and feeling better overall. Treat yo' self has a whole new meaning.
Read exactly what I've been eating below the jump!
Day 15:
B: Eggs and chicken sausage with a side of grapes and black coffee. (Then I went to CrossFit for a 3,000 meter row – ugh!)
L: After CrossFit I ran a bunch of errands and only had a larabar on me. I was starving by dinner!
B: I tried a stuffed acorn squash for the first time and it was so good! The only picture I snapped did not make it look at all appealing so I decided against posting it; however, I highly recommend this dish! It's very, very tasty! After dinner I snacked on plantain chips and ate a pickle.
Day 16:
B: Eggs cooked in salsa and chicken sausage with a side of grapes. For a mid-morning snack I ate wholly guacamole and carrots.
L: I went to the mall with a friend and didn't sit down to eat with her until about 5 hours later! I was starving! At Elevation burger I ordered the bison burger wrapped in lettuce with tomato, onion and mustard, but it didn't fill me up so I ordered another one (kid's size), and left feeling satisfied! (Also proud I didn't touch my friend's big plate of french fries!)
Day 17:
B: Back to work so my usual: a monkey salad, but I added almond butter for a twist. (I actually ended up preferring it without the almond butter but it wasn't bad.)
L: I ate a salad club salad with chicken sausage with balsamic vinegar and extra virgin olive oil for dressing. I snacked on olives and a pickle when I got home from work.
D: Cooked salmon smeared with spicy brown mustard and leftover cabbage and broccoli; applesauce for dessert. Awhile later I ate a few apple slices with almond butter. (I've been on a serious almond butter kick this week!)
Day 18:
B: Monkey salad and black coffee – my new favorite breakfast combo!
L: Salad club salad with chicken sausage (I'm boring, Lol) topped with… you guessed it! Balsamic vinegar and evoo. I also had some plantain chips. In the afternoon I had an apple and almond butter, a That's it bar from Starbucks and another black coffee.D: I hit up a Pilates after work with ClassPass then made PaleOMG roasted red pepper and avocado soup for dinner… I LOVE THIS SOUP! It's so good and was perfect for a rainy, cold night.
Day 19:
B: Monkey salad! (Are you totally over seeing that yet?? It's just so convenient and easy and I love it. I'm a creature of habit, I suppose!)
L: Leftover soup with chicken sausage and an apple and almond butter.
D: Date night! We tried True Food Kitchen, a progressive restaurant promoting the anti-inflammatory diet. (I'll be blogging more about this place soon.) I got the bison burger "protein style" no mayo with a side of sweet potato hash and a small lemon kale salad. It was delish!
For dessert (yep — there was a Whole30-approved dessert!) I got banana chia pudding. I've always been a bit worried about chia pudding because of the texture but it was seriously the most delicious dessert, ever! (I'm hooked!) Aaron said it was better than his cake and ice cream dessert! #healthywins 🙂
Day 20:
B: I started the day with CrossFit (Fight Gone Bad) then had eggs cooked in black truffle evoo (from Ah, Oil & Vinegar), bacon (I finally found paleo-approved no-sugar added kind from Whole Foods), with a side of apple slices and almond butter.
L: For lunch I snacked on the other half of my apple with more almond butter, some olives and almonds.
D: Two bunless beef burgers marinated in balsamic vinegar topped with spicy brown mustard and a few banana peppers. Sides included small white potatoes cooked in onions and more black truffle evoo and green beans! For dessert we had homemade banana chia pudding (I used this recipe). Told you I was hooked!
The bad news: I had a small cheat on Day 20! Some friends were in town and going to a bar right near my house. I didn't want to be rude and not join them so I went and had a glass of red wine! I also had about three glasses of water! I contemplated a second glass of wine but ultimately decided I needed to finish my commitment to the Whole30. Even though I know this is a no-no according to the Whole30 program rules, I felt really good about the restraint I showed! I also didn't let the cheat derail me. I was right back on track the following day!
Day 21: I used ClassPass to check out Revolve Fitness for a morning spin class, which was great! Then I popped over to South Block Cafe and got the Green Caveman, a smoothie made up of kale, bananas, dates, and delicious cashew milk! It's my new favorite smoothie from there! (SO good!)
I also picked up a few of Caveman Balls made up of walnuts, dates, cacao powder, coconut, vanilla, coconut oil and sea salt. They were such a treat! I ate about three!
Between the smoothie and these treats, I think I should have used a bit more caution! The Whole30 website says dates are allowed but, "these little sugar bombs pack a big punch—they're as close to candy as you can get on the Whole30. We recommend against using them as a "treat" to feed your sugar dragon."
Oops! 🙂
D: Chicken with whipped butternut squash topped with pecans and a side salad of kale, broccoli, and cabbage; we used pomegranate balsamic vinegar for dressing. It was good! I also had a little almond butter after dinner; I think I've eaten almost the entire jar this week!
So, there you have it! Weeks one, two, and three! Woo hoo! I can't believe I'm already in the final week! Eek! I'm really proud of myself for making this far without giving up or throwing in the towel. It feels good to have stuck with it this long!
With that said, these next few days are going to be a little different. I'm trying a three-day juice cleanse from South Block Cafe! I'll be instagramming a lot throughout the cleanse and promise to give you a full report Thursday when it's over. In the meantime, wish me luck! I've never a done a cleanse! 🙂
Oh, and of course, I plan to get right back on the Whole30 when the cleanse is over; at that point I'll have just 5 days to go!
Have you ever done a juice cleanse?
Have you ever tried flavored balsamic vinegars or olive oils?
Do you like dates?
What's your favorite Whole30 snack or recipe?
If you're just joining me, catch up by reading my recap of Week One + Two of the Whole30!
---